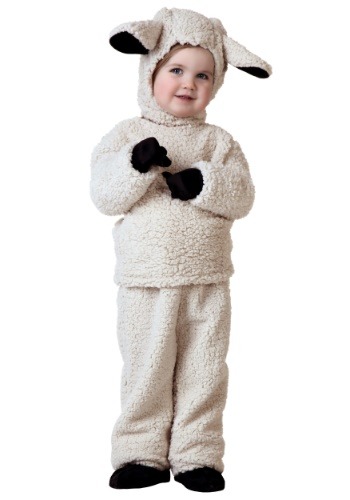 Head piece

Shirt

Mitts

Pants

Shoe covers
Your toddler will be cute and cozy in this toddler sheep costume. The shirt is 100% polyester and feels like fleece. It is off-white and snaps at the back of the neck. The long-sleeve shirt is very comfortable and cozy. The pants are also 100% polyester and feel like fleece. They have an elastic waistband and elastic around the ankles. At the back of the costume is a little stumpy tail. The soft fleece-like head piece has a hole opening for the face. It snaps shut in the back, and is very soft on the inside for a comfortable fit. There are two fleece hears attached to the top of the hood. The ears are the same off-white color and have black on the insides. Also included are two black mittens and two black shoe covers. The mittens have elastic along the wrist to keep them secure. The shoe covers have an elastic strap that goes under the shoe and elastic around the ankles. He'll be baa-ing for candy in no time in this adorable costume!
Toddler Sheep Costume
Product # FUN0191
There are no reviews for this item.Be the first to write a review!