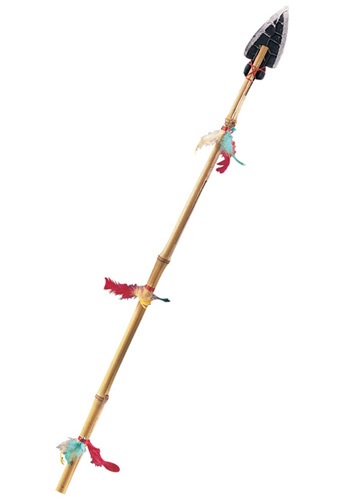 Product Description
Real men sort out their differences with a spear...but we really can't advocate violence, so we suggest doing battle with this toy Indian weapon instead. It's a lot less dangerous than a real spear, but it looks just as mean and vicious.
46" long toy spear

Tip looks like real stone

Yellow, purple and green feather accents
Attention Customer
This product's dimensions limit the countries that we can ship to. This product cannot be shipped to Albania, Algeria, Angola, Anguilla, Argentina, Armenia, Australia, Bahamas, Bahrain, Bangladesh, Barbados, Belarus, Belize, Bermuda, Bhutan, Bolivia, Plurinational State Of, Brazil, Brunei Darussalam, Canada, Chile, Guadeloupe, India, Israel, Lithuania, Mexico, New Caledonia, Pakistan, Philippines, Poland, Russia, Samoa, Singapore, Slovenia, Taiwan, Thailand, Ukraine or Vanuatu.
Product Reviews For:
Indian Spear
1

Review