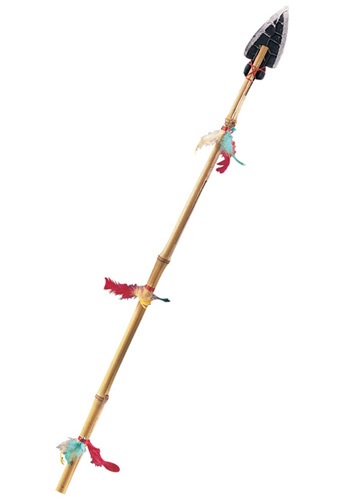 This Indian Spear will make the perfect accessory for your Native American costume. The toy spear has four sets of yellow, purple and green feathers attached with red tape. It is topped off with a black spearhead outlined in white. This spear measures 46" long and makes a great addition to any of our Native American costumes!
This product's dimensions limit the countries that we can ship to. This product cannot be shipped to Albania, Algeria, Angola, Anguilla, Argentina, Armenia, Australia, Bahamas, Bahrain, Bangladesh, Barbados, Belarus, Belize, Bermuda, Bhutan, Bolivia, Plurinational State Of, Brazil, Brunei Darussalam, Canada, Chile, Guadeloupe, India, Israel, Lithuania, Mexico, New Caledonia, Pakistan, Philippines, Poland, Russia, Samoa, Singapore, Slovenia, Taiwan, Thailand, Ukraine or Vanuatu.
Indian Spear
Product # RU345
There are no reviews for this item.
Be the first to write a review!