Monster High Costumes
1 - 60 of 60
---
1 - 60 of 60
Attending high school as a human teenager is hard enough, so you'll understand why there's always extra drama for the students of Monster High. Werewolves, vampires, gargoyles and mummies are just a few of the types of creatures that make up its student body. But these aren't your average monsters, they are stylish, cute and anything but dreary.
Underneath their ghoulish exteriors are girls who have the same hopes and fears of your average high school students. Frankie Stein is the new 'ghoul' in school who is hoping to make friends. Draculara is a vampire who faints if someone says the word 'blood' and is a vegan. Cleo de Nile is a mummy who has some diva qualities. Ghoulia Yelps is the daughter of a zombie and is considered the 'smartest ghoul in school'. With our licensed Monster High costumes and accessories you and your child can be any of these unique characters.

Monster High Costumes
How to be a Monster High Character
Ideas, Tips and Tricks
Would you like to have Dracula as your dad? What if your bff could only speak in zombie moans and groans? That's the life of the average student that attends Monster High! It's a mixed creature school which means the student population consists of werewolves, ghouls, zombies, and sea monsters. We think it might be a little hard for us to pay attention if we went to Monster High but one thing is for sure: there would never be a dull moment! Class favorites like Frankie Stein and Draculaura deal with the regular high school drama like cliques, relationship dilemmas, and of course frenemies, not to mention, adventures of monstrous proportions! If you wish you could sit in class next to Clawdeen Wolf or 'fang out' with Scarah Screams and Elissabat, then we can definitely help you out. You'll love wearing fur, fangs, and all sorts of freaky fashion accessories. Just grab your beastly bestie and we'll teach you how to pose like the coolest 'ghouls' in school!
How to Pose for Pictures in Your Monster High Costume
Monster High Poses
In the real world teenagers LOVE to take selfies and pictures with all their friends, and you'll be happy to know that all the kids at Monster High are no different. They can't get enough! This helpful guide is going to give you some ideas for fun and sassy poses you can make while wearing a costume of your favorite Monster High character. If you happen to take a picture of Invisi Billy, just make sure he's not playing any transparency pranks. You'll wind up with a photograph of nothing!
Diva Draculaura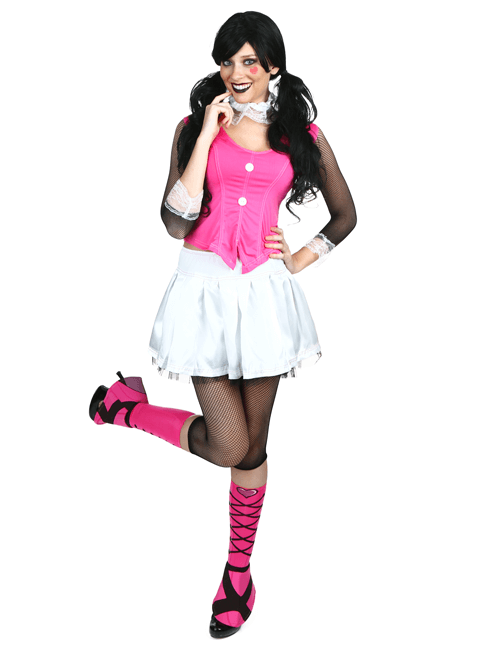 She may be kind of a 'gossip ghoul,' but Draculaura always knows how to have a scary good time with her friends. Pose like the sweet vegetarian vamp by kicking one leg in the air and placing your hand on your hip. Set your chin on your other hand as if you are thinking about heading to the mall to meet up with your boyfriend Clawd Wolf, or whether or not you remembered to feed Count Fabulous.
Fab Frankie Stein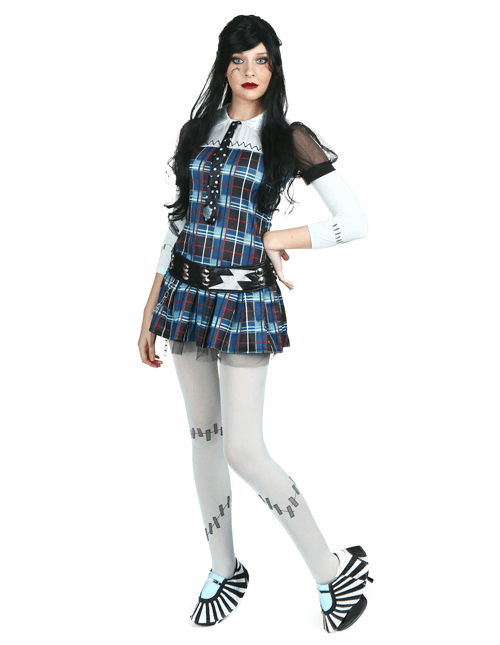 If you would much rather have your nose in a Teen Scream magazine and be a member of the Fear Squad, then a Frankie Stein costume will serve as the perfect fit. Put your hand on your hip and bend a leg and let the camera capture side with the best stitch-work. Don't forget to show off that plaid dress! It's Frankie's trademark look and possibly the most fashionable in all of Monster High.
Clawdeen Cool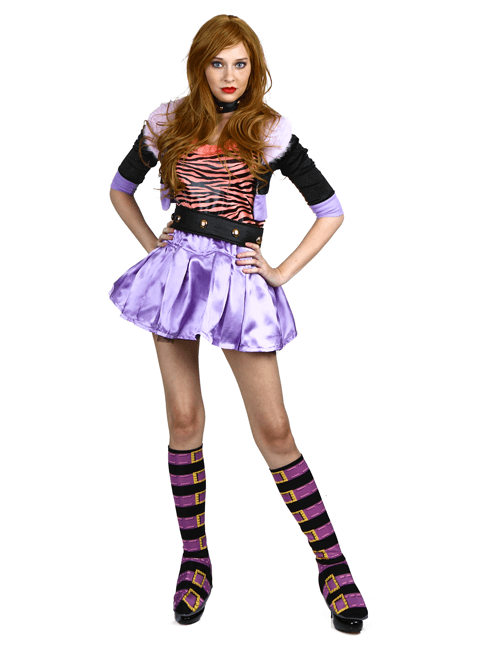 If you have a fierce sense of fashion and have been caught howling at the moon from time to time, you need to rock a Clawdeen Wolf costume. Clawdeen is a no-nonsense kind of gal so pose with both hands rested on your hips. Make sure to show off the faux fur cropped bolero jacket and studded belt. If you really want to make a memorable photo, give a good howl. You totally get bonus points if you're really under a full moon while doing it.
How to Pose for Pictures in Your Couples Monster High Costumes
Monster High Couples Poses
Sure, going out on your own is perfectly fun and fine, but high school is all about socializing (and homework) and doing either of those things are so much better with your best friends. So, whether you're going with your little one or your best friend, you're going to love these Monster High costumes when they're paired up together. The pictures are just that much more frightful (and we mean that in a good way).
Sweet Scares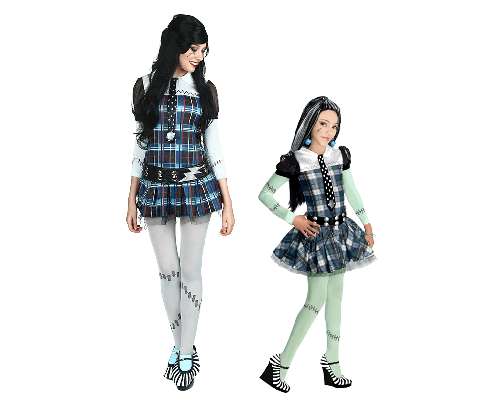 Do you have a mini-me who always wants to follow in your footsteps? Take your young doppelganger with you while you participate in some 'extrascarricular activities' like trick or treating. You'll be frighteningly cute together as Frankie Stein. Just be sure to strike the right pose by having a hand on the hip, or for something more fun you can both lift your arms like Frankenstein and step in opposite directions.
Scary Pair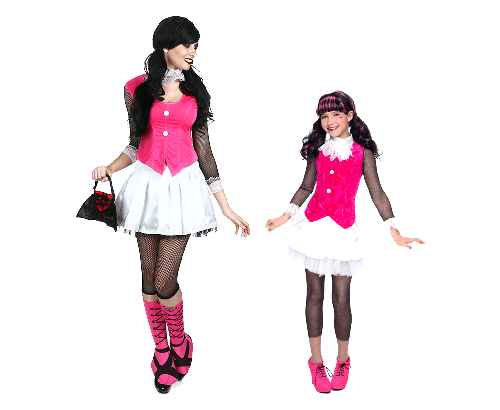 If you have a daughter or younger sister who loves smiling, laughing, and everything pink, she'll love dressing as the fabulous and freaky fashionista, Draculaura. You two will love matching as you head off to a monster bash to dance the night away doing the Monster Mash! Or, you two could just go to the mall and pick out the latest adorable bat outfits for Count Fabulous.
How to Talk Like Monster High Characters
Monster High Quotes
When talking like a Monster High character, you definitely have to consider which character you're going as because they're all very different with very different personalities. But one thing the entire world of Monster High has in common is the love of puns. If you can "scare" up anything clever on the spot that will be even better! But in case you don't like that kind of vernacular pressure, we included these helpful quotes straight from the show so you can easily sound just like Frankie, Clawdeen, and Draculaura!