Kids Dinosaur Costume
Product Includes:
Hooded Jumpsuit w/ Attached Tail
Product Measurements:
Measured In: Inches

|

Centimeters
Size
Child Sizes
Chest
Torso
Length
12m - 18m
12m - 18m
28"
17"
27"
6/12 Months
6-12 m
24"
17"
26"
18m - 2T
18m - 2T
28" - 30"
19"
29"
X-Small (4 )
4
30" - 32"
20"
31"
Small (5-6)
5-6
32" - 33"
21"
36"
Medium (7-8)
7- 8
33" - 34"
22"
43"
Large (9-10)
9 - 10
34" - 36"
23"
48"
X-Large (11-12)
12
38" - 46"
26"
50"
Size
Child Sizes
Chest
Torso
Length
12m - 18m
12m - 18m
71cm
43cm
69cm
6/12 Months
6-12 m
61cm
43cm
66cm
18m - 2T
18m - 2T
71cm - 76cm
48cm
74cm
X-Small (4 )
4
76cm - 81cm
51cm
79cm
Small (5-6)
5-6
81cm - 84cm
53cm
91cm
Medium (7-8)
7- 8
84cm - 86cm
56cm
109cm
Large (9-10)
9 - 10
86cm - 91cm
58cm
122cm
X-Large (11-12)
12
97cm - 117cm
66cm
127cm
How to take your measurements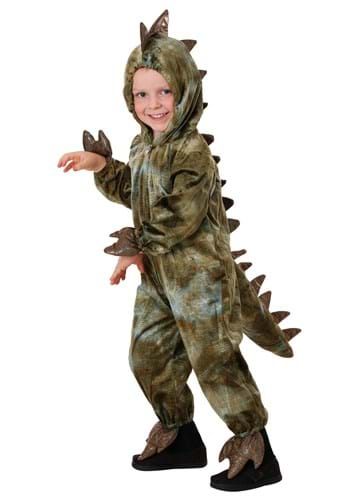 Product Description
Did you know that dinosaurs are their own separate group of reptiles? He'll have a blast stomping around and getting into fights with other dinos in this Kids Dinosaur Costume. Plus it's a great way to teach him a little about science!
100% polyester
Zips in front for closure
Multi-toned green jumpsuit w/ scales
Shiny gold spikes line hood, back, & tail
Tail is filled w/ foam to maintain shape
Wrists & ankles have elastic bands
Product Reviews For:Kids Dinosaur Costume4 Total Reviews
Awesome Costume!
This costume looks great! It is not your typical cheaply made costume that only lasts a couple days, which is great, because my kids wear costumes all the time for play. The material is very durable and looks like real scales. It will be nice and warm for trick or treating. My daughter just loves it!
---
Used fit finder, but costume is too small
This is a nice costume and my son really likes it. I am frustrated though because I used the fit finder and even rounded up a bit and it is too small. It is too short. So now I'm having to pay to send the other one back and hoping the new one I ordered arrives in time for Halloween.
---
Perfect Fit - On Time!
I used the fit finder and was extremely worried, with this being a one-piece suit (as it would be impossible to alter.) But it FITS my son PERFECTLY based on the chart. Costume came in perfect condition - excellent quality! And the shipping was right on time. I couldn't be more pleased with my shopping experience. Thank you!
---
dinosaur-dragon
My two year old twins wanted to be dinosaurs for halloween. They were also invited to a "fairy tale" birthday party that month where they were supposed to dress in costume. These really cute, well made costumes were show stoppers. They were adorable as dragons at the birthday party and completely happy with them as dinosaurs two weeks later on halloween. the size may be slightly smaller than usual--I got the 3-4 and it just fit my two year old twins who were wearing size 3T in all clothing. Recommend this highly.
Fit Finder
For additional help: