Adult Authentic Jedi Robe
Product Includes:
Hooded Authentic Jedi Robe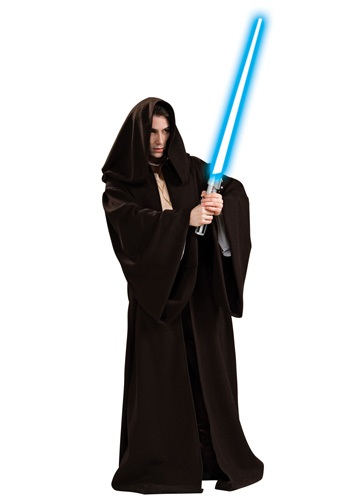 Product Description
Being a Jedi isn't just about swinging a lightsaber around and fighting Sith. It's also about wearing a sweet robe and walking around shrouded in mystery.
100% polyester
Officially licensed
Full-length dark brown robe
Wide sleeves
Oversized hood
Product Reviews For:Adult Authentic Jedi Robe1 Review
Authentically heavy but not too warm
It's a good enough robe to be worth the pretty expensive price. I was afraid that it would be too thin and transparent or too heavy and I'd be hot and miserable for indoor use or summer time outdoor use. Turns out is was just right. I'm 6'1" and weigh a moderately fit 230lbs and yet I had to add a sash from a regular house coat to keep the robe lifted high enough so as to not drag on the ground. Having people at a overcrowded Comic Con inadvertently step on your robe is most unbecoming. I wonder why it never happens to real fictional Jedi? :-) And I had to be very careful wearing it on escalators -- otherwise it is great.

P.S. It not as dark as shown in manufacturer's picture. It's more of an Alec Guinness brown than a Mark Hamill black.
Fit Finder
For additional help: