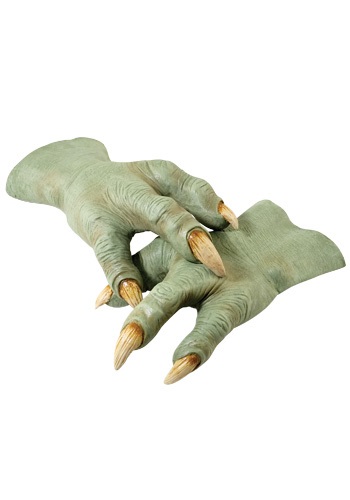 Pair of Deluxe Latex Yoda Hands
Add a realistic touch to your Yoda costume with these Deluxe Latex Yoda Hands. The gloves are made out of a thick latex material and have a claw attached to each finger. They are also covered in wrinkles to add to the look.
Deluxe Latex Yoda Hands
Product # RU2406
---
Yoda gloves
By FantasyFeathersNYC - January 24, 2013

I have now purchased two pairs of these gloves for different costumes. Neither of which are Yoda :-). These work great for for both my dragon and Phoenix costumes. I masked off the nails and painted the gloves with a enamel spray paint in Red Banner red. They came out really nice. It took a few coats but I'm very pleased. I would have given these a five star rating but the gauntlet part of the glove is very wide and looks to much like a 'glove' and not part of an arm. I plan on adding grommets and laces the the under side to make them now customized. I definitely recommend these to anyone who needs to add talons or claw looking hands to your costume.