Womens Prison Jumpsuit
Product Includes:
Zip Front Jumpsuit

Hand Cuff Belt
Product Measurements:
Measured In: Inches

|

Centimeters
Size
Chest
Waist
Torso
Length
X-Small
32" - 34"
28"
29 1/2"
33"
Small
34" - 36"
31"
30"
34"
Medium
36" - 38"
33"
30"
34"
Large
37" - 39"
33"
30"
34"
X-Large
37" - 41"
35"
30"
34"
Size
Chest
Waist
Torso
Length
X-Small
81cm - 86cm
71cm
75cm
84cm
Small
86cm - 91cm
79cm
76cm
86cm
Medium
91cm - 97cm
84cm
76cm
86cm
Large
94cm - 99cm
84cm
76cm
86cm
X-Large
94cm - 104cm
89cm
76cm
86cm
How to take your measurements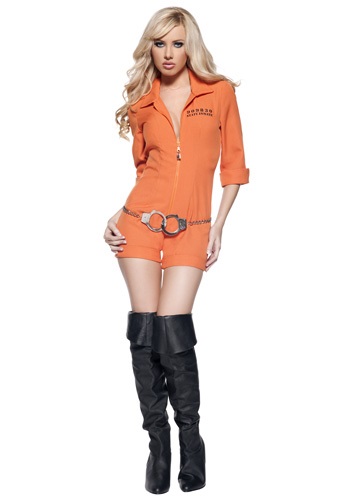 Product Description
Being a good girl is kind of boring. Being a bad girl is way more fun. The night might end with you wearing an orange prison suit, being interrogated by the local police force, but that's exactly how you know that you've had a good time. Plus, it's the perfect way to get that cute officer to come chasing after you.
100% polyester
Orange zip-up romper w/ cuffed sleeves
Inmate number printed on front
''BUSTED County Prison'' printed in back
Hand cuff belt w/ silver chain
Product Reviews For:Womens Prison Jumpsuit7 Total Reviews
Actually fit pretty well, but I had to modify it a little cuz the shorts are silly long!
This turned out to be totally cute. I'm a tiny woman so the Xsmall fit tight if you're my size (5'3 107lbs). Minor issue was this lining that goes from the crotch of the costume down the legs, and the shorts to the jumpsuit are way longer than in the photo of the statuesque blondie with nothing but legs on the cover. So, I cut the liner out just enough to roll the shorts up, so it wouldn't stick out of the leg holes. but as a suggestion, ya might wanna wear some booty shorts or something, cuz this costume will show a thong pretty easily. Also, the handcuff belt was too long, and was easily modified by removing enough links to fit my waist. Anyway, regardless of the 2 minutes I spent altering the little outfit, I loved it, and the counterpart Male Jumpsuit worked great with this. My hubby and I have a 2 year old & as a family, we made our boy the little Officer (with the toddler deluxe Officer costumer), and Dad and I went as the convicts. Not a single person couldn't help but tell us how amazing we all looked together. BEST HALLOWEEN YET!! .

---
Great costume!
This costume is really a fun costume to wear...I received a lot of comments.

People were asking me where did you find that orange costume.

They had never seen it before or even one similar to it.

I loved the fit and look with boots.

Really a fav. of mine!
---
Poor quality
I read it ran big so bought a small. I'm 5'4 120 lbs size 34C. It was super big on top stitched tight at waist and funky poor stitching on legs where shorts cuff it was uneven so they wouldn't stayed folded up properly. Sent back for refund. I don't think any human woman is made to fit the poor quality fitting of this costume. Maybe mine was defective.
---
Cute, but terrible quality
My jumpsuit arrived the day before Halloween so just in time, but nightmare! When I tried it on there were several gaping holes in the side, back and underarms where the seams were coming apart. Held it together with safety pins for a couple of hours before it all started unraveling, so an early end to Halloween celebrations for me!

Shame because the outfit is cute despite the other criticisms listed here about it not being exactly as shown in the photo. For example: even the S size is not as fitted as shown (I'd say this model has several pins in the back to make it appear this way) and the legs are longer (although can be rolled up pretty well).
---
Worst stitching ever!!!! Shortest torso possible!
Zero stars please? as soon as I tried it on it tore at the seams on the side and arms with out me even moving! I had never had anything rip so easily as if I was wearing tight toilet paper -- that weak. I ordered a small since one person said it ran big. I disagree. The legs/short part is longer than expected, but other than that I think it runs on the small side considering the fabric is of such poor quality! Besides the poor stitching, the other main problem is the torso is so short that the costume is completely un-wearable. Illegal wedgie. Worst costume ever. Would attach a pic of the wedgie but too painful to try on again.
---
Fit Finder Not So Great
I used fit finder to determine my size. I am 5'4, 150lbs and fit finder said I should be an extra large but it was too small. I have a short torso as is but I would need to be much shorter to wear this. The plus side is the material was of decent quality for a costume.
---
Not cute
Unfortunately, doesn't look like the photo at all. I ordered a size small after looking at their size chart. The costume is HUGE. The shorts went down to my knees. A small is at least a size large. I wasn't expecting great quality with this price, but the fabric and quality were worse than expected.
Fit Finder
For additional help: