Mens Prison Jumpsuit
Product Includes:
Zip Front Jumpsuit w/Screenprint Front and Back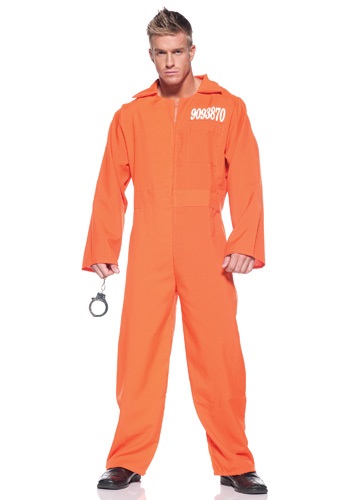 Product Description
When you put on prison jumpsuit, it's like wearing a sign that tells the world that you plan on doing some crazy stuff at the party that will, most likely, end with the cops putting you in jail. When they get to the party, they'll know exactly who to lock up in the slammer - the guy wearing the orange outfit with an inmate number on it. Just remember, it isn't an awesome party until someone ends up in cuffs.
100% polyester
Orange zip-up jumpsuit w/ collar
Elastic in waist for fitting
Inmate number ''9093870'' printed in front
''Dept. of Corrections'' printed on back
Product Reviews For:Mens Prison Jumpsuit3 Total Reviews
If you're short like my husband (5'7 175lbs) the Standard size WILL FIT!!
My husband and I wore the convict jumpsuits for Halloween and our 2 yr old was the Cop (Toddler Deluxe Officer* which was insane adorable, read my review on it). Anyway, they accidentally sent us a XXL that happened to be in a standard size marked bag, but customer service was awesome and sent us the right one within a day. We got it 4pm on Halloween day. Amazing that we got it in time. Anyway, my husband is short (only 5'7 175lbs), and this thing fit really well, a little baggy, but what guy wants this thing skin tight (like they make the one I had to wear). We were thrilled to get it, everyone LOVED our idea, that we were the prisoners of our baby Officer.

---
---
Fit Finder
For additional help: