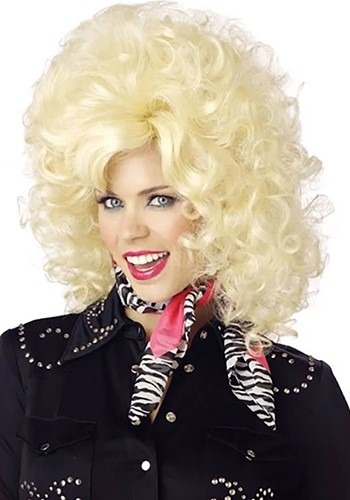 Product Description
Have you ever caught yourself singing in the shower and thought, "Man, I'd make a great country music star!"? Neither have we. Not that that's ever stopped us from dreaming, though.
Becoming a country music star is a lot of hard work. Between vocal lessons, songwriting, and learning to play guitar, it all seems so overwhelming. Not to mention maintaining that country western look, with all the hairspray, leather, and of course, those stylish cowgirl boots. Most big name stars have a team of stylists who manage their appearance and wardrobe, but you're just starting out, so you need something quick and easy that will wow your fans and bring in that record setting audience. And we don't just mean your silky sweet singing voice either.
If you think you have what it takes to make it big, then look no further than the Country Western Diva Wig. With its bright blonde ringlet curls, straight bangs, and just the right amount of poof, this sassy wig will have you standing out on stage and drawing audiences from miles around. Before you know it, you'll be crooning your super sweet tunes at all the biggest concerts. Shoot, you might even get to perform at the Country Music Awards (and win one yourself while you're at it). Just remember to keep that guitar tuned if you want to make it to the top of the charts! Of course, practicing your twangy tunes in the shower helps too, just don't let anyone catch you!
100% synthetic fibers

Light blonde hair w/ ringlet curls and straight bangs

Mesh net interior
There are no reviews for this item yet. Be the first to write a review!