Adult Scary Tree Costume
Product # RU888178
There are no reviews for this product yet.
Product Includes:
Robe w/ hood

Headpiece w/attached Sign

Gloves w/Branch Fingers

Shoe Covers w/attached Leaves

''No Trespassing'' Sign w/Lanyard

''Beware'' Sign w/Lanyard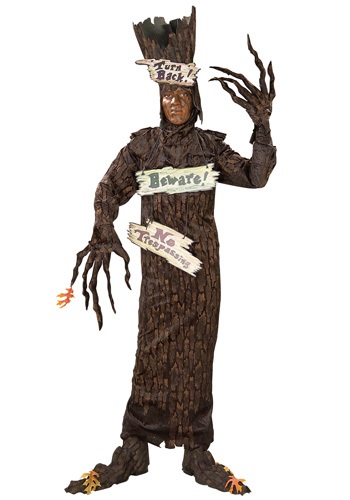 Product Description
Traveling through a haunted forest is an impossible mission without the right game plan. Sure, you could try to skip merrily through the trees, but you run the risk of being pelted by old produce. A much smarter way to make it through to see the Wizard is to become one of them. Wear a disguise and you can slip through that spooky place completely unnoticed. Just make sure to only do tree stuff, like photosynthesis and waggling in the breeze.
100% polyester
Brown printed wood pattern floor length robe w/ hood
Foam tree headpiece w/ attached sign that reads ''Turn back!''
Foam tree gloves w/ branch-like fingers
Foam tree shoe covers w/ attached faux leaves
''No Trespassing'' sign that fits around neck w/ lanyard
''Beware'' sign that fits around neck with lanyard
Lets you do genuine tree stuff like photosynthesis
Fit Finder
For additional help: