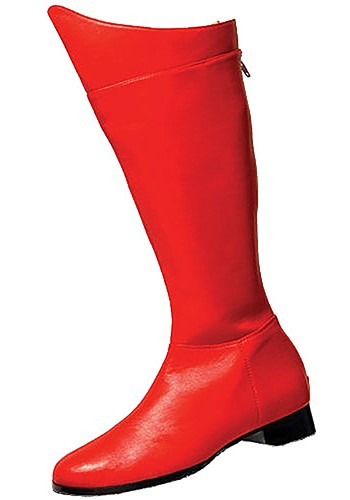 This product's dimensions limit the countries that we can ship to. This product cannot be shipped to Mexico
Product Description
These boots were made for much more then just walking. The Superhero Boots are made of shiny red vinyl that gives them a leather-like appearance. The top rim of the boot forms into a "V" shape while the interior has a soft padding. A zipper in the back and durable, solid heel make these boots the perfect accessory to any superhero costume.
100% polyurethane faux leather

Back zipper

Cushioned foam lining
Size
Measurement
Standard
Metric
Small (8-9)
Footbed (heel to toe)
11 1/2"
29cm
Small (8-9)
Calf Circumference
14"
14"
Medium (10-11)
Footbed (heel to toe)
12"
30cm
Medium (10-11)
Calf Circumference
15"
15"
Large (12-13)
Footbed (heel to toe)
12 1/2"
32cm
Large (12-13)
Calf Circumference
16"
16"
X-Large (14-15)
Footbed (heel to toe)
13"
33cm
X-Large (14-15)
Calf Circumference
17"
17"
By
Boots have a very "fake" quality to them. The styling looks cheaper than expected. That said, the sizing is right and there weren't many other options for what I needed for my costume.

Overall ordering experience wasn't bad.

---
---
What I Expected, Disappointed These Boots were Shipped W/O a box
Anonymous
/
September 24, 2016
By
These boots were what I expected, having purchased a similar pair of black boots from another company. I was extremely disappointed these boots were shipped without a box, sloppily thrown in box and folded over. Now there is a crease at the ankle. The black pair bought from another company was shipped in a nice sturdy box, which made storing them easier. These boots weren't expensive and for that reason, I didn't expect much. They will do for a costume.
---
 Write Review