Link Costumes
Were you one of the lucky owners of that golden Nintendo Entertainment System cartridge? Remember, all the other Nintendo games were that drab gray color. A cartridge that looked like a solid gold brick was unheard of! And inside it was the game that sparked a whole genre of medieval style fantasy games. It's safe to say that The Legend of Zelda left its mark. Since then, each generation has been introduced to a new Zelda game and fell in love with the series all over again. That's why costumes based on the game make for a great choice when gearing up for a Halloween or costume party.
Of course, with so many different games and plenty of great characters, it's hard to know just which look you should model your outfit after! Do you go the way of Ocarina of Time, the classic N64 game, or maybe the more colorful, cartoony look of The Wind Waker? Well, we're here to help. This handy guide will give you plenty of Zelda costume ideas so you can craft a unique outfit based on your favorite video game series. From a classic look to costumes based on the Hylian Princess herself, there are Link and Zelda costumes for any fan of the series.
Whenever Hyrule finds itself in a spot of trouble, there's always one hero they can rely on to restore balance! He's been slaying Moblins, defeating the nefarious Ganondorf, and busting pots wide open, ever since 1988's The Legend of Zelda. And chances are pretty good that if you're a gamer, you've been behind the controller when Link does all of those heroic things, but have you ever considered what it would be like to actually become the hero from Hyrule? Have you considered what it might be like to don the green tunic and hat yourself? Have you considered how awesome it could be to swing the Master Sword through a patch of grass to find the sweet, sweet rupees hiding beneath it? Well, then maybe it's time for you to give one of our Link costumes a try! We have plenty of costumes based on the Nintendo video game character, with styles for men, women, and kids. We even carry costumes from the Switch release Breath of the Wild! Just check out some of our best costumes below.
Breath of the Wild Link Costume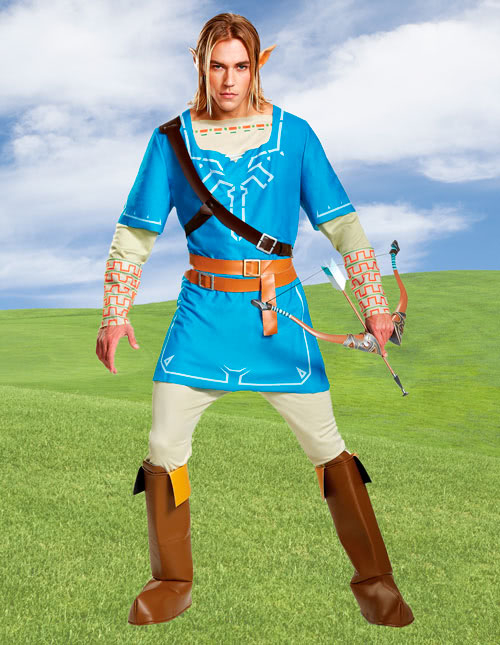 Ganondorf's evil aura floats above all of Hyrule. The Master Sword must be found. Princess Zelda needs help to save the kingdom. Yes, it sounds like another Legend of Zelda adventure, and this time you can be the one to pick up the sword! This Breath of the Wild Link costume comes straight from the 2017 game. Link has shed his normal green gear for this light blue tunic with patterns on the front. When you gear up in this tunic, you'll be ready to explore the vast fields of Hyrule.
Kids Link Costume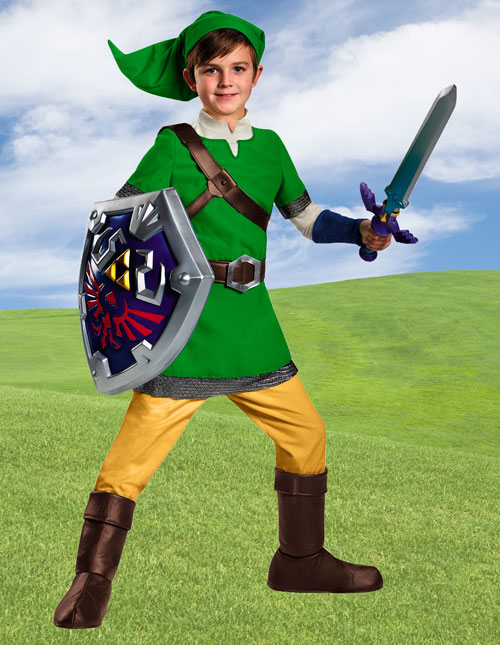 One of the great things about Link is that anyone can be him! You see, Link always starts off as some average guy and ends up becoming a hero. All one needs to become the next hero is a blossoming taste for adventure and the courage to fight against evil. If your kid is already a courageous young adventurer, then he may be all ready for the next step, which is garbing up in the classic green clothes of a hero. This Link costume for kids is a deluxe outfit based on his various appearances in the video games, so your little one will look ready to do battle against Ganondorf and his evil minions whenever he wears it.
Womens Link Costume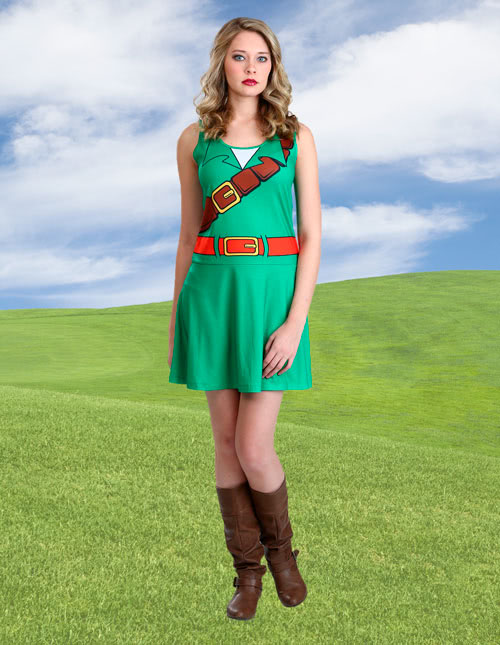 Who says that the hero of Hyrule has to be a guy? We've often wondered what a female Link would look like! Maybe one of these days they'll get around to making a Legend of Zelda game where there's a woman protagonist! Until then, we still have cosplay options for female fans of the green-clad hero. This women's Link costume is a Legend of Zelda style skater tank dress, so not only does it let you look like the hero from the video game series, but it also works as a great outfit for any day you're feeling adventurous.
Link Costume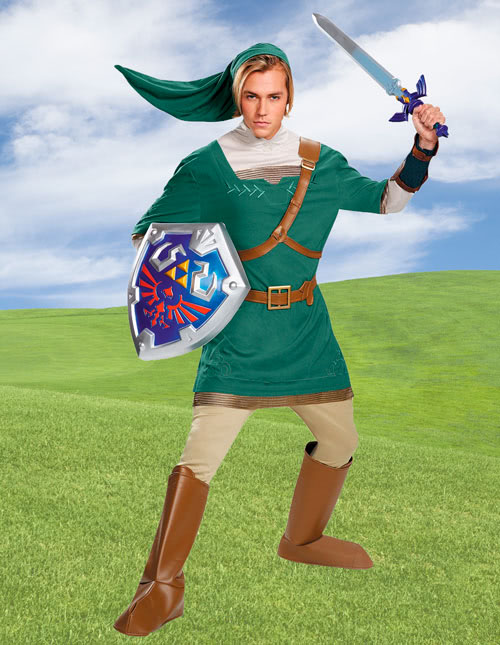 Were you one of the Zelda fans who lamented the cel shading style of The Wind Waker? Well, shame on you! That game was a magnificent gem, but we do get the point. Grown-up Link from The Twilight Princess had such a dashing quality that we can't deny. This Link costume brings you a style more in line with some of Link's more mature appearances, so it's perfect for any guy looking to jump into the role of the classic hero.
Zelda Costumes
The game wouldn't have its iconic name without the fair Princess of Hyrule. (Except for Link's Awakening, of course.) In each game, she plays a slightly different role. Sometimes she's the damsel in distress, like the original game. Other times, she's a fierce warrior with a secret alter ego, like in Ocarina of Time. She's also played a rough and tumble pirate on the high seas. No matter her character, there's always one thing she keeps true to heart. She always puts the people of Hyrule before her own desires, which makes her a great role model to look up to. That also makes her a great option to cosplay as when you're putting together a Legend of Zelda costume. Here are some of our favorite Zelda costumes for you to try out.
Zelda Costume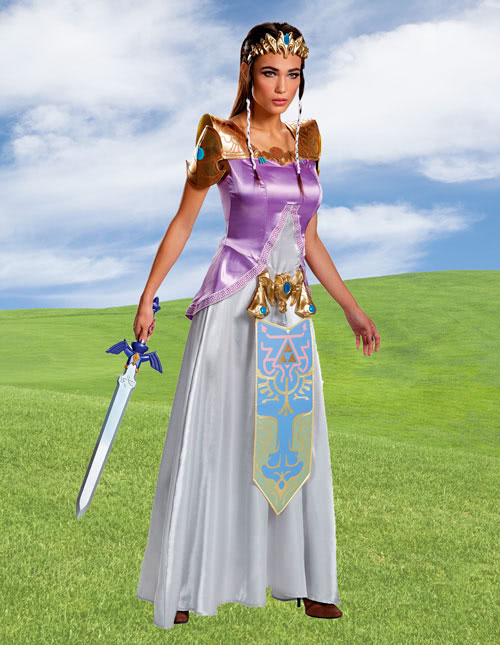 If you're ready to stand up for the good people of Hyrule and wield the Triforce of Wisdom, then you're ready to jump into the role of Princess Zelda! Don't worry, the title of princess comes with some pretty cool perks along with the responsibility of ruling. You get to wear a really awesome outfit and you'll be able to shoot light arrows from your bow! Of course, it all begins with this Zelda costume.
Kids Zelda Costume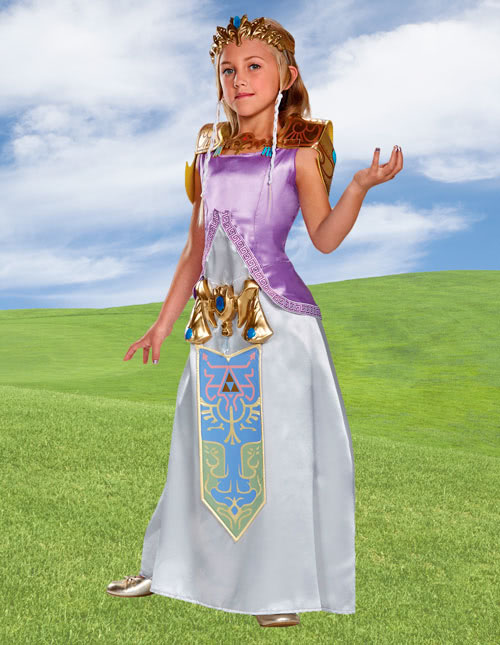 Many of Zelda's incarnations have her facing insurmountable odds as a young child. But she doesn't falter in the face of danger! If your little girl is just as brave as the iconic video game princess, then perhaps it's time to outfit her with this kids Zelda costume. Based on her many appearances in the video game series, this costume is the perfect look for any intrepid young girl looking to play the hero.
Legend of Zelda Accessories
Link is known for a lot of things. His skill with a sword is top notch. He has unrelenting courage, even in the face of the most terrifying of foes. He's also pretty great at mowing lawns and trimming shrubbery. (What a nice guy!) But Link is probably best known for having an endless bag of tools and accessories. He makes the trek to tons of different dungeons just to collect special items, weapons, and treasures. He'll climb the highest mountain to get a bow and arrow and he'll head to the bottom of the sea just to get a pair of iron boots. Of course, you don't have to go through all that trouble to round out your Link costume. We carry all the accessories and toy weapons you need. Just take a look at some of our essential items to pair with your outfit.
Breath of the Wild Bow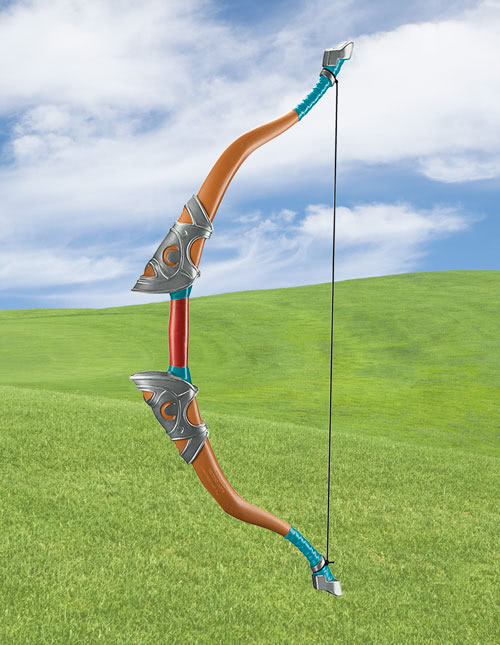 The bow and arrow has been a core tool in in Link's arsenal, appearing in every game where Link has played a starring role. That means that it's a must-have when creating any Link costume! This particular bow and arrow is a toy based on the Breath of the Wild game and it even comes with an arrow. Now this handy little accessory might not give you the magical power of fire or ice arrows, but you can carry it around as insurance against any Moblin ambush that may happen during your adventures.
Master Sword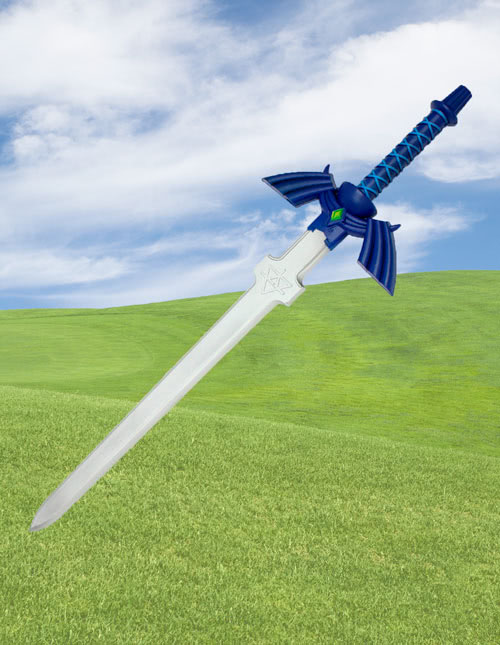 Of course, you NEED a Master Sword! A huge part of each Legend of Zelda game is the quest to find the epic sword that can slay Ganondorf. In A Link to the Past, the sword can be found in the mysterious Lost Woods. In The Wind Waker, Link finds the sword in the Pedestal of Time. You can find your Master Sword right here! It might not pack the wallop of the real Sword of Evil's Bane, but this toy version of the Master Sword makes for a great look to add to any Link costume and the sight of it makes Ganondorf quiver! You can check out the rest of our toy sword collection as well!
Hylian Shield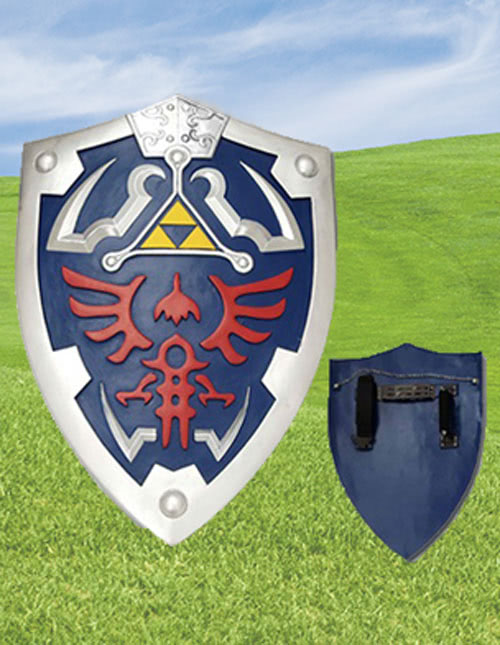 Hyrule can be a dangerous place. Not everyone in the kingdom is as friendly as Princess Zelda. In fact, there are Moblins, Stalfos, ChuChus, and plenty of other fearsome creatures inhabiting the nooks and crannies of the Kingdom. If you want to protect your behind from a Moblin spear, then you should probably bring some kind of protection. We carry plenty of toy shields, but if you really want to nail the look of Link, then you should bring your a-game with this Hylian Shield accessory. It even has the royal family symbol on the front!
Link Ears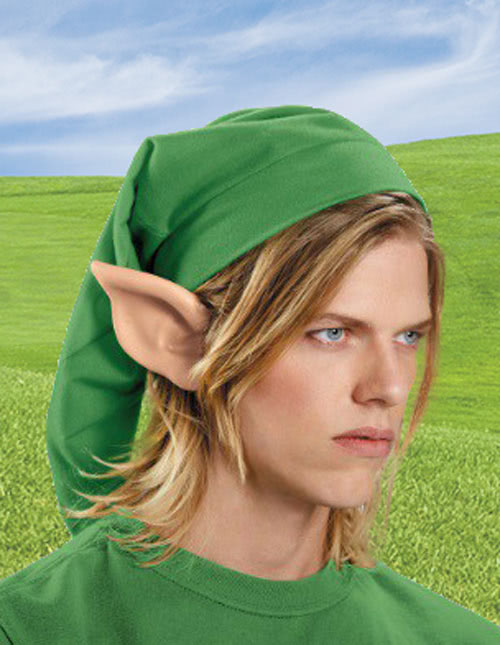 Have you ever noticed how Zelda and Link don't have round ears like most of us humans? Well, that's because they're Hylians! Many of the Hylians have pointed ears, much like the elves from Tolkien's Lord of the Rings books. It just so happens that we carry plenty of makeup and prosthetic kits that will help you achieve the ears of Link and Zelda. This Link ears kit should have you looking like a true Hylian in no time. Just slip them on the top of your ears with some spirit gum and you'll be ready to traverse the wilds of Hyrule!