Shimmer and Shine Halloween Costumes
Shimmer and Shine is one of the top streaming shows for kids. So, it only follows that the little ones have a wish to become the magical genies for Halloween! We're happy to help you out with Shimmer and Shine costumes for the whole family. We offer Shimmer and Shine costume girls' outfits that are officially licensed by Nickelodeon. We have Shimmer and Shine toddler costumes to get little ones in on the fun, and we even have adult Shimmer and Shine Halloween costumes so parents can dress up to match the kids!
If you want to learn a little more about these costumes to make a confident purchase, just check out this run-down of the top costume options. Before you know it, your kiddos will be genies-in-training granting wishes in the magical world of Zahramay Falls!
Shimmer Costume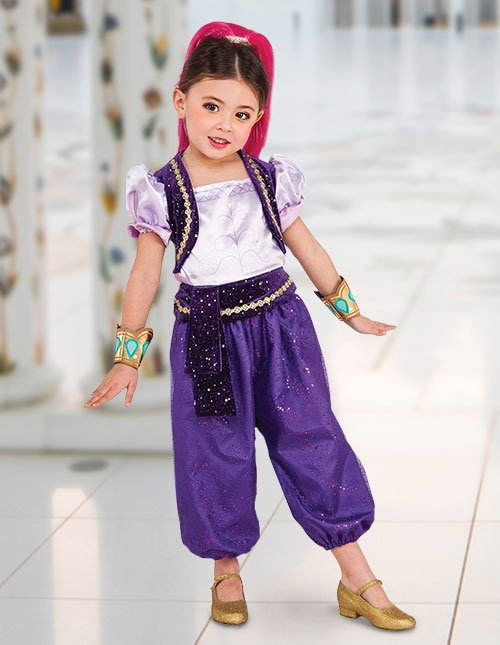 Shimmer and Shine are twins in the animated series, but each of them has a unique personality. So, there's a good chance that your child is going to have a preference as to which genie they want to be for Halloween. Shimmer has fabulous pink hair that fits with her purple outfit, and she loves cleaning, glitter, and genie bottles. If she's a match for your kiddo, then we're sure your child will love wearing our Deluxe Shimmer Costume for trick-or-treating! It features elegant sparkles and tulle fabrics, and a headpiece with hair that's pink to give your child a magical feeling.
Shine Costume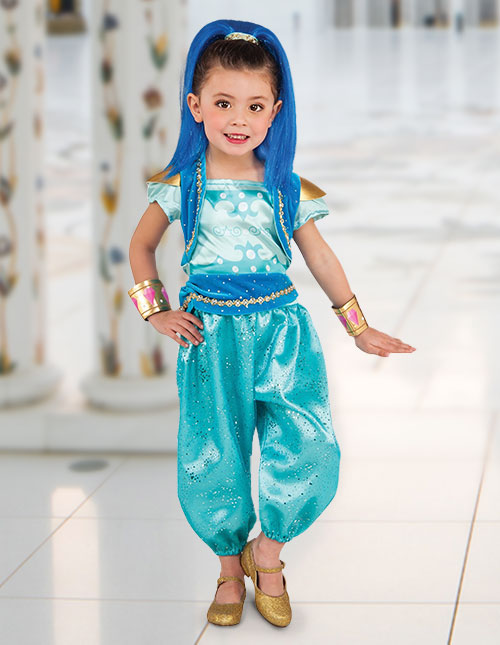 The genie Shine loves animals and is full of courage. And she wears a light blue outfit to match her blue hair! Our Shine Costume for girls is a great recreation of the animated character's look. The one-piece costume looks like a vest, top, and genie pants but is a one-piece jumpsuit so it's easy to wear. The suit features lots of lovely accents, like a genie pattern on the chest, golden trim and shoulder pads, and lots of shiny sparkles! With foam cuffs and a headpiece with long blue hair, this costume will have your kiddo looking just like the memorable genie.
Shimmer and Shine Leah Costume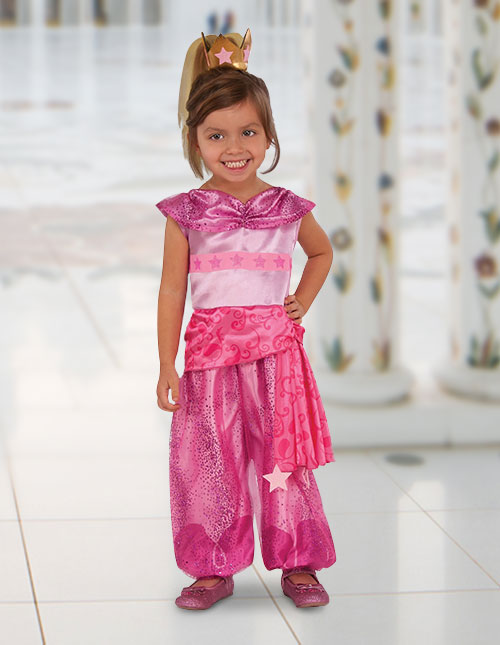 The Shimmer and Shine television series isn't just about the twin genies. Because they need someone to grant wishes for, of course! That important character would be the human girl Leah, and you can be sure we have an outfit to transform your kiddo into the kind-hearted character. Leah wears a genie outfit when she travels with twins, and our Leah Shimmer and Shine Costume is a magical look any girl will love for Halloween. The pink outfit features tulle fabrics with glittery accents, and it comes with a blonde ponytail extension and a crown to complete Leah's signature look!
Shimmer and Shine Adult Costumes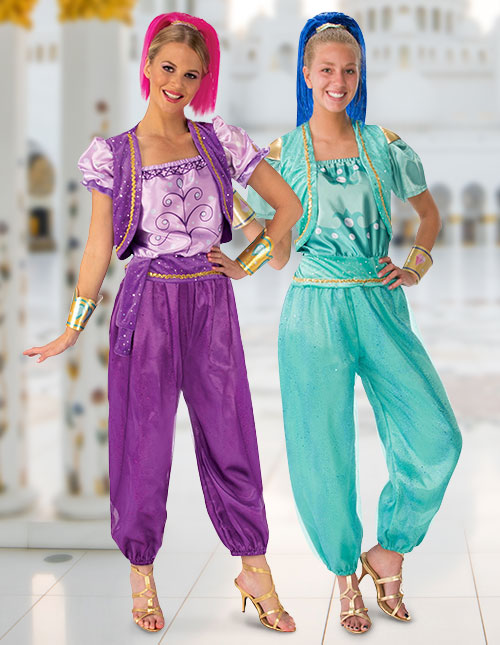 If you've got a little one who's obsessed with Shimmer and Shine, you can make Halloween extra special by dressing up to match her genie costume! We sell both Shine costumes and Shimmer costumes for women, and each features the vibrant styling of the delightful outfits seen on the show. Becoming the genie twins for Halloween is a simply adorable mom and daughter costume. You could also dress up as one of the genies if your child wants to be the human girl, Leah. But be careful if that's the case because you might end up having to grant her wishes!