Queen of Hearts Costume Ideas
If you're going to be walking around while reciting the phrase, "off with their heads," then you better be wearing the right ensemble to back up such a bold statement. Whether you want to capture the magic of the classic storybook Queen of Hearts or you rather wear a costume that is a little bit more revealing, we have tons of versions of the eye-catching Alice in Wonderland character costume so browse them all and pick the one that speaks to you. Of course, we also have tons of accessories that will add some authenticity to your whimsical look. We have listed all of our favorite costumes and accessories below so browse and let it inspire your costume experience!
People will be thinking, "Alice who?" when they see you decked out in your Disney Queen of Hearts costume. Plus, we have a Queen of Hearts Halloween costume for everyone... literally! Girls, teens, tweens, and women can don the tiny crown and the heart shaped scepter in order to get a taste of what it's like to be the Red Queen. Dole out your own form of bizarre justice while parading around in one of our officially licensed costumes to really get into character. We promise that an Alice in Wonderland Queen of Hearts costume is not only flattering, but fun to wear. Whether you prefer a long dress or a short and frilly skirt, we have the perfect costume that will have you feeling like true royalty!
Queen of Hearts Costume Makeup
The Queen of Hearts is a pretty big diva, so be sure to look your best with this sexy Queen of Hearts makeup tutorial. This makeup look will definitely accentuate your mouth and eyes the most. You'll want to start by using white powder to give yourself a pale complexion. Next, load on the blue eyeshadow. Place a dusting of white eyeshadow under the brow bone. Grab your hot pink lip liner and create a heart shape on your lips. You'll want to also use that same lip liner to draw three small hearts by the corner of one of your eyes. Watch the video for in-depth instructions on this Queen of Hearts makeup application!
Queen of Hearts Costumes for Kids
The Queen of Hearts is a character that appeals to girls of all ages because she's sassy, spirited, and overall very entertaining. Plus, what little girl doesn't want to wear a crown? The perfect Queen of Hearts kids costume is extravagant, bold, and girly no matter which one you choose. Even tweens won't act too old to dress in a costume featuring sparkly hearts and puffy capped sleeves! Sit down with the young Wonderland fan that you know for a spot of tea and start browsing our selection of Queen of Hearts costumes for girls. It may be difficult to narrow it down to just one costume!
Kids Queen of Hearts Costume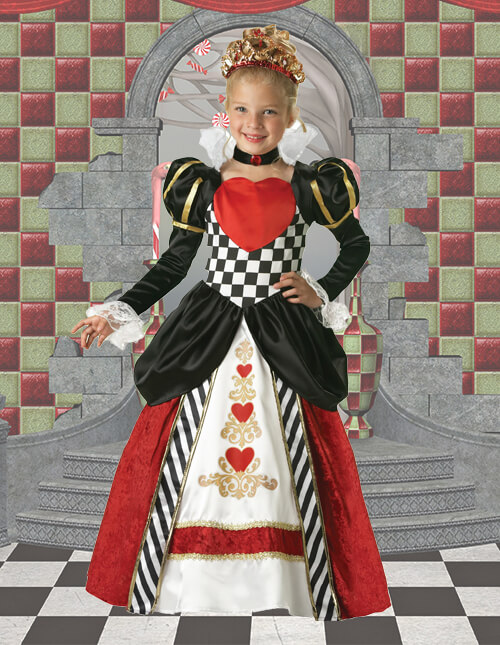 All hail the Queen! Little girls who love dressing fancy will be delighted to wear our Queen of Hearts kids costume because it will make her feel like elegant fairytale royalty. She'll be cloaked in a checkered pattern, gold detailing, and heart emblems, not to mention, a sparkly tiara that she'll never want to take off.
Girls Queen of Hearts Costume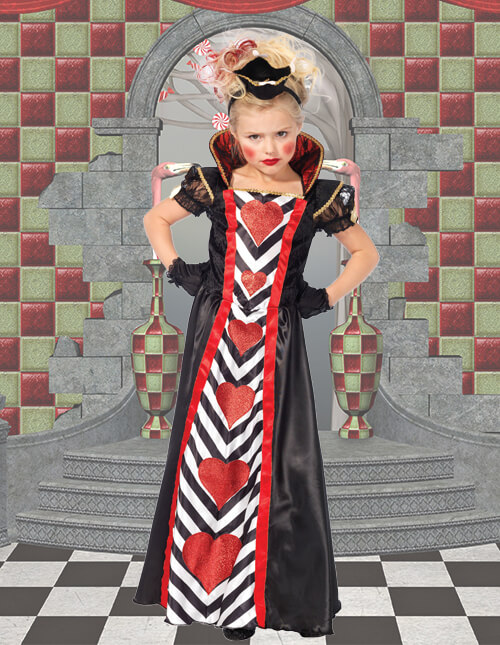 Don't be surprised if your little girl is sneaking in your makeup bag so she can lather on the bright red lipstick. She just needs the finishing touch on her girls Queen of Hearts costume. She's really committing to her look, and can you blame her? With a costume this elegant, she wants to make sure that she has the complete head-to-toe look. The lace-covered stand up collar and sparkly heart appliques make it the perfect girly Alice in Wonderland dress up costumes. However, if she really wants to play a game of croquet, she may want to change into something else!
Toddler Queen of Hearts Costume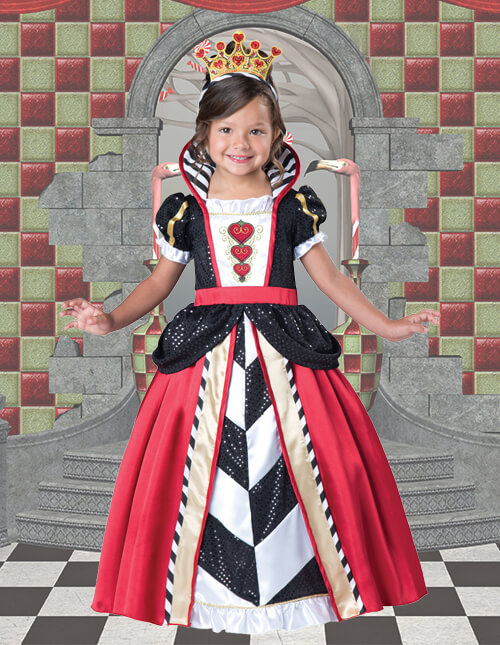 Can your toddler be a little bit…commanding? If you feel as though your tiny one has reign over what goes on in your household, then this toddler Queen of Hearts costume is the perfect choice. Not only is this dress adorable, but it's also quite comfortable too. The layer of chiffon under the skirt gives the dress a full look that will make her feel like true Disney royalty. Place the crown shaped headpiece on her as she strikes a sassy pose. You are raising a queen in training!
Teen Queen of Hearts Costume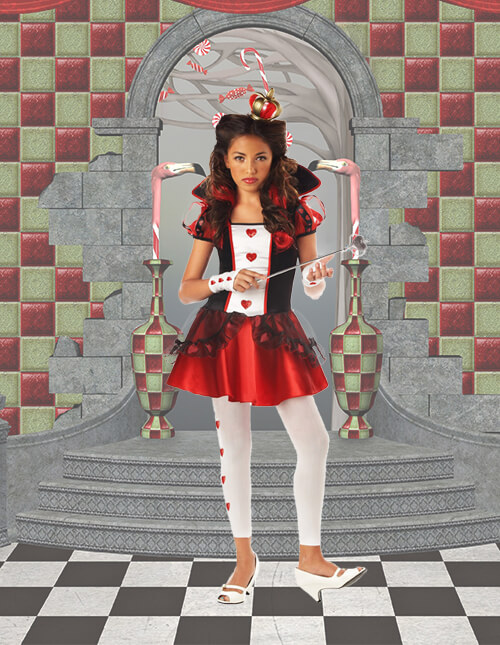 It's true, dressing up as a royal queen is every teen's dream. Queens command everyone's attention, plus they get to sport the best fashion, so it's no wonder why it's every teenage girl's fantasy. Now your daughter can see what it's like to feel like Wonderland royalty when she wears this Queen of Hearts costume for tweens. This heart accented dress with cap sleeves also features leggings and fingerless gloves so she'll stay warm while she's out and about with her regal crew.
Queen of Hearts Costume Accessories
Now that you have your Queen of Hearts Halloween costume picked out, you're going to need accessories that are fit for royalty. All of these items will accentuate your Queen of Hearts costume and add some authenticity to your overall look. For example, our Queen of Hearts Alice in Wonderland wig will give you a cartoonish look that will fascinate and amuse many, while the Queen of Hearts costume tutu will add some flounce to your overall look. Check out all the must-have accessories we've listed below so you can polish your look!
Queen of Hearts Shoes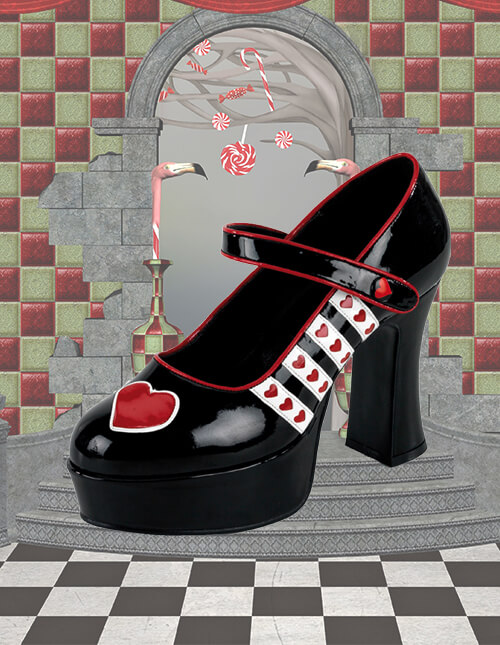 You have hearts on your dress, you have hearts on your crown, and now you will have hearts on your shoes. You'll easily break hearts when you stomp in wearing these Queen of Hearts shoes, which feature a classic Mary Jane style and a patent leather finish. Wear it with a costume that hits around the knees so you can show off these cute heels.
Queen of Hearts Wig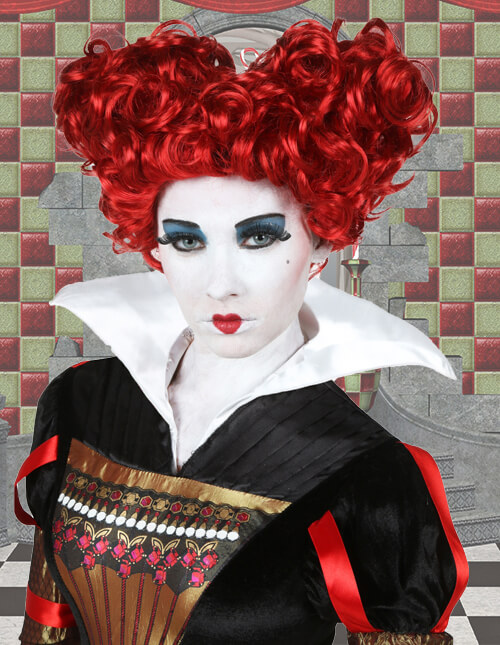 Now you can get a very powerful hairstyle that will keep even the wackiest of kingdoms under control. Channel Tim Burton's version of the Queen of Hearts by wearing this deluxe Red Queen wig so you can have an outrageous hairdo which says you prefer hitting a hedgehog instead of a croquet ball. These curly red tresses will add some pizzazz to any adult Queen of Hearts costume you plan on wearing!
Queen of Hearts Scepter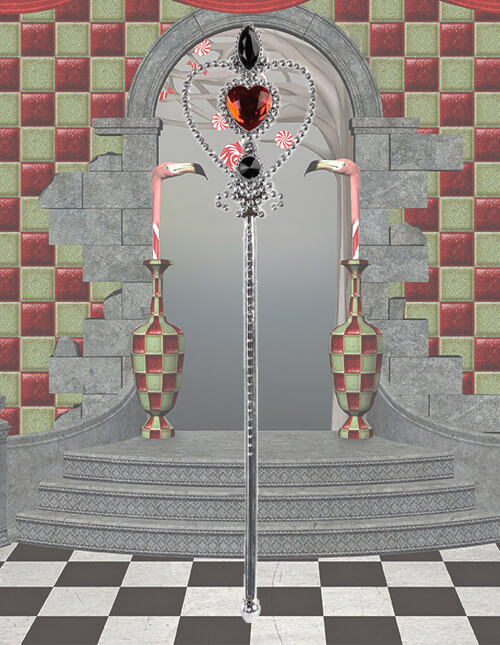 Maintaining authority is difficult, but it's a lot easier to do if you're waving around this Queen of Hearts scepter. This accessory will bring out all the jewels and sparkles that are featured on your costume. Use it to enhance your royal garb and make sure to take lots of pictures with your shiny accessory!
Queen of Hearts Crown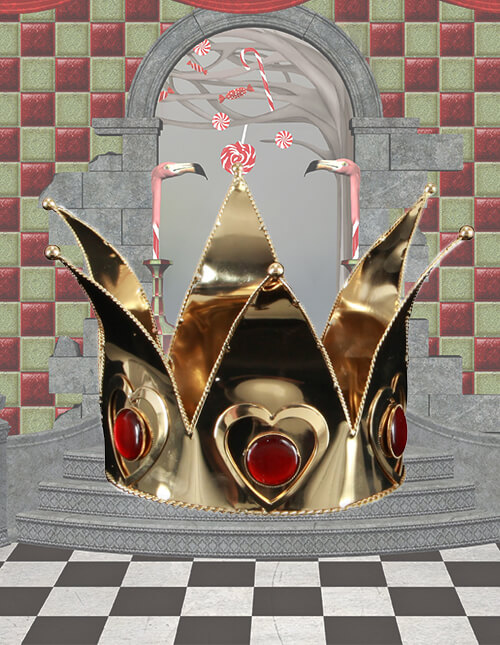 You can't truly be a queen if you're not wearing a crown! Place this mini Queen of Hearts crown on your head and get ready to feel a surge of power. It looks charming with any Queen of Hearts costume because the red jewels and embossed trim will bring out the shiny details of your costume!