Pocahontas Costumes
How to Be Pocahontas
Pocahontas isn't your typical princess. She doesn't need glass slippers or a fancy ball gown or even a fairy godmother. Pocahontas likes to hang out with Grandmother Willow, canoe down the river bend with Meeko, and paint with all the colors of the wind. Dressing as Pocahontas is a great way to get in touch with all the natural elements around you. Who knows? Maybe you'll even make friends with a hummingbird! Perhaps you'll be able to chit-chat with a raccoon or a muskrat? If you have a flair for fringe and walking around barefoot has always been your thing, then you'll love becoming Pocahontas. We'll teach you how to pose like the princess of the Powhatan Tribe and suggest ideas to make a cute couples' costume. All you'll need is an adventurous attitude and a free spirit!
How to Pose for Pictures in Your Pocahontas Costume
"Wave"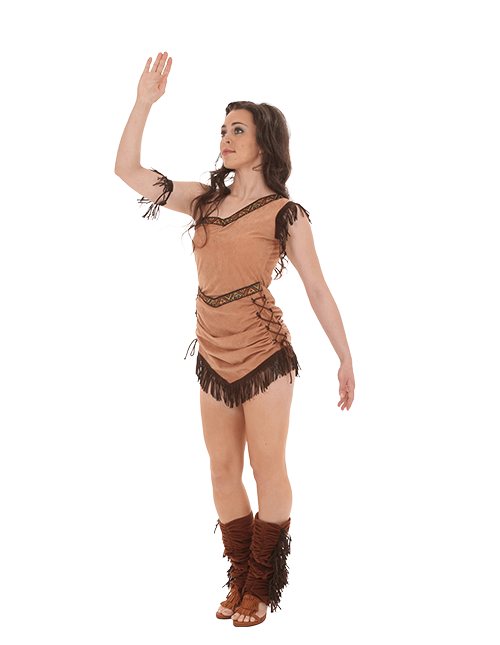 "Experience the Wind"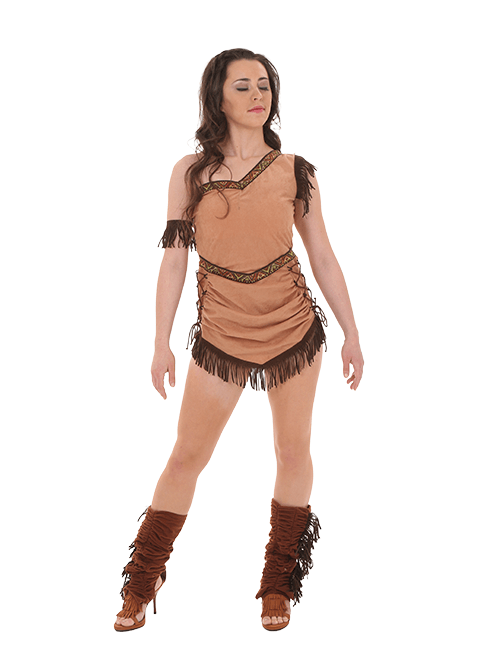 "Tribal Princess"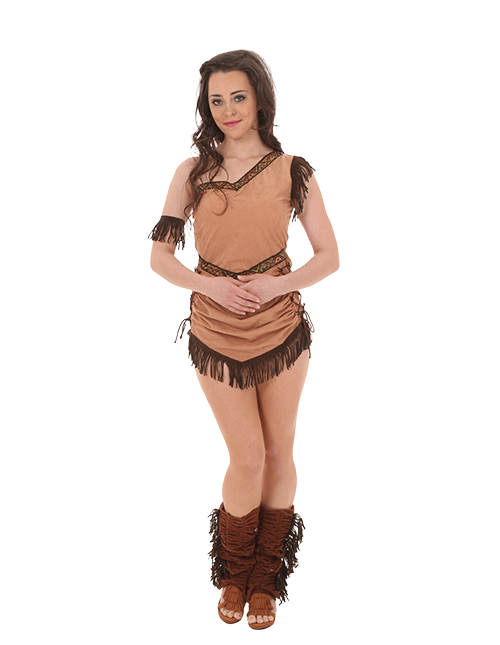 "Explore"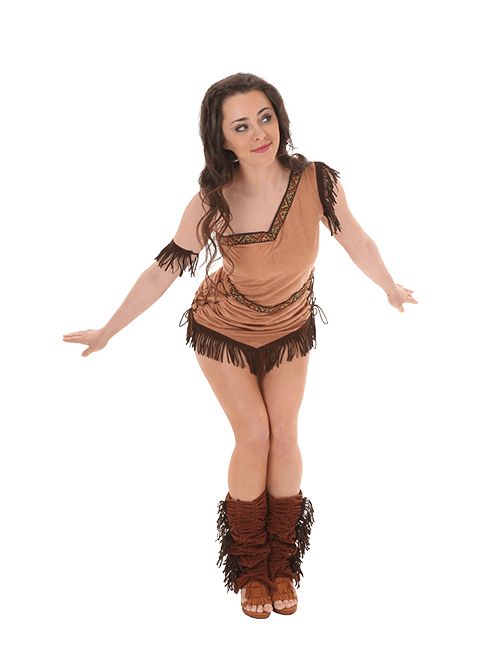 You're going to see camera flashes all night so you'll need to have a few go-to poses handy. When someone says 'cheese,' pretend to wave at explorers traveling to the New World. Angle your body slightly away from the camera and look off into the distance. Imagine that you see John Smith arriving on his ship and start waving. This is a great pose if you really want to get into character. One of the most memorable moments in the classic Disney movie is when Pocahontas sings 'Colors of the Wind.' Strike a pose like you're experiencing the wind that Pocahontas sings about. Face the camera and act like a gust of wind is blowing against you. This pose is really all about imagination. You could also decide to do a cute princess pose too. This is an easy one, just fold your hands in front of you and pop your knee out. Put a sweet smirk on your face and you'll look like a total tribal princess. If you're an adventurous lady, you'd probably enjoy the 'explorer' pose the most. Bend your knees and look out like you are peering through the bushes into unexplored territory. Look slightly away from the camera like something out in the distance has caught your eye. All these cute poses require imagination, creativity, and personality. Once all these photos get uploaded to Facebook, you'll be happy with all the 'likes' they'll receive!
Couples Costumes to Pair with Pocahontas
Pocahontas and John Smith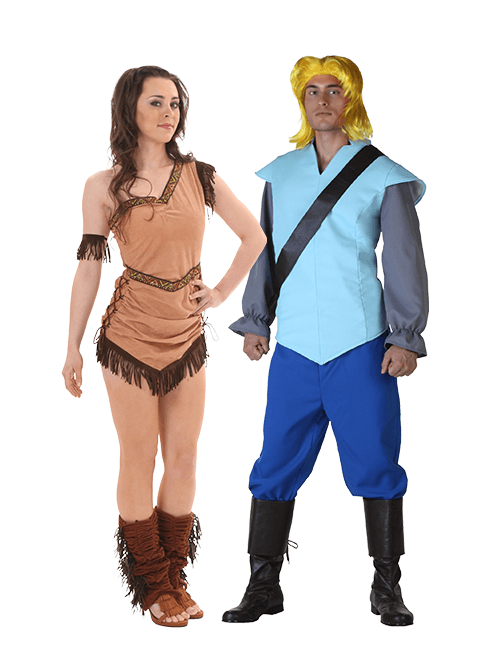 Pocahontas and Indian Chief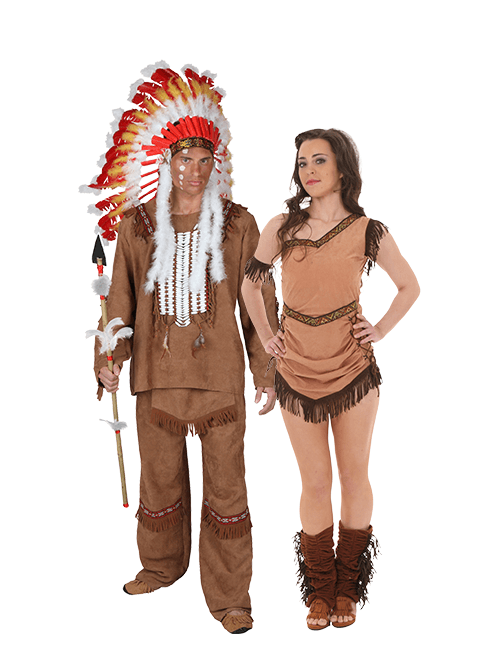 Pocahontas is a cool chick who is wise beyond her years. Of course there are going to be tons of men who want to date her and she has every right to be choosy. And so do you! You could let John Smith be your escort. He's handsome, young, and an experienced explorer. Not to mention, his shiny blonde mane and his rugged attitude make him the ultimate arm candy. However, it's always nice to have options, especially when it comes to dates. You could trade in John Smith for the village's greatest warrior. If you rather have your man's costume match yours, then going out with an Indian Chief would be a good choice. He's macho plus his feather headdress will compliment your fringe perfectly. If you plan on taking a lot of pictures with your date throughout the evening, this is a good costume to go with. It photographs well so you and your Indian Chief will be the couple to watch.
Pocahontas Makeup Tips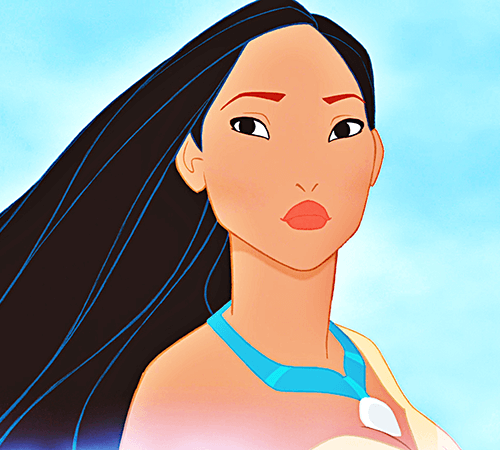 Use a shiny bronzer to help give your cheekbones added definition.
A dark brown brow pencil can be used to help fill in your eyebrows and give them a more defined appearance.
Black eyeliner can be used on the top lid only and slightly increases in thickness as you reach the outside of the eye. Add a small wing to the edge if you would like your eyes to appear wider.
Taking a dark brown eyeshadow and applying it only in the creases of your eyes will add the dimension that Pocahontas has.
Applying a soft brown lipstick will help to complete your Pocahontas appearance.