Peter Pan Halloween Costumes
Are you ready for adventure!? There are plenty of ways to do that. You can take to the stars like an astronaut and discover whole new worlds and alien creatures! You could also take to the seas with a life of piracy on your way to treasure and mysterious monsters of the deep. Perhaps you'd rather explore your imagination by telling stories with your very best friends. But why stop there? Why not combine all of those together… and be able to fly while you're at it!?
Take off to the second star from the right and on to morning because with this collection of Peter Pan Costumes, you'll be in Neverland in no time! With options ranging from classic Disney Peter Pan to inspired twists on the storybook tale, your adventure is only beginning. So, think happy thoughts and we'll provide the fairy dust to get your costume order flying to you today!
Adult Peter Pan Costumes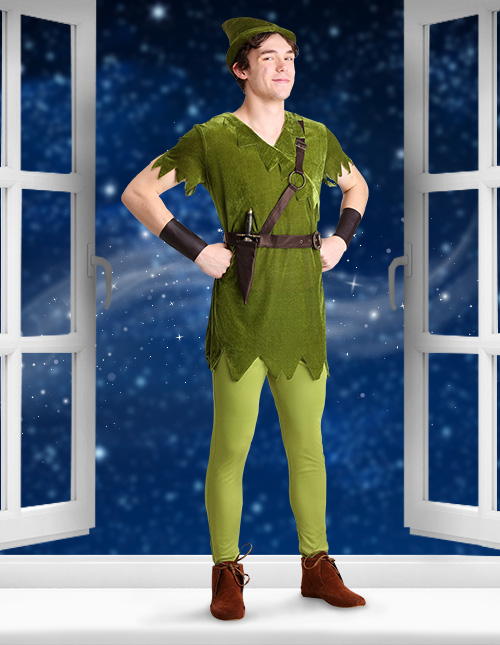 Peter Pan is an iconic character that anyone can recognize in an instant. From those elf-like ears and wide smile to the fact that he's often hovering in mid-air, it is still a bit of a surprise that his green outfit is the first thing folks remember! Grab a Peter Pan costume for Adults to get in touch with your inner kid and remind everyone that the key to staying young is having fun!
Baby Peter Pan Costumes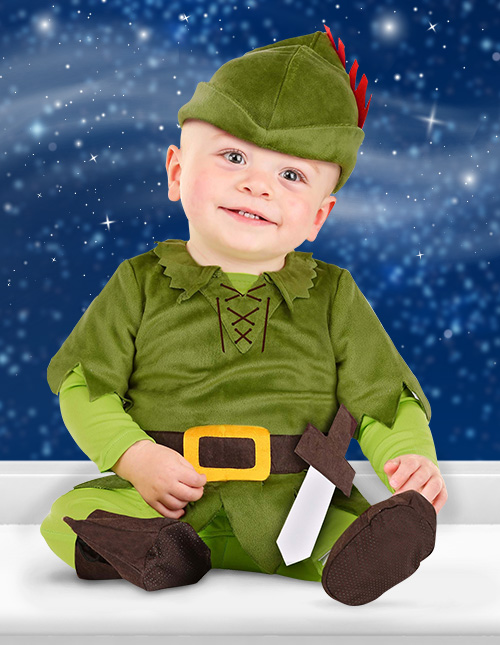 We all know that Peter Pan is an eternal kid at heart, but who says that we have to wait until we're almost a teenager to take our first trip to Neverland? We can't promise that you'll put a pause on time when you pick out a Peter Pan costume for babies and toddlers, but the pictures that you take with these green jumpers and tunics will give you memories that'll last a lifetime.
Peter Pan Shadow Costumes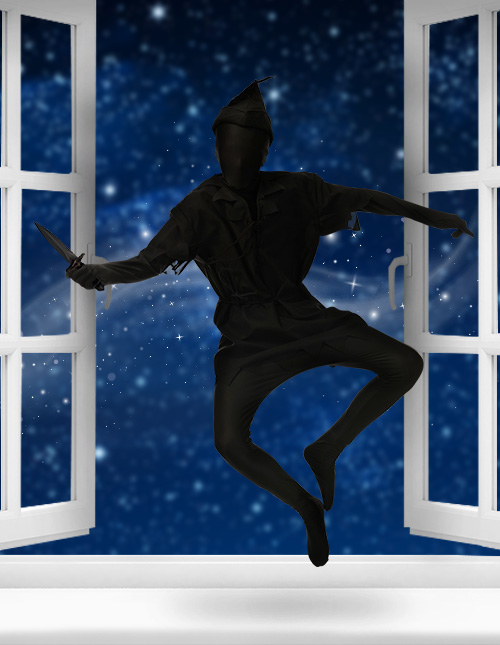 There can be a lot of spooky creatures in stories, but not everything moving in the shadows is scary. Some of these mischievous surprises come from your very favorite parts of the tale! With the help of a Peter Pan's Shadow costume, you won't need to hunt it down. The black bodysuit is an easy way to transform in a snap. You can even store it in a drawer just like Wendy did!
Boy's Peter Pan Costumes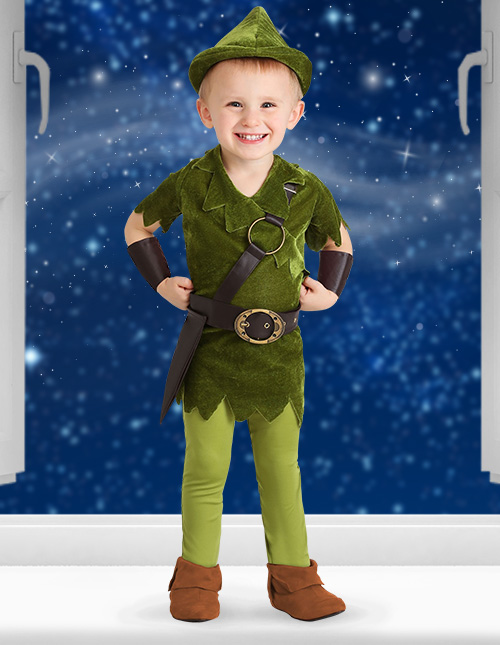 Any kid has dreams of flying around the world. We can't always depend on Back to the Future technology to make it happen, so our best bet is to help everyone's heart feel light with the happy thoughts that come from stories like Peter Pan! Whether your kid loves adventure, sword-fighting, or crowing at the top of their lungs, a Kid's Peter Pan costume is perfect.
Peter Pan Group Costumes
The best part of Peter Pan is that there are so many characters. That means it is easy to create memorable group costumes that let everyone play a part. From the Lost Boys, the Crocodile, and the other animals that populate the pages, there is an option for anyone. Of course, there are still a few favorites that we have to highlight! Team up as a pair when you pick out an iconic duo, whether you plan on soaring through the skies or setting sail for Neverland fun.
Peter Pan and Tinkerbell Costumes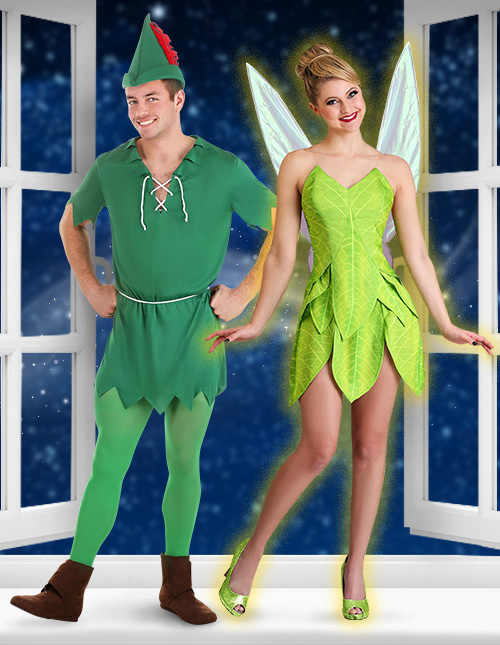 The most magical pair in Neverland is none other than Tinkerbell and Peter Pan! From Tink's sassy style and Peter's imaginative attitude, it is no wonder that they've been topping the charts of costume options for years! Whether you are a paramour or a pair of best friends, grab these green getups and feel the flights of fantasy and let the kid-at-heart take command for a night.
Captain Hook and Mr. Smee Costumes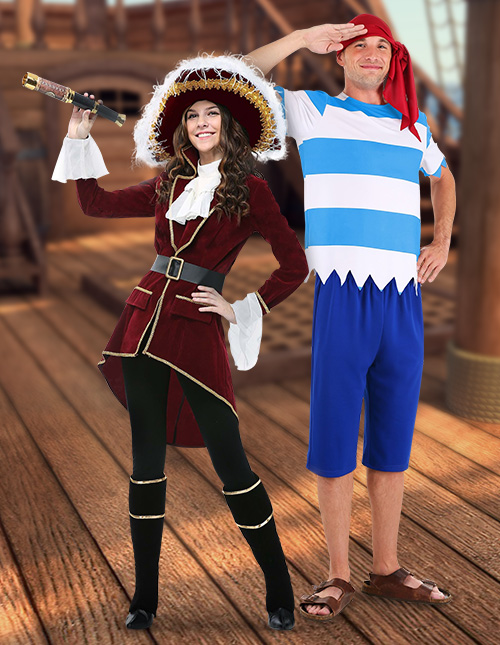 If any characters can steal the show from Peter, it is the gloriously garbed Captain Hook and his First Mate, Mr. Smee. From those luxurious locks and gentlemanly grace, Hook is both rival to Peter Pan and still something of a leading man on the deck of his ship. Of course, Smee is a Neverland Pirate that can make anyone smile, even if his fashion is strictly stripes!
Peter Pan Costume Accessories
You may think that you're ready for anything just because you're garbed in green. But Neverland is a place of adventure just as much as it is a place of imagination. Be sure that you're ready for anything when you pick up the right Peter Pan accessories for your trip.
A faux sword will keep you prepared for conflict with anyone on the Jolly Roger while a brand-new cap may be necessary if a mermaid wants to trade. Even better, choose some of these iconic accessories to upgrade your regular wear with storybook style! You are only limited by your imagination in Neverland… and on HalloweenCostumes.com!
Black Peter Pan Hats
Peter Pan is known for his pointed, green hat. The alpine style is always going to be part of the classic character. But did you know that he had another style that is even more popular? Whether you are sporting a shadowy style or looking for a contrasting look, pick up Peter Pan's Black Hat for a roguish look while you're soaring into the skies.
Pirate Hook Accessory
Any pirate captain has a look that is all their own. From pegged legs to popular poses or catchphrases that are fun to repeat, it's easy to bring any of them to life. Of course, if you want to be the true captain of the Jolly Roger, you simply must bring home a Captain Hook accessory. We have simple and deluxe styles that will help you create a look you'll love.
Pirate Ship Wagon Covers
Once you've collected all the treats from the neighborhood, what is a Neverland wanderer to do? Well, a Trick or Treat bag is fun and all, but when you've got a ton of loot from everyone, you might need to go the wagon route. For that, make sure that you bring the Jolly Roger along by transforming your favorite four-wheeled toy into a ship with a Pirate Ship Wagon Cover!
Pirate Hats and Wigs
From gorgeous curls to tricorn caps, Neverland is known for being larger than life. So, whether you're looking to dress like Tiger Lily's character, want to dive into the deep with the rest of the mermaids, or channel your inner Captain James Hook, make sure you pick out the Peter Pan Wig or Hat that tops off your look. From there? It is all about tipping your cap and flipping your hair!