Michael Jackson Halloween Costumes
So, you've decided that this Halloween is finally going to be the year you go for. You're going to go as the King of Pop! Slipping on a Michael Jackson jacket and strutting your stuff might seem a bit intimidating, but we have the costumes that will make it easy. And lots of fun!
We offer Michael Jackson costumes from some of the pop sensation's most famous moments. That means that, yes, we sell the Michael Jackson Thriller costume, as well as his jacket from the "Beat It" music video. We also have all of the accessories needed for Michael Jackson outfits. We offer items like a Michael Jackson fedora, and of course, the Michael Jackson glove in all of its sequined glory.
Whether you're an MJ mega fan or just think the performer would be a fun costume choice, you'll want to carefully consider which outfit you choose. We want you to have all the info you'll need to make a smart purchase, so we assembled everything you'll need to know in this HalloweenCostumes.com How-To. We have more info on the top Michael Jackson Costumes as well as some tips and tricks to ensure that your performance will truly be a showstopper!
Michael Jackson Costume Ideas
No matter what musical inspiration you'd like to use for your Michael Jackson costume, we have the outfits to make it happen! Whether that's a Thriller jacket, The Michael Jackson red jacket from "Beat It", or a Michael Jackson white glove to complete your cosplay costume, we sell everything you'll need. Check out these top costume ideas to get your shopping started!
Thriller Michael Jackson Costumes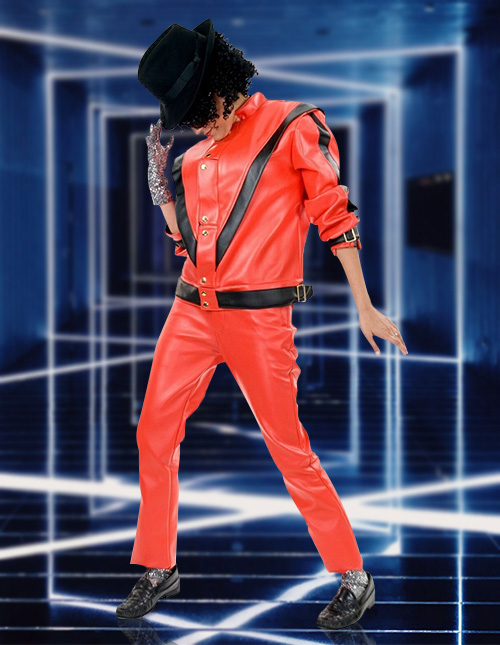 Michael Jackson's Thriller helped to put MTV on the map and changed the world of music videos forever. The 14-minute-long video was instantly a pop culture sensation, cementing the Thriller album as the best-selling record of all-time and ensuring that fans would be recreating the video's signature zombie dance at parties for years to come. You can get MJ's signature look from the movie with the Thriller Jacket. Along with a little bit of zombie face paint and some killer dance moves, the outfit is sure to make you a star at your next costume party!
Michael Jackson Jacket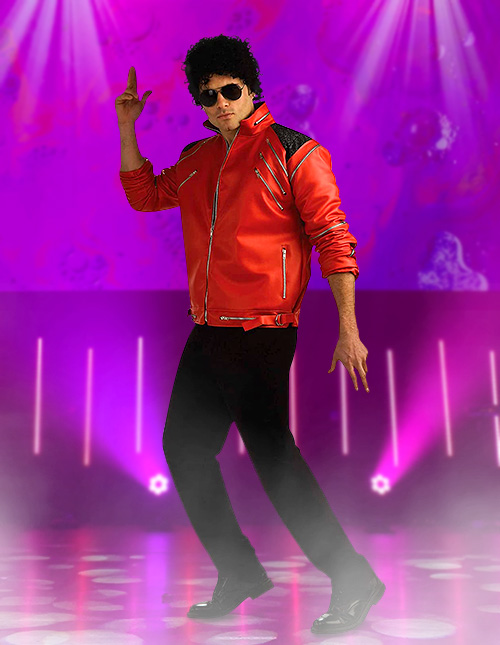 "Beat It" was another major hit from the Thriller album, and the music video featured a dizzying array of dance moves from Michael Jackson and the gang members depicted in its story. His dance moves in the video might not have looked quite as dazzling without a signature piece, though, as he shows up on the scene wearing a red leather jacket outfitted with mesh details and lots of zips. Naturally, we sell the costume version with our Deluxe Beat It Costume Jacket, and it's one of the best-selling Michael Jackson outfits every Halloween season.
Michael Jackson Costumes for Kids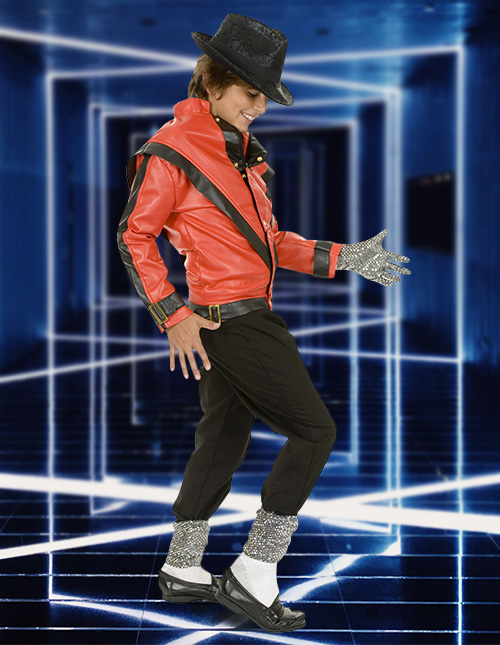 Little ones can have a great time going as the King of Pop, too! While kids are too young to have experienced Michael Jackson themselves, if they've ever seen one of the pop star's music videos or performances, they're sure to be enamored with Michael Jackson's one-of-a-kind style. We have some great options to let boys and girls roleplay as the star. The Thriller jacket for kids is a child-sized version of the iconic red leather jacket, complete with triangular panels and black stripes. When paired with a sequin glove and fedora, it's an instant Michael Jackson costume that's ready for fun.
Michael Jackson Glove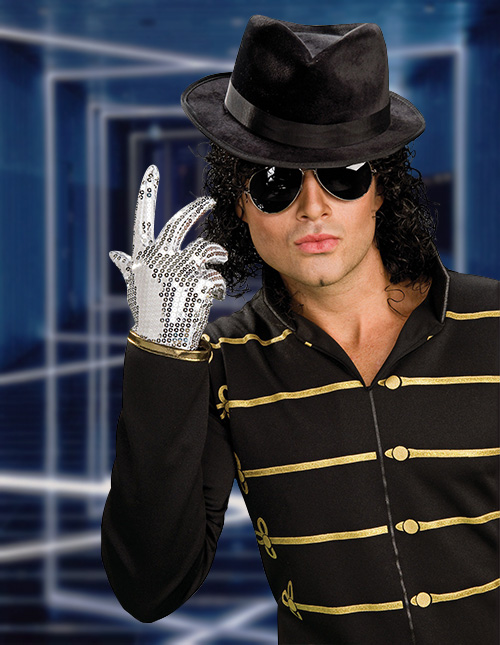 Aside from his record-setting songs and musical legacy, Michael Jackson is also remembered for his dazzling wardrobe. Frequently appearing in outfits embellished with extravagant embroideries, gems, and sequins, one clothing item stood out as a staple no matter what he was wearing. A white, sequined glove on the left hand became a trademark of the pop star's look. The kids' Michael Jackson Glove recreates that look and can be worn with any of our Michael Jackson outfits. With this sequin glove and a great moonwalk, your presentation is going to be perfect!