Kids Halloween Costumes
When you're a kid there are few activities that get you as amped as 'Trick or Treating.' Sure, birthdays are a good time, as is Christmas, but no one ever tells you, "be good or the neighbors won't give you candy this Halloween." It's the one night that you can be precocious, mischievous and any other "ous" that makes being a small fry so much fun – no questions asked (in fact, "tricks" are encouraged)! What cranks the good time meter to eleven is the fact that you not only amass pails full of candy, but you get to do so disguised as someone else – favorite movie/TV characters, a worker in your dream profession or even a cute and cuddly critter! Kids' Halloween costumes have made big strides since the plastic-suit-and-mask days of the eighties… we're getting sweaty just thinking about them! Many manufacturers use softer (sensory-friendly) fabrics for kids' costumes, reinforce seams for rougher play and add non-scratchy embellishments or trims. The better quality and construction allows for hours of imaginative dress up play after the All Hallow's Eve festivities as well as provides moms and dads more bang for their buck. So, what d'ya say we get this party started?.
Halloween Safety for Kids
SAFETY FIRST! Buzz kill, we know, but the sun sets pretty early on October 31st. Sure, some neighborhoods offer daytime trick or treating, but where's the thrill of crossing paths with the things that go bump in the night? Of course, Halloween Costumes makes it a priority to help ensure that last sentence doesn't become a bad pun by offering some simple accessories (and costume hacks) that will make your child more visible to vehicles as they wander the neighborhood in search of some sugary satisfaction.
Carry a Light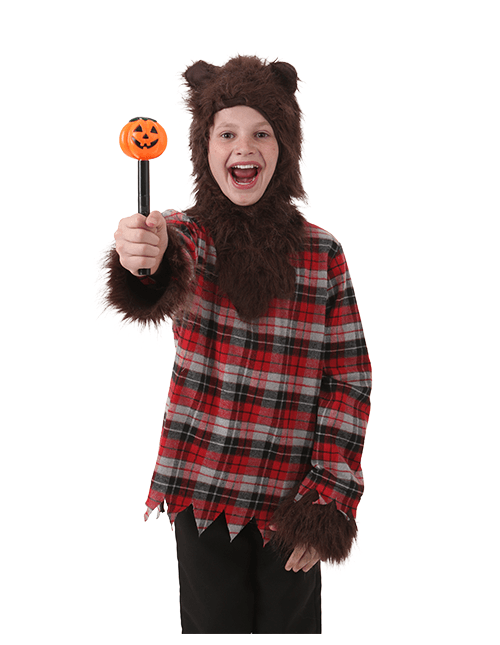 Flashlights 2.0: Light 'em up! (Your children, that is.) Our pumpkin flashlight is a festive and affordable way to send little ones off into the witching hour with a beacon. However, there are dozens of lighting options that can match your child's costume. For example, we have light sabers for little Star Wars fanatics, glowing wands for pint-sized princesses, and old-timey lanterns for those practicing magic at Hogwart's School of Witchcraft and Wizardry. Bottom line ... give those kids something that lights up so they'll stand out.
Add Relfective Tape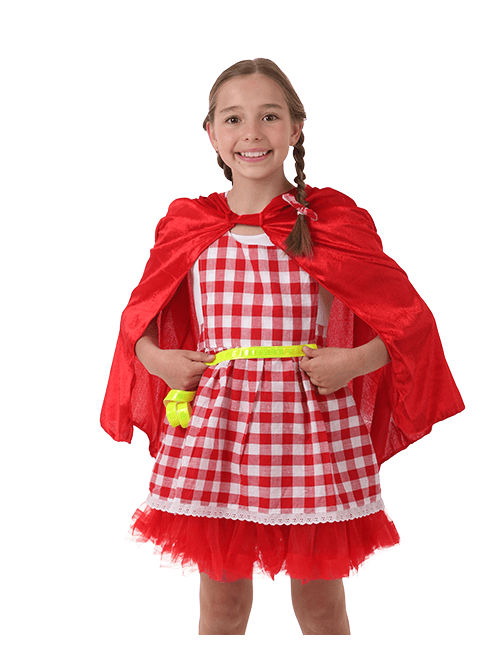 Never underestimate the power of good, old-fashioned reflective tape. Call us helicopter parents, but we sure do like safety measures. This stuff is easy to stick on and isn't going to "ruin" the look of your kid's costume. With Little Red here, we added a belt, but you can get creative. We have it on good authority that Iron Man's arc reactor looks awesome with the addition of reflective tape. Astronauts and aliens hardly even notice! It's a small and easy addition that could make a huge difference for your little one this Halloween.
Warm Halloween Costumes
Oh, the weather outside is frightful ... We're from the Midwest, so snow in October is sometimes a thing. However, pretty much anyone north of the tropics can attest to the fact that a late October evening can be downright chilly! But you can't let a drop in temperature derail your child's candy collecting ambitions (because stolen Snickers from plastic pumpkins while the kids are asleep are the best tasting Snickers after all)! There are other times when more coverage is necessary – shoulder-baring ballerinas need a sweater, for example. Well, we offer many styles of warm Halloween costumes for adults and kids! Below are a few tricks of the trade (and some clever warm costume ideas) that moms and dads can use to keep kids warm and comfortable during all of their Halloween haunts.
Add Layers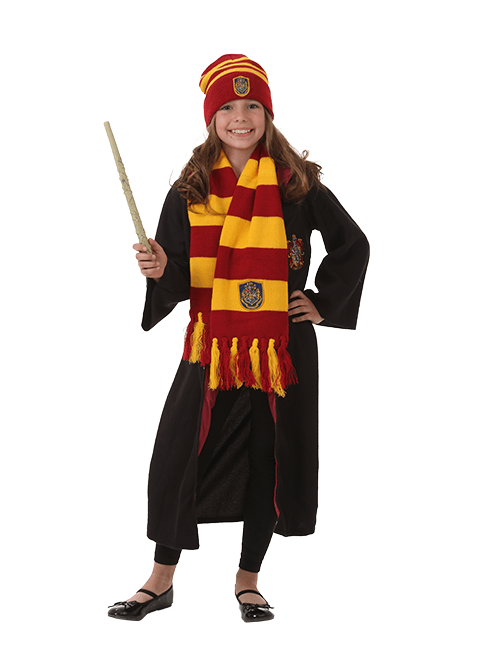 You've survived a winter in a northern climate? Then you know that the key to dressing for the season is to layer, layer, layer! We offer a huge selection of child costumes that allow you to add as many thermal undergarments as will be needed (without sacrificing style). Any robe or loose fitting costume will accommodate extra layers, and a Hogwart's robe is a perennial favorite! Seriously, how cute is this matching Harry Potter scarf and hat?
Wear Long Sleeves and Pants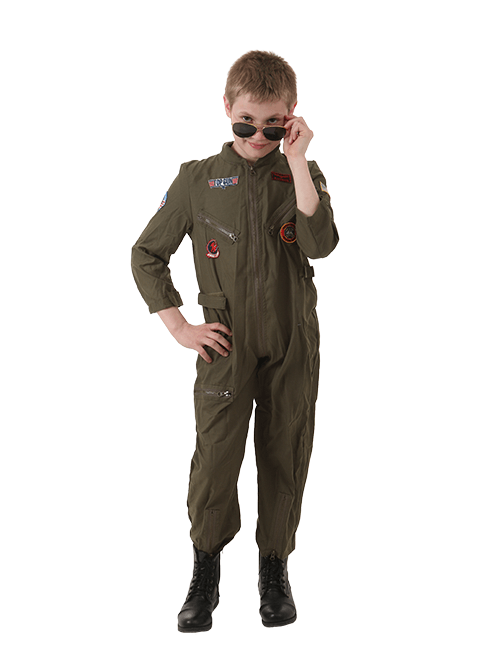 If you live in the middle states, you probably experience a true "autumn" season. Brisk, but not blizzard-ready. When the weather is cool and crisp, your Maverick's got a need ... a need for SLEEVES! A jumpsuit, like our Top Gun flight uniform, gives them coverage AND the swagger of an ace pilot. You will, however, still need to cross your fingers that his aviator's won't fog during the sugar rush.
Pick a Plush Costume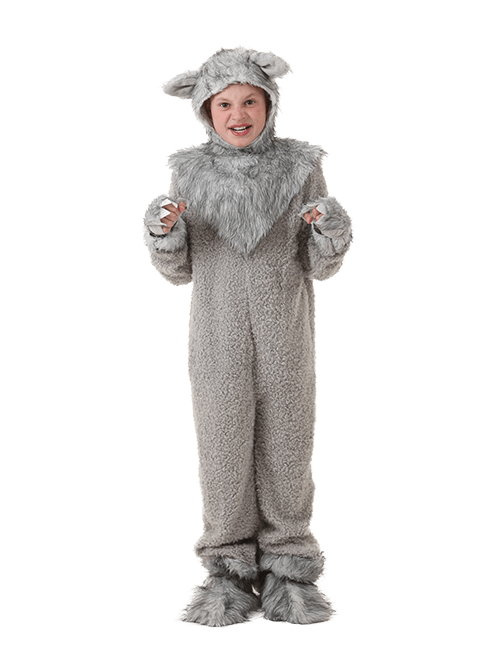 You know who's ALWAYS dressed for the weather? Furry critters. Like Jeff Goldblum taught us, "life, uh, finds a way." A plush animal costume is a great choice to send them off wrapped in a warm hug. And if you wake up Halloween morning to find a foot of snow (we're lookin' at you, upstate New York), no problem! These jumpsuits are generously cut to fit layers underneath.
Add Leggings or Tights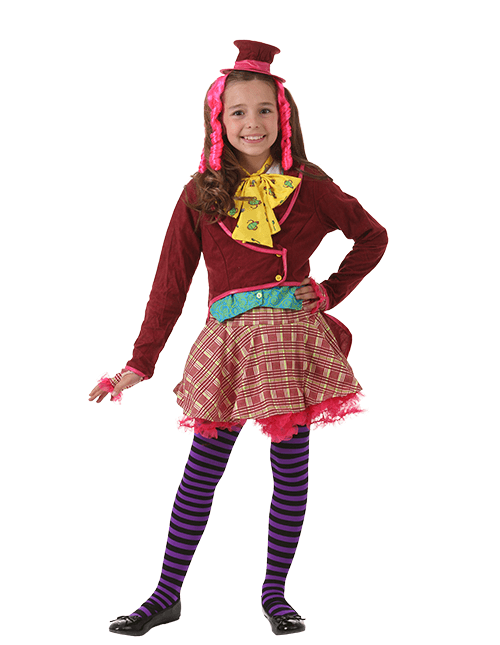 The cold never bothers her anyway! We get it. You've got a girl's girl on your hands, and she's not about to wreck her outfit in the name of Mother Nature. Not only does this super-girly Mad Hatter costume feature a great jacket (and so many fun colors), but she can also add some matching tights or leggings to get more coverage. She'll be totally cute and not on the verge of turning blue.
Kids Costumes with No Masks, No Hats
There are times when a mask makes the character ... Stormtroopers, ninjas, and pretty much ANY superhero—just to name a few. But there's no shame in letting go of the muss and fuss of kids wearing a mask or hat this year. (Especially if you know that your tot is just going to take it off ten minutes into your neighborhood stroll – who wants to hold on to the overflow bag of candy in addition to a clunky helmet?). Besides, when little ghosts and goblins surround you, you want to make sure you know which monsters are yours to take home. Fortunately, we have plenty of non-headwear costume options available.
Star Wars Jedi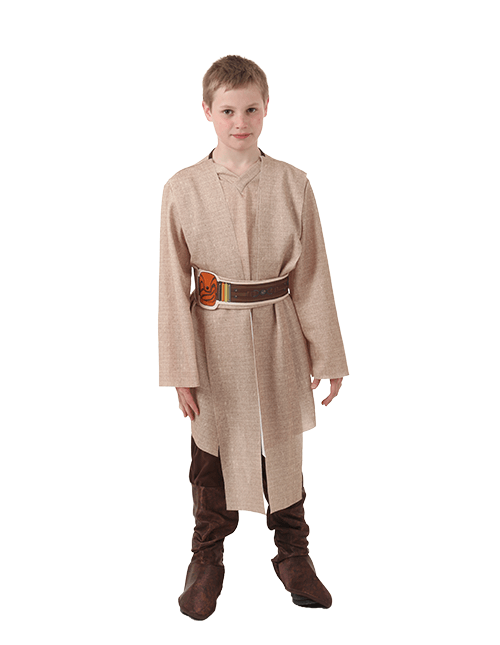 Some kids (you know the ones we're talking about) could use a little, ahem, mystery. A handsome fella like yours, on the other hand, doesn't need any frills to look good – a simple tunic and pants is all he needs to get red carpet (or orange carpet, as it often is in the fall) ready. The Star Wars Jedi costume is easy to wear, doesn't require makeup to get in character, oh, and did we mention the lightsaber part? He knows. Plus it's a classic, and classics never go out of style.
Vampire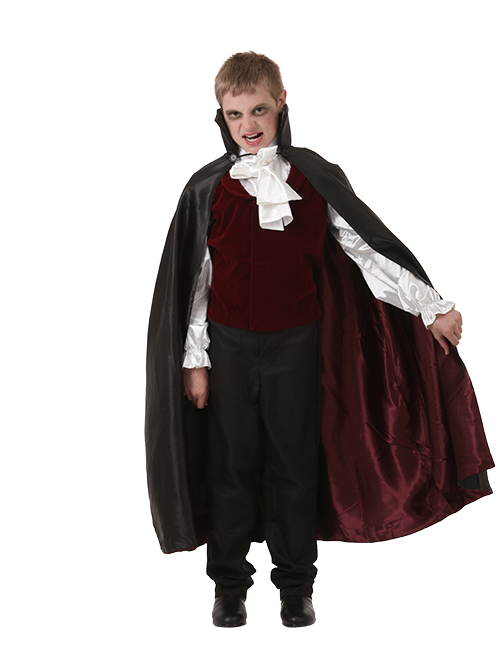 Vampires NEVER die. If it's sunny they could (unless it's one of those weird sparkly vampires), sure, but we are talking about the subject of vampires, not ACTUAL vampires. These nocturnal neck biters were cool when you were a kid, and they'll be cool when you have grandkids. The most you'd have to add to this look is a little hair gel (vampires are dapper!), some strategically placed blood, and he's as good as undead.
Peacock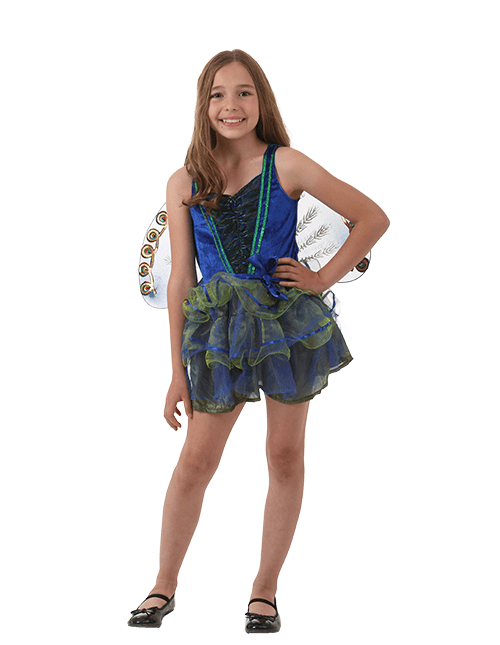 Don't over-complicate this one with plumes or crowns, let her natural beauty shine. Layers of organza ruffles, sheer fluttering wings and a shimmering bodice make our pretty little peacock costume a showstopper. You can add your own easy touches like a shimmery lip gloss or painted fingernails, but it really only needs your darling daughter for this look to be a hit.
Skeleton Dress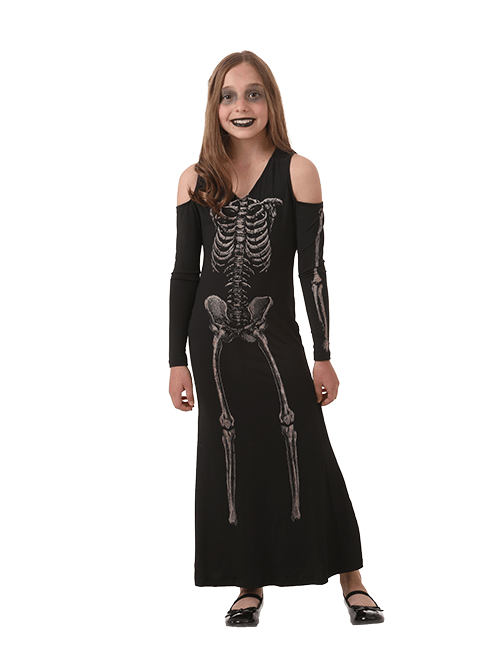 Mirror, mirror, on the wall, who's the scariest girl of all? For the ghoul who's a real scream, our skeleton dress provides the base for countless crypt-dwelling creations. Add some sugar skull makeup to pull together a Dia de los Muertos (Day of the Dead) inspired costume to die for, or simply use black lipstick and nail polish for a more traditional gothic look.
Popular Kids Costume Ideas
And now for the list you all have been waiting for: Our most popular costumes for kids! Every year the list changes with whichever latest summer blockbuster inspired kids the most. Yes, for little girls it was Elsa, Anna, and pretty much every other 'Frozen' character for a solid two years, but the ones on this list are the consistent, year-after-year best. They've become customer favorites for many reasons, but mostly because they are timeless. Police officers, doctors, princesses and even black cats – they've been around for generations because of their ability to captivate a child's imagination and represent Halloween. Not exclusive to the holiday, dressing up is an enriching activity for kids of all ages. It's a great way for a child to learn and play and use their imagination. These are the disguises you can stock up on to fill your child's at home costume trunk, fueling endless hours with brain-boosting pretend play.
Kylo Ren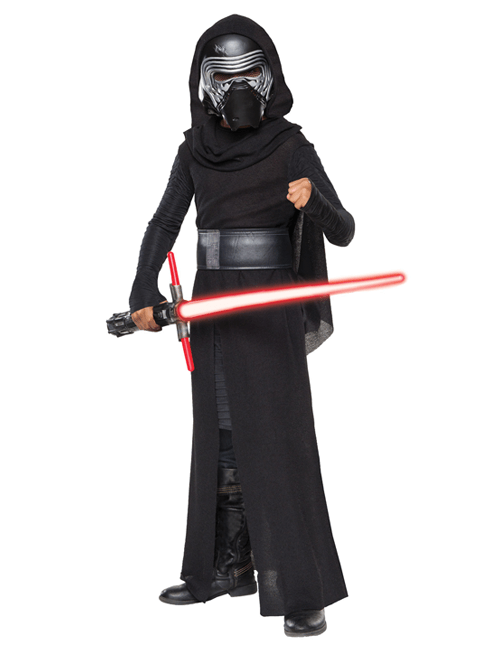 Do you know a kid who sometimes struggles between being good and, well, being not so good? With powers (and the most awesome costume design in the entire First Order) passed down from good old grand-pop, Darth Vader, it's no wonder Kylo Ren has popped up on this list. Relatively new to the Star Wars game (he first appeared in 'The Force Awakens'), you might be thinking that it's too soon for him to become a contender. With parents like Han Solo and Princess Leia, however, we are confident that this dark side dude has earned his place. Just make sure you pick up the correct lightsaber because no one wants him to find Luke Skywalker's ...
Dinosaur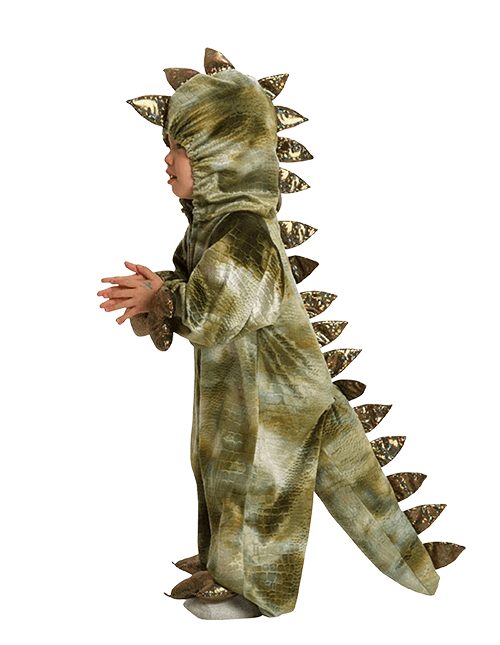 Dinosaurs are just plain awesome. Maybe you have a better explanation of why you can still rattle off a list of ten different dinosaurs without a problem while writing a lower-case "z" in textbook cursive is a little iffy, but we're sticking to the "plain awesome" theory. Jurassic Park's raptors left parents on the edge of their seats in the 90s, and Jurassic World has done the same for today's kids. This Stegosaurus is always popular with little boys because it closes the gap between "cool" and "cute." The spikes down the back are always a kid-pleaser, while mom is a fan of the fact that it zips up the front (so bathroom breaks are a breeze). Best of all, the hood cinches so it stays on little heads even when they are running wild.
Ninja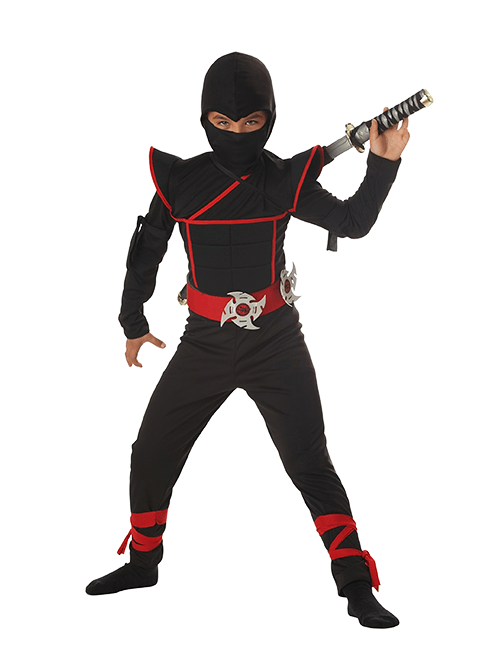 Now you see him, now you don't! The stealth and steadfast, penultimate costume for pretty much ANY boy can be summed up in one word: Ninja. The swords and stars that typically accompany a ninja costume can make some parents uneasy, but the martial arts never promote unnecessary violence. In fact all schools of martial arts (karate, jujitsu, tae kwon do, etc.) base their teachings on a foundation of peaceful conflict resolution, respect and self-control. With that in mind, there's also nothing wrong with a weaponless ninja (because air kicks and punches will use up plenty of his Halloween-induced adrenaline), or one that has extensive knowledge of tai chi (none of the stabby things, all of the zen, man).
Little Red Riding Hood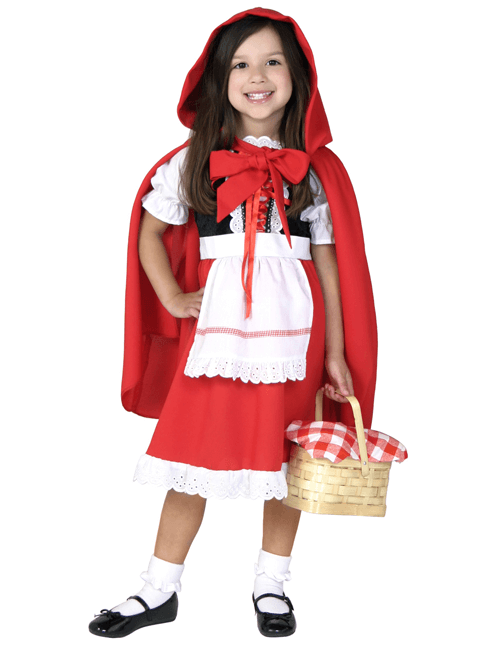 The epitome of sugar and spice, Little Red Riding Hood confidently lands on our list. Who can help but love a girl with enough class to take care of her sick grandmother, and enough sass to take down the big, bad wolf? If you leave the retelling of the story to the Brothers Grimm, things take a more graphic turn, but we like the version that puts Little Red in the driver's seat of an IRL stranger danger scenario. Damsel in distress? Not so much. But the real story behind why girls adore this getup is simple: The long cape, in a vibrant red, is always an attention-getter. Plus it has an awesome "spin me" skirt that no one can resist!
Alice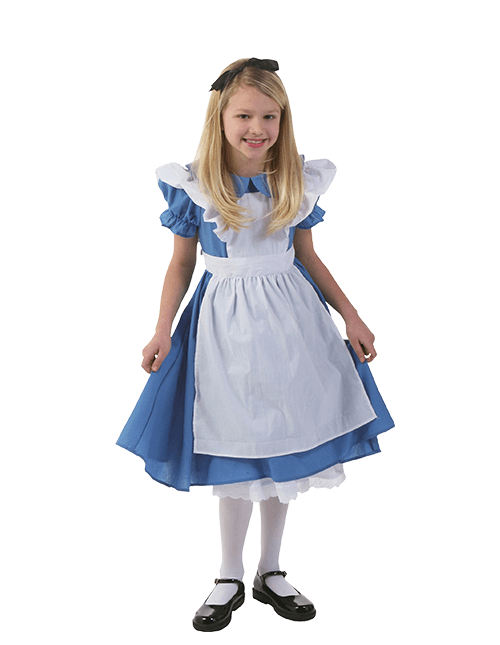 What should your darling daughter be this Halloween? Go ask Alice! Storybook characters are always a hit, but none are as ever popular as Alice from Lewis Carroll's Adventures in Wonderland. Maybe it's the pretty blue pinafore dress or the ginormous hair bow that gets girls so excited about dressing up as Alice for Halloween ... but we're going to guess it's the fact that there's a talking rabbit, a striped cat and even a tea party involved! Whether through a looking glass or down a rabbit hole, this ensemble will suit your free spirited little girl through all of her make believe adventures—no matter how curiouser and curiouser they become.
Vampiress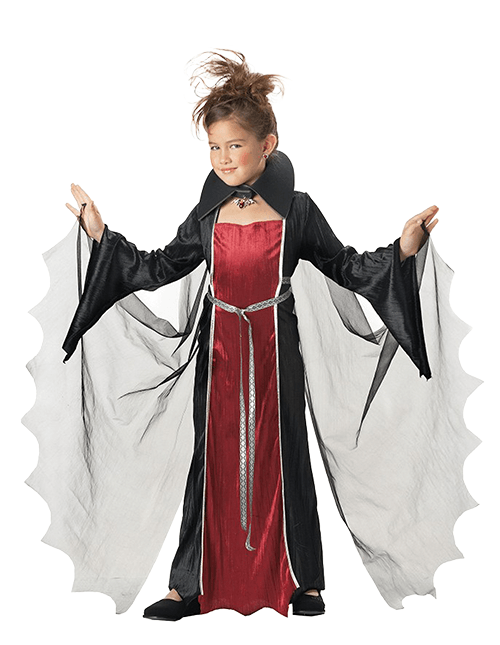 Even if your little girl is more into candy and confections than blood and gore, what's more Halloween than a vampiress? A gal can give off a festive, spooky vibe while still wearing something pretty (just because YOU are undead, your fashion sense doesn't have to be!). At first glance, this dress looks a lot like all the other vampire costumes out there ... but when she lifts her arms in a grand display, sheer bat wings undulate in a mesmerizing fashion. Basically, your daughter will be Edgar Allen Poe-try-in-motion in this dark disguise!