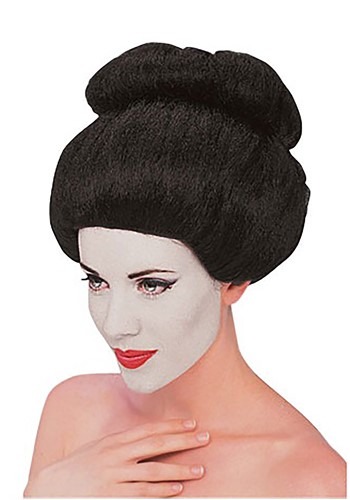 Product Description
Geisha is composed of two kanji words meaning art (gei), and person (sha). If you wish to pursue the art of entertainment by becoming a geisha you have a lot of learning to do. You must learn to play multiple instruments. You must learn to dance. And you must learn to entertain guests. But there is also something else you must learn to do.
You must learn to paint your skin, and put your hair up into a traditional geisha bun. It is going to be difficult to learn to do. But we can make your life a little easier if you don't have the time to learn to do a traditional bun. This Geisha Wig will speed up the process of making you into a respected entertainer. Then all you will have to learn is how to properly put on a kimono. But you will look beautiful wearing this wig when you play the shamisen for guests.
100% synthetic black hair

Styled in a bun on top of the head

Decorated w/ a pink ribbon bow (not shown)

Mesh interior
Recommended Costumes
Anonymous
/
October 18, 2016
By
Very disappointed with this wig. It was way too small for my head. Mind you, my head is not big at all.. when I tried it on, I thought I got the wrong one or a kids size, but no, it was for an adult. Now I have to return it and get another one somewhere else.
---
---
Child's wig masquerading as adult wig.
ANDREW Y.
/
November 13, 2013
By
We bought this for my wife and she couldn't even get it partially on her head it was so small. We ended up using it for our 19 month old daughter because it fit her better. If you have a normal size head don't even try with this one.
---
 Write Review
---