Dalmatian Halloween Costumes
Folks, things have gotten serious. The Internet has been nearly dominated. The cats are everywhere. Check out any meme that's trending on Twitter and you're sure to see an awkward feline either working to dominate the planet or stumbling while it's trying to walk straight down a hall. The world thinks they're adorable...and we can't deny that there is some truth to that...but what about humanity's best friend?! What about the doggos, people?! It's time to phone up the emergency services and call in everyone. We're talking Superman and the Scooby Squad. They both have their favorite heroic mascots that help to save the day. We might need to give a ring to the Paw Patrol, too, though they're already so busy saving the world and barely giving a bone about the trouble!
If you agree that every dog deserves as many days as we can give them, we do have one other way to get their adorable tails wagging. All we need is to highlight one of the most heroic kinds of pets out there: the Dalmatian! These esteemed pups are muscled doggos with unbeatable endurance. They've got their classic white coats and adorable black spots as early as ten days old! They've been working hard for us for years, too, from drawing carriages to helping put out fires...all the while setting our hearts aflame! If you've got love for everyone's favorite four-legged friend, it's time to look into some of our Dalmatian costumes for the whole family...because there are 101 reasons for Dalmatian duds!
Kid's Dalmatian Costumes
We already suspect that your kiddos have been asking for a dog for most of their years. It's the standard ask, after all. "When can we get a dog?!" they ask, even if you've already got a couple running around the house. We suspect it has something to do with the famous Disney flick. Who wouldn't want a hundred puppies, after all? But fear not. It turns out that there are many ways to give a dog its day. Try out some of our Dalmatian costumes for kids, and you'll pet two pooches with one paw! Not only will they be barking for joy because of a fuzzy and fun costume, but they'll both have and be the puppy that they've been howling for! We've got several styles to choose from, so let's see if we can help you spot the right child's Dalmatian costume.
Baby Dalmatian Costume
Your babe is probably the cutest thing that you've ever seen. You're filling up Instagram with adorable pictures and stories, too! Well, we're happy to help you add yet another to the growing list. Combine cute with cuter when you bundle up your baby in an infant Dalmatian costume. Now those are puppy dog eyes nobody can resist!
Toddler Dalmatian Costume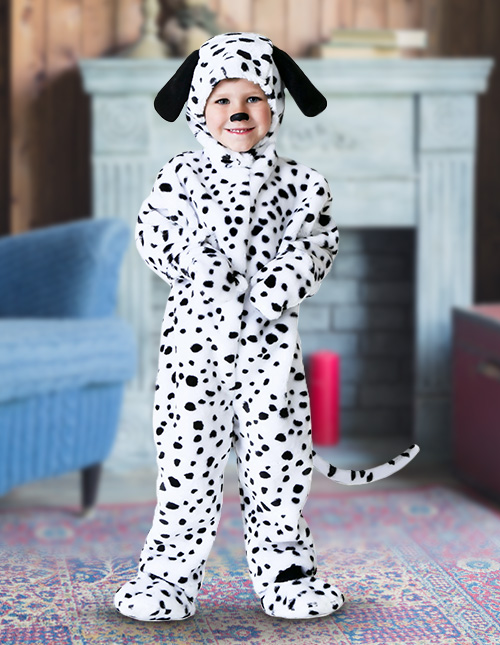 Your little scamp can't wait to get their hands on some sweet treats, right? It's just like another member of the family who can't help but nuzzle their noses up to you at dinner time. It's a good thing that a little bit of chocolate never hurt your tyke, even when they are wearing a Dalmatian costume for toddlers.
Girl's Dalmatian Costume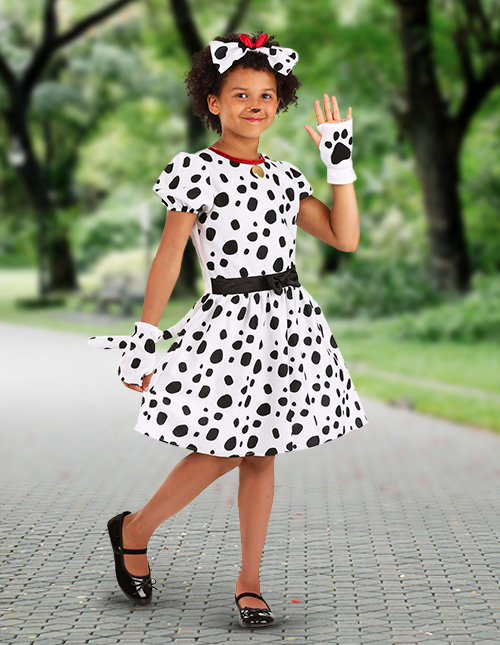 We have to admit that one of the cutest images is an adorable pup prancing around in a pet costume with a skirt. You can guarantee those puppy princesses will be topping the trending charts! It turns out that a Dalmatian dress costume has the exact same effect for your darling! Let the gal in your life give this look a twirl.
Child Dalmatian Dog Costume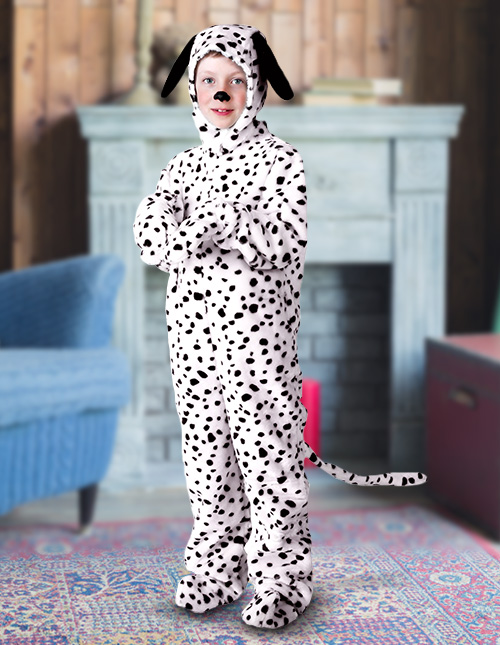 Occasionally, those Halloween photo shoots can get a little chilly. That doesn't ever seem to bother our canine companions, though. All that fur keeps them comfy no matter the weather! If your October drops into the low numbers, you can feel secure that your tot will be toasty thanks to a fuzzy Dalmatian jumpsuit costume!
Adult Dalmatian Costumes
We know the world can be a scary place. Fortunately, our little heroes can help. Have you ever seen the happiness that occurs when a person gets to play in a pen of puppies? All we need to do is channel that kind of trending energy to help you with a costume that will get you as many likes as those folks get licked. Get ready to wag your tail when you climb into one of our Dalmatian costumes for adults. They come in several styles, so you can either sit like a King in a debonaire Dalmatian look. Or you can combine a costume with some dinosaur accessories to bring out your inner Rex! (Either way, you're sure to earn a few scratches behind the ear.) We'll let you figure out what name you prefer to go by when you climb into a Dalmatian jumper. Now, go fetch!
Men's Dalmatian Costumes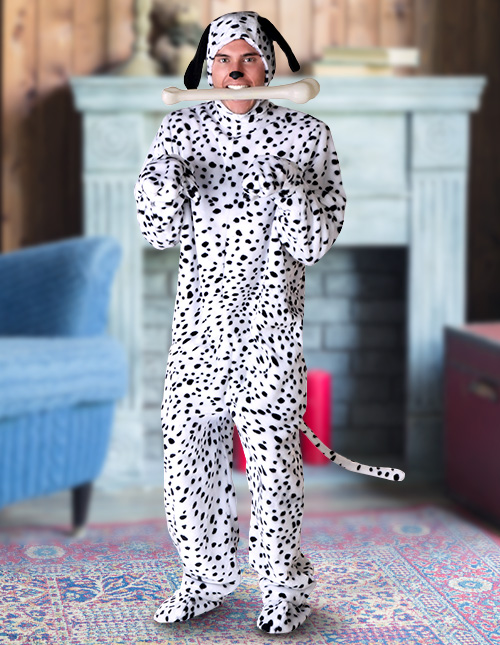 A little extra training is never a bad thing. Dalmatians are historically one of the best-trained breeds out there, too. Now, we're not saying that the guys out there need any help...but it never hurts to refresh the brain, and a Dalmatian costume makes everything more fun. Keep the guys in line with this and you won't even need the leash!
Dalmatian Costumes for Women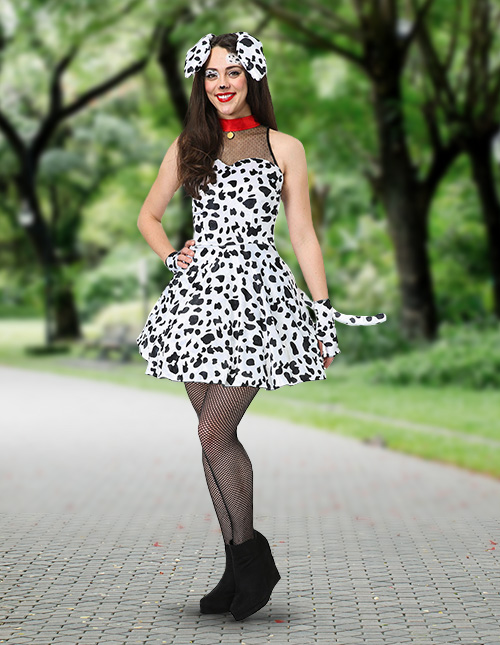 The Dalmatian is known for being smart, sassy, and showing her true spots! It's no wonder that we love them so much. The combo of a petticoat and a dog-gone fun costume ensures that you're the life of the party no matter where you go. Save a humdrum work party by wagging your tail and adding some spots and a skip to your step!
Sexy Dalmatian Costumes
When you're heading out to a Halloween party, you might find that a flirty Dalmatian costume will be perfect! While everyone else is depending on cute animal ear headbands and perhaps a poofy bunny tail, you'll be able to step it up a notch! Just take care that you don't put too much of a sway in your step or you'll really leave everyone panting.
Dressy Dalmatian Costumes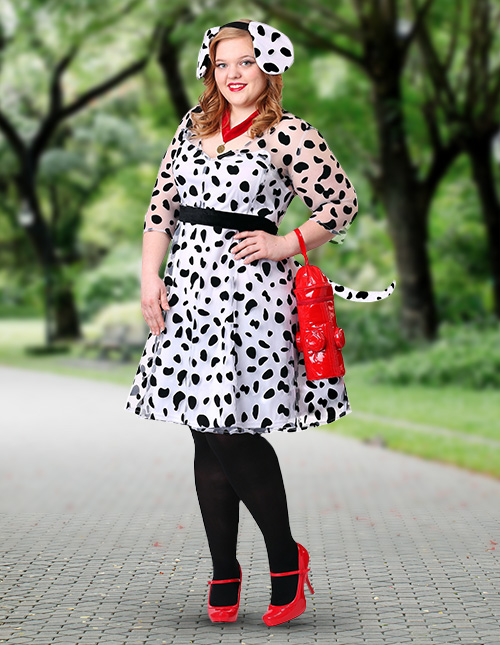 It might seem like a dog costume is just for the mutts. Well, we'd like to show that there are some seriously classy canines out there, too! The guys can add a top hat to their doggo look while the gals can enjoy the elegant drape of a Dalmatian dress. Who wants to go with a black tie when you can attend the affair in spotted style?!
Cruella De Vil Costumes
You can't talk about Dalmatians without mentioning a certain fashionista with a serious spot obsession. We'd like to think that this infamous agent of greed and vanity isn't quite as bloodthirsty as she seems, but it's all in her name. This devil is definitely a villain through and through! Did you know that her lofty schemes of canine couture began in the story, The Great Dog Robbery? She became far better-known once Disney got their hands on her and introduced you to Pongo, Perdita, and the rest of the pups! It's up to you if you'd like to play off the vanity, the evil, or the remarkable business acumen of the femme fatale of our furry friends. We're just happy to point you the way to our Cruella De Vil costumes!
Cruel Diva Costume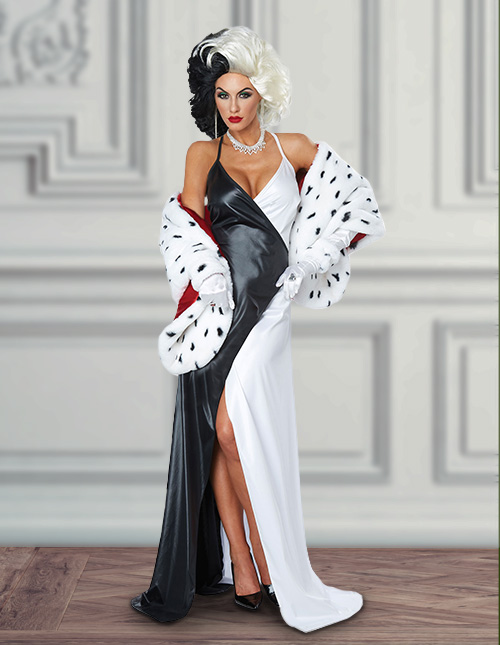 A genuine villain needs a sense of style that can be recognized from across the room. All eyes should be on you, after all! For that, you'll want a sleek gown that is accented by the only accessories that are worth your inner Diva nature: the softest and fluffiest of faux fur!
Classy Devil Costume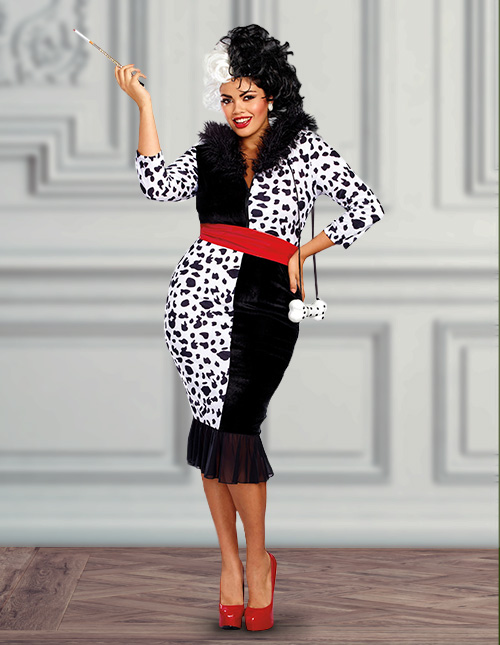 What is a classy dame to do when she sashays into a room? Well, there's only one goal, of course: be seen! The first step is by dressing up in a devilish dress that accentuates your hips and shows off your style. The next step is to focus on sweeping gestures so all eyes are on you!
101 Dalmatians Cruella Costume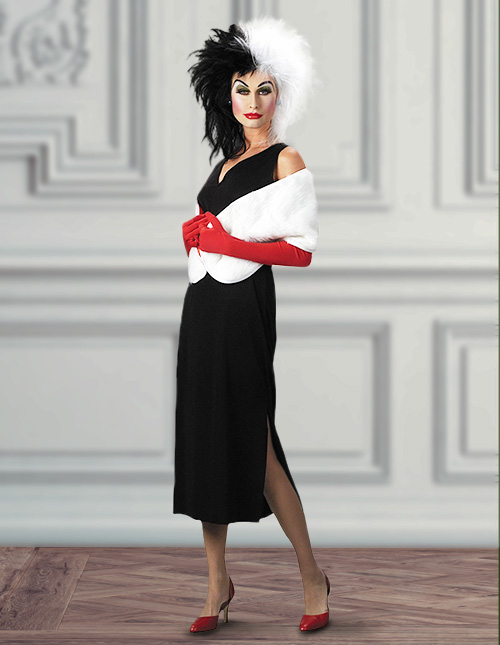 If you want to become an infamous movie star, start with the woman that takes everything she wants! Disney created a monster of a madam and we're happy to help you bring 101 Dalmatians to life with an officially licensed Cruella De Vil costume. (Just remember: no real or animated Dalmatians were harmed in creating this character costume!)
Evil Madam Costume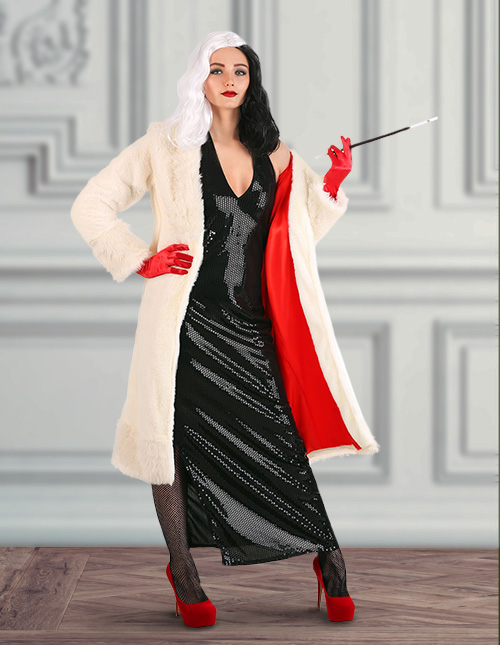 The cruelty of Cruella was known even before the animated adventure came to the silver screen. Picture it: you'll be garbed in a long, white coat that brings out the dark drape of your black dress—accent with blood-red gloves and a two-tone wig. Suddenly, you're the most dangerous and delightful dame that ever made a fashion statement!
Dalmatian Couples Costumes
If over a hundred hounds are too much to consider, we're happy to narrow things down to just a couple! In fact, Dalmatians make for a fantastic pairing. Start by pondering every story you've ever heard about a boy and his dog or a gal and her good boy guardian. You can give those tales an extra spot of fun by suiting up the doggo as a Dalmatian! Create a brand-new story of animal adventures when you team up a Dalmatian dog with an unexpected ally. From bunnies and bears to their cat rivals taking on the rats, any costume combo can be made delightful by adding a Dalmatian costume to the mix!
Firefighter and Dalmatian Costumes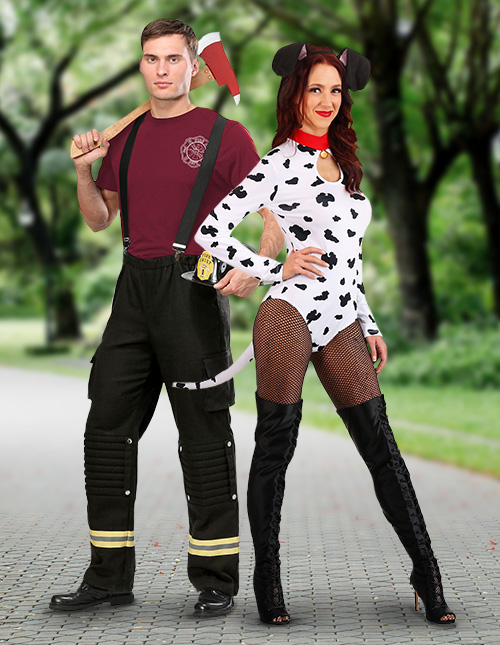 One of the most iconic images in the world is the brave hero who confronts the most dangerous fires in the world! (And, you know, there is usually a firefighter accompanying the Dalmatian, too!) Pair both of these adorably brave souls together for a hit couple's look!
101 Dalmatian Couples Costumes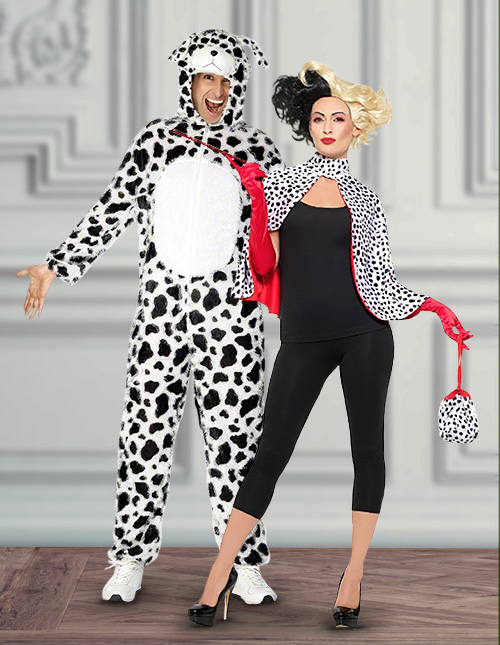 Can you imagine a world where Cruella De Vil actually came to love a Dalmatian pup? We have to think it is possible. If anyone can do it, we suspect it would be two of you together! And even if you will end up being rivals, you can be sure you'll be the star of Instagram for the evening.