This year we are premiering some seriously cute sexy monster costumes. If you want just the right combination of flirty and monstrous, look no further! The costumes and any accessories you might want are all right on our website, but if you want to really take the costume to the next level, you may want to try some fun nail art to finish off your look. Here are some nail design ideas along with tips on how to duplicate the look yourself. We hope you find some inspiration!
Shaggy Shelly
With the bright, playful colors and polka dots in the Shaggy Shelly look, it isn't tough to find some inspiration. Simply paint four of your nails with a glittering orange and paint your accent nail a complimentary pink. Once the pink dries, use a white polish to carefully apply polka dots on the accent nail. You can also use a nail art pen if you prefer smaller polka dots.
I used:
Color Club: Sparkle and Soar

OPI: That's Hot! Pink

Essie: Moon Struck
(Shaggy Shelly Monster Costume)
Polka Dotty
The colors and pattern in the Polka Dotty costume are also easy to draw inspiration from for a seriously fab manicure! For this rich purple color, I wanted a bit more of an accent so I left two accent nails. On the other three, once my lovely base color dried, I did some freehand polka dots to my liking.
I used:
Sinful Colors: Let's Talk

Sinful Colors: Cinderella

OPI: Suzi Says Feng Shui
*One tip for freehand polka dots: before I draw them, I swirl my brush around the rim of the bottle to get rid of excess polish. This way I get clean polka dots without globs on the nail.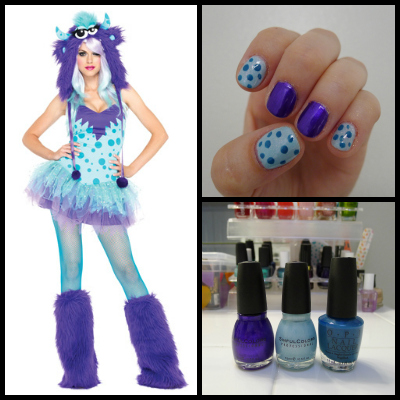 Flirty Gerty
The colors in Flirty Gerty were particularly inspiring because they're colors I never would've put together on my own. Once I had the manicure together though, I was very pleasantly surprised with how well they worked together. A bit of sparkle and an unexpected color combination go a long way. Again, I went with an accent nail, but this time I layered hexagonal glitter over the primary color and a more subtle glitter over the accent nail.
I used:
Love & Beauty by Forever 21: Green Glitter

Sinful Colors: Purple Diamond

Color Club: Sky High

Sinful Colors: Hottie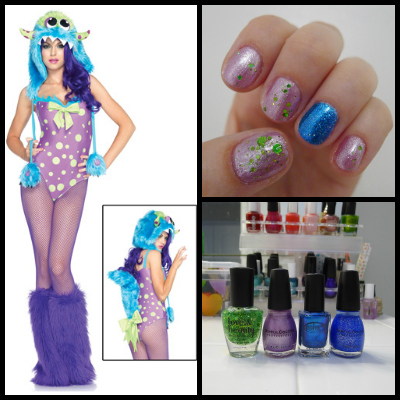 (Flirty Gerty Monster Costume)
Sexy Melody
Hot pink and green has been one of my favorite color combinations for ages, so this felt like a natural choice for Sexy Melody. Painting the thumbnail in the accent green as well gives it an extra pop of color and, of course, the polka dots are fun as always.
I used:
Sinful Colors: Irish Green

Essie: Moon Struck

Color Club: Wing Fling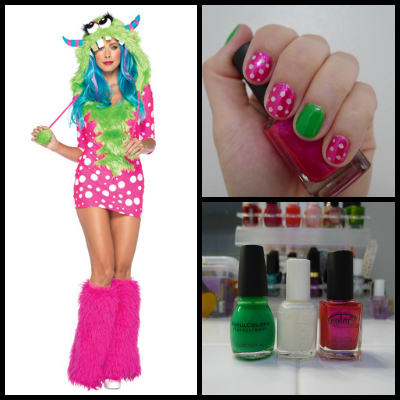 Furry Frankie
For the adorable Furry Frankie, I wanted to try something a bit different. Inspired by the layers at the bottom of the dress, I decided to try my hand at a cloud manicure. Fortunately, it's a lot simpler than it looks! You just need a bit of patience and a steady hand. I followed this tutorial and it was easy to get it right on the first try. I will definitely be giving it a go with other color combinations as well!
I used:
Sinful Colors: Love Nails

Sinful Colors: Fiji

Sinful Colors: Purple Diamond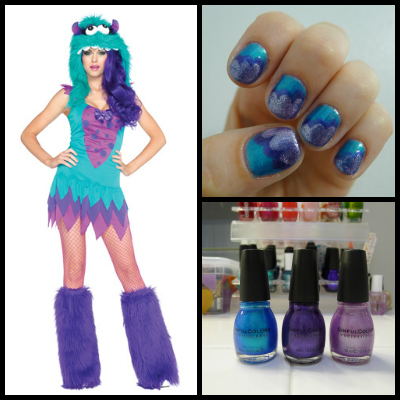 (Furry Frankie Monster Costume)
So with those tips in mind, absolutely take a look at the new monster costumes. They're sure to make your Halloween a fun time. I'll leave you with a final tip that applies to any nail art: have fun with it! If something doesn't turn out exactly how you wanted, don't sweat it. It's meant to be a good time. Happy (Almost) Halloween!
Anika Guldstrand is a staff writer for HalloweenCostumes.com.