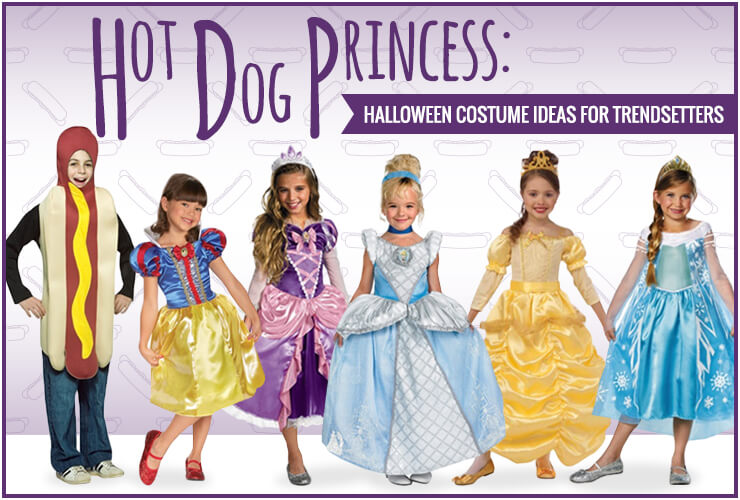 Mom and Dad of Ainsley Turner -- a.k.a. the "Hot Dog Princess" -- you both deserve a high five! In a world filled to the brim with little princesses-in-training, it's refreshing when you happen upon a trailblazer – like a hot dog at her dance school's dress up recital. The bold ballerina from North Carolina blew up the internet this summer with her unique approach to the class' assignment. Embracing her individuality, Ainsley performed tendu fronts and pliés in full hot-off-the-grill regalia! Best of all, her dad proudly proclaimed that the entire thing was her idea. In short: The Hot Dog Princess rules in the kingdom of costumes!
Hot Dog Princess Costume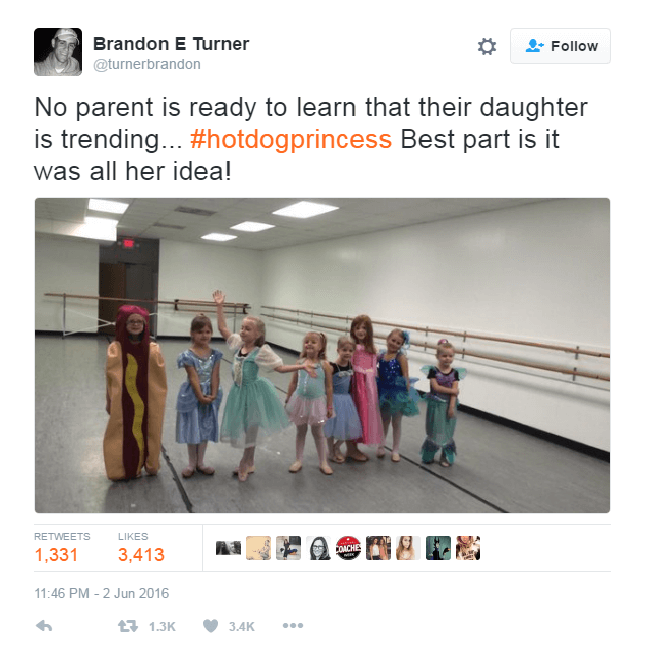 Now, we've got nothing against princesses. As a matter of fact, if you added up all the princess costumes we sell each year (from Elsa to Ariel, and every Disney royal in between), they'd likely beat any other costume category for little girls. And there is a lot to be said for the pomp and circumstance of a twirly skirt and crown – like that this type of dress-up play can help empower young girls to try new activities or speak up about sensitive subjects (we even know a clever mom who used these coveted layers of tulle and taffeta – with great success – to potty train). Plus, they're seriously pretty. (Read: BRING ON THE FROUF!) It's just hard not to adore such a secure little lady! She dared to be different at an age when a girl, typically, tries to gain acceptance by "fitting in." Want to join our favorite tiny dancer in encased meat solidarity this Halloween? Here's how to get her social norm-busting look (with a little extra flair to emphasize the reference):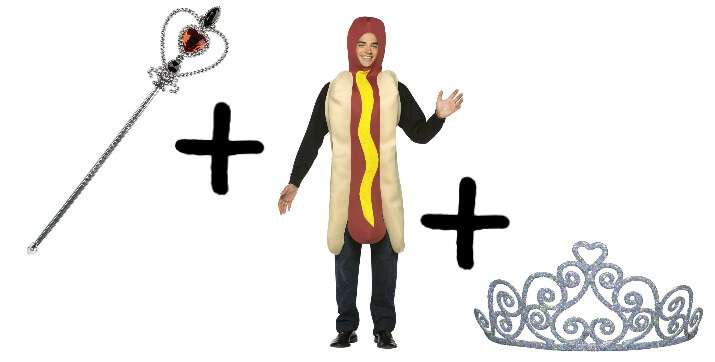 Zombie Hot Dog Costume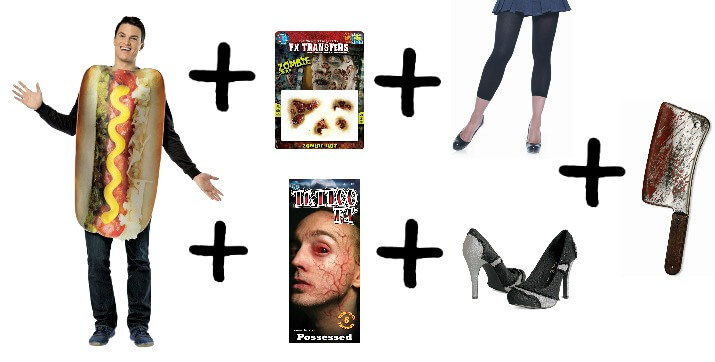 Hot Dog Costume Zombie Rot Tattoo Black Leggings
Possessed Veins Tattoo Bloody Cleaver
"Ugh, I don't want to wave a scepter around all night! Where are the guts and gore? It's Halloween for pumpkin's sake!" Uh oh, we can tell that you're a next level type of costume wearer. (And we love that!) You're absolutely right. There's no reason to pretend to be songbird sweet when you really prefer to take a walk on the dark side. Let's zombie-fy this Hot Dog Princess costume! All you have to do is remember to dress to distress. Start with your hot dog costume and tear/tatter or strategically rip the hem for a fresh-from-the-grave appearance. Continue by using a black marker to create "stitch" marks on the bun (it will be easier to see). Give your leggings an undead makeover by adding small holes and allowing the fabric to run. Of course makeup is key, and we're really digging these face tattoos. (They will get you looking the part in a flash!) Oh yeah, and you can trade in that scepter for a bloody butcher's knife because, hey, zombies rule with fear, not sparkles and magic spells.

Beauty and the Beast Costume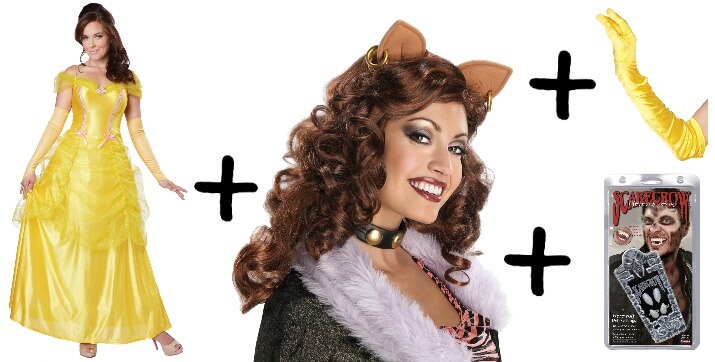 Beauty Costume Styleable Brown Wig Yellow Gloves Werewolf Teeth
Is it possible to be distinctive without an overall theme in mind? YES! Remember that scene in Mean Girls when Cady came to the costume party dressed like a zombie bride? She definitely stood out in the sea of sexy animals ("I'm a mouse, duh!"). Actually, if we're being honest, Cady is our costume mash-up inspiration! Costume mash-ups are always a hit because you can pretty much guarantee that no one else is going to be Séyoncé (Beyoncé meets fortune teller). One of our favorites happens to revisit our princess theme: Beauty and the Beast … except it's all in one awesome ensemble. Begin with Belle's iconic gold dress and then splatter some blood on it (give it a few rips for good measure – you're hulkin' out, after all). Apply werewolf makeup (and gold contact lenses if you're a real overachiever), pointy ears and clawed "evening gloves" (we chopped the fingers off of our basic elbow-length gloves and did a yellow manicure with black crackle polish over the top) – bonus points for the lady who dons a pair of sharp chompers. It can be a dude deterrent (not to mention a drink deterrent), but you'll undoubtedly be a walking photo op.
School of Rock Costume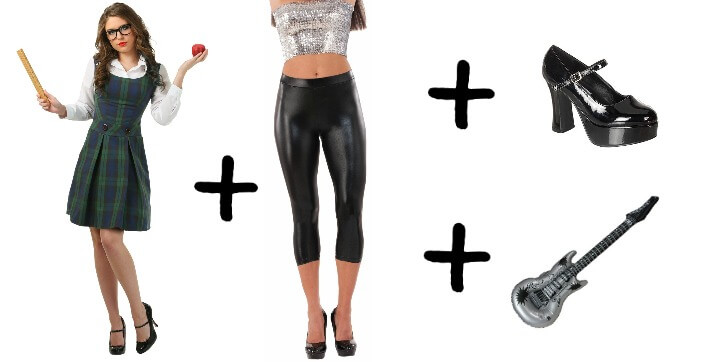 School Girl Costumes Black Metallic Sheen Leggings
Leather Mary Janes Shoes Inflatable Guitar
Still not finding inspiration for a costume that is uniquely you? Take our costume mash-up idea and put your own spin on it! Are you a vampire fiction fan by day and a DJ by night? Try pairing a classic vampire costume with headphones and glow-in-the-dark nail polish. Perhaps you enjoy animation and kitten YouTube videos. Sounds like "Popeye the Sailor Cat" (Popeye's forearms + Sailor Moon costume + cat ears and whiskers) could be coming soon to a shindig near you! We thought one of our teacher friends had an awesome idea that fit into this category: She slings Shakespeare from 9 to 3, and then plays the bass in her band from 10 'til midnight (except on school nights) – so she went the "school of rock" route. A plaid schoolgirl skirt, topped off with her band's t-shirt, set the stage for amazing presence. She then put her hair in pigtails (held by skull bows for a rockstar vibe) and strapped a guitar to her back. Whenever someone would stop to ask what she was, she'd start playing songs from Schoolhouse Rock. For a look all your own, the sky's the limit! Simply channel your inner-Ainsley and think outside of the castle.

Jokes on Batman Costume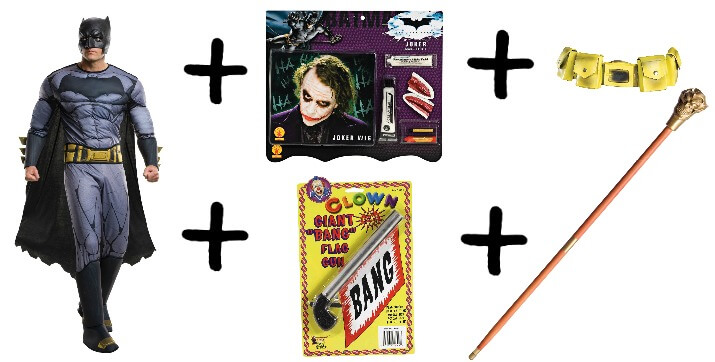 Batman Costume The Joker Wig & Makeup Kit Utility Belt
Giant "BANG" Gun The Joker Cane
Guys, we haven't forgotten about you! We know that for every Hot Dog Princess there is an Iron Man-kini (Iron Man helmet + Borat's "mankini") or Marty McFly (denim shirt + orange puffer vest + fly sunglasses + wings) just waiting to strut his stuff -- you're no straight-outta-the-package Avenger! You've got style. Panache. Swagger, even. You know what else you've got? YEARS of built-up costume pieces from ghosts of girlfriends past. You once were the Romeo to "her" Juliet. The Mario to Princess Peach. The Adam to Eve. Compile all of the evidence parts and take stock. We're betting you have everything you need to do a "good vs. evil" character. C'mon, you can do better than devil horns and angel wings! Why so serious? How about "Joke's on Batman?" (In honor of Ben Affleck's portrayal, naturally.) To a full face of Heath Ledger's Joker makeup, combine the caped crusader's signature cowl and hood. From there, you decide whether it's going to be Batman's gauntlets or the Joker's gloves. Purple suit or muscled jumpsuit, or better yet, purple painted muscle jumpsuit. You get the idea – make it your own.
Hot Dog Princess really is the mascot for the spirit of Halloween because celebrating the holiday is not solely about pranks and candy (though, we DO love mass quantities of peanut butter cups). Sassy, silly, scary -- The real meaning of Halloween is that you can be anything you want, if only for one night (or dance recital). So the next time you feel like your costume isn't enough, revisit HDP's story for encouragement and inspiration. She'll remind you that above all: Be bold. Be a trendsetter. Be a hot dog.