Remember Hungry Hungry Hippos? Four differently-colored plastic hippos eat marbles via levers on their, well, derrières. It's a strange concept that we're not sure would work today – unless the marbles were low-cal and gluten-free – but in 1967 people didn't care about that! So if you're feeling nostalgic and looking for a fun group costume idea for Halloween, look no further than Hungry Hungry Hippos!
Hungry Hungry Hippos Game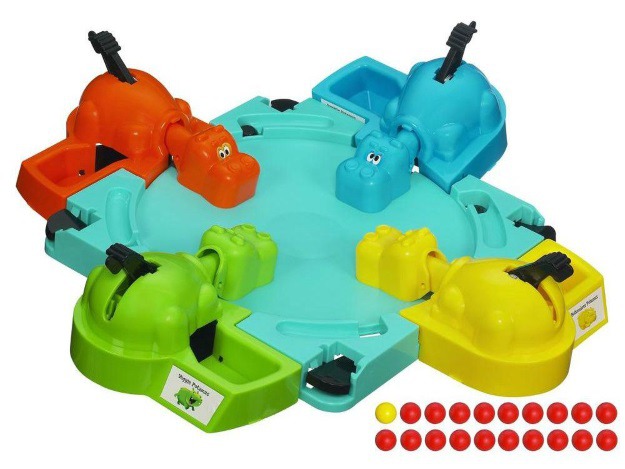 [Source]
The original game board will give you an idea of what you'll need: four hippos, colored blue, green, orange, and yellow. We've got the masks and costumes detailed below. Then there are the marbles, which are red in some versions but white in others. We used ping pong balls, and we wouldn't recommend eating them. (Learn from our mistakes, people!)
DIY Hungry Hungry Hippos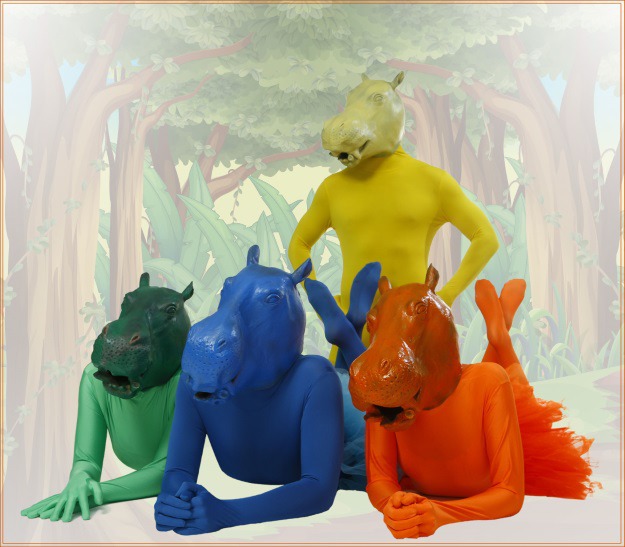 Here's our finished project, with painted hippo masks, colored Morphsuits, and a Photoshopped background. (Contrary to popular opinion, we don't actually live in a cartoon jungle.)
Products Used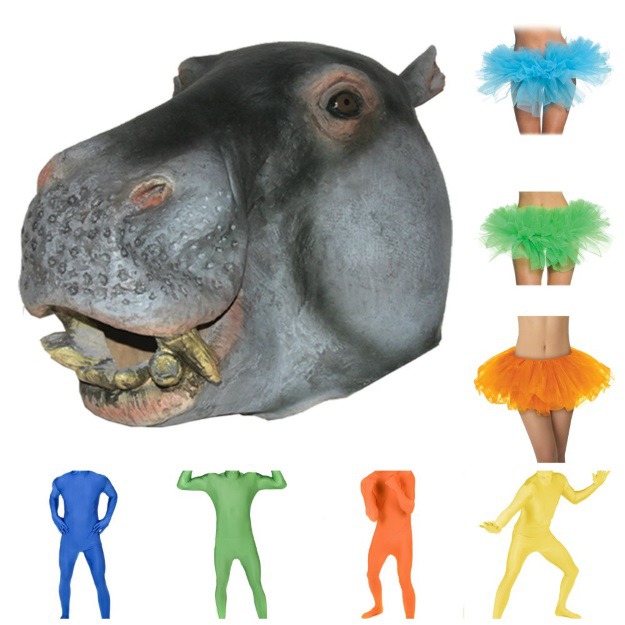 Latex Hippo Mask Blue Tutu Green Tutu Orange Tutu
Adult Blue Morphsuit Adult Green Morphsuit Adult Orange Morphsuit Adult Yellow Morphsuit
We found that Morphsuits were the best color match, but if a skinsuit isn't your thing, you might like our Opposuits better! They're styled more like traditional formalwear.
DIY Hungry Hungry Hippos Costume Tutorial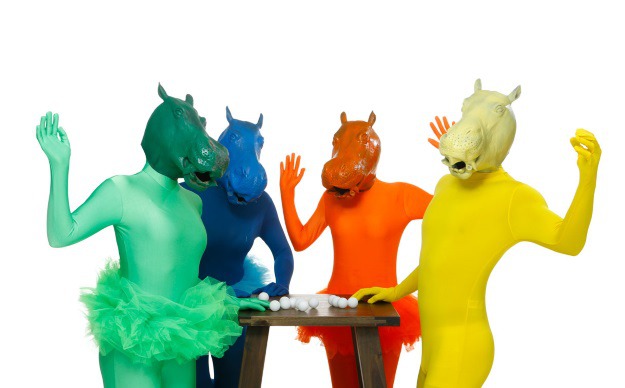 The costume is deceptively straightforward: painted hippo masks, colored Morphsuits (in blue, green, orange, and yellow), and tutus where applicable. We say "deceptively" because latex is notoriously difficult to paint. There are expensive rubber-cement-based paints you can find online, but after a lot of research, we were able to make it work with spray paint!
Painting Tips:
Use multiple light coats of a high-end "paint and primer" spray paint.
Stay away from cheap gloss acrylics (without primer), because they'll stay wet and peel off.
If you lay the paint on too thick, then it will crack and chip.
Apply light coats with a few minutes to set in between, and allow a full day to dry.
Are you biting at the chance to dress as the Hungry Hungry Hippos this Halloween? Give this DIY tutorial a try and let us know how it works. If you've done this, or any other unusual costume tutorial in the past, please do let us know about it in the comments below. And if this amount of DIY is beyond you, check out our selection of ready-to-wear group Halloween costumes!