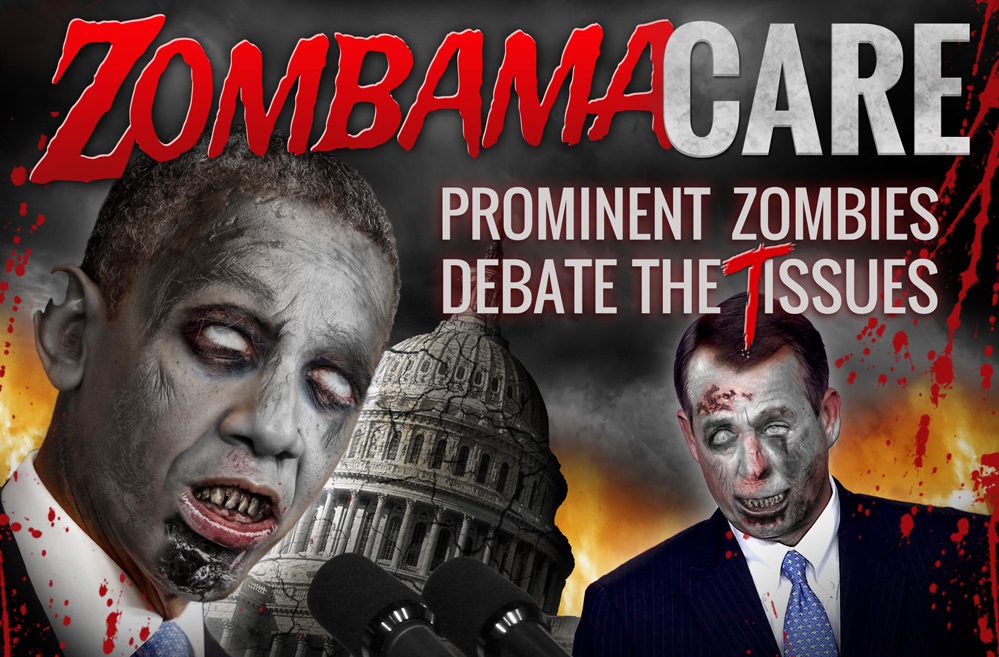 The zombie-love is plentiful around here, and we thought it'd be fun to imagine the world we live in today as a world filled with zombie politicians, 'walker' media personalities, and some pungent pundits. This infographic takes on this alternate scenario & gives us a glimpse into a truly festering American landscape… and the results may be a little gross, but they're a whole lot of hilarious. Don't lose your head and prepare: Your political favorites, or not-so-favorite, are zombified!

Embed this Image on Your Site:
ZobamaCare: Prominent Zombies Debate the Tissues Transcription
Breaking News: Zombification and partisanship still plague the nation—ZobamaCare, brainlessness, lawlessness, an economy on life support, a never-ending wat with the living—there's no lack of tissues to debate! If we're going to see this through as an undead country, the only solution is for the Deadocrats and the Republicannibals to finally bury their differences, and not get distracted by the sweet, tasty pork barrel brains along the way...
Mitch McCorpscule
"They refuse to negotiate. We bring a proposal to the table, and all they do is moan, and repeat the same thing over and over again...braaains...Braaains!"
Harry Bleed
"We're not going to open the government for just the diseased, why would we do that? We're all already dead!"
'Bloody' Colon Bowels
"We need to put stock in your children's education...because that's the only way our society is going to have big brains in the future."
Hillary Rotting Clinton
"I don't know if I'll be running in 2016, but I DO know that I'll be dragging my feet."
Michelle BLECHman
"We need to bring back the UN-dead UN-American Activities Committee and smoke the spies for the living out of Congress!"
Joe Bite'n
"[On ZobamaCare]This is a BIG, floggin' deal."
Ted Ooze
"I do not like green eggs and ham. I like brains, Sam-I-Am."
Donald Lump
"Lowering taxes in New York will create jaws...right now, business is DEAD! ...And you're fired."
Ill O'Reilly
"Welcome to the No-Skin Zone. Brains go in, brains go you, you can't explain that."
Welt Itcher
"The Deadocrats said one thing, and then the Rupublicannibals said a different thing, and that's all the news for today."
Sean Insanity
"We're not going to bow down to the grave of Zobama and give all the dead beats free brains!"
Cenk Spewger
"You think they're not going to cut Social Brain Security and Rigor Mortis-Care? Of Coooooorpse!"
Newt Gutwrench
"We went through a shutdown when I was Speaker of the Horde. We worked it out, shook hands, until Bill's hand fell off."
Piers Organ
"Undead marriage...what's the big deal? We want to be on the right side of apocalypse history."
Rush Limbs-Off
"Republicannibals can win this thing. We can. We just have to show how ZobamaCare is already Dead on Arrival."
Jon Chewart
"On tonight's show we have economist Alan Greenstab, and he's going to tell us how we're all going belly up."
Rachel Marrow
"Republicannibals don't want you to have access to affordable unhealth care, flesh stamps, or any tax-funded programs that provide brains to the needy."
Chris Crispy
"Congress was hired to do a job, and right now they're slowly pacing around Washington, mindlessly groaning—lifeless! They need to get back to being our elected zombies!"
Elizaflesh Warren
"We need to hold the Big Brain Banks accountable!"
Rancid Paul
"The government is too bloated as it is! We need to embrace the Liberbrainian strategy."