Top haunted houses and Halloween parties have used their props and décor, including Six Flags Fright Fest, Universal Halloween Horror Nights and the Playboy Mansion Halloween Parties. They've consulted every branch of the US Military, as well as Homeland Security, the FBI, CIA, disaster preparedness courses, forensic trainers and nationwide police and fire departments and have even decorated the White House Halloween party. Sound like people you'd like to know?
Their portfolio is bursting at the stiches with big names like "Breaking Bad", "Dexter", "Bones", "Law & Order", "Nightmare on Elm Street", "Transformers 3", "Pirates of the Caribbean" (2-4), "Water for Elephants", "No Country For Old Men", "The Hurt Locker" and several "Saw" movies. They've provided stage and video props for musicians like Alice Cooper, Marilyn Manson, Kanye West, Insane Clown Posse, Ke$ha, Slipknot, Korn, Brittany Spears and Ozzy Osbourne.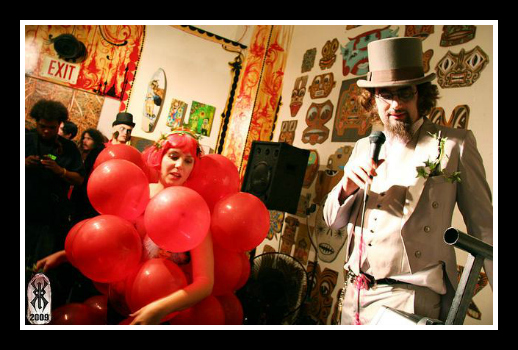 (BJ and wife Eileen Winslow at a Halloween party)
Meet BJ Winslow and his wife, Eileen. Since they opened their death-related prop shop, DapperCadaver.com, in 2006, they've seen phenomenal success in the realm of the macabre, ghoulish and ghastly — all of the things that get us excited at HalloweenCostumes.com! We thank BJ Winslow, who was kind enough to take time away from his little shop of horrors to tell us about his passion and the unblinking gaze his shop sheds on the darkest corners of the human experience.
Dapper Cadaver
The unlikeliest breed of mom and pop shop, Dapper Cadaver is in a prime location in Sun Valley, CA for maximum reach into the Los Angeles entertainment market. However, that's not the only reason for their meteoric success. Their tagline, "Looks so real, it's scary," is simply the truth. It's hard not to get excited about props that give you literal physical reactions, and when it comes to shock factor, the Winslows' props are electric.
So how does one carve out such a unique, bizarre niche, you ask? Simply put, with visceral passion.
As is often the case, Winslows' fascination with things that go bump in the night started at a young age. He fondly recounts that when he was opening his shop, he found a box from his childhood stuffed with toy lizards soaking in jars of formaldehyde. Not your usual "memories box," but entirely fitting for a master of the macabre.
"It is a lifelong love; it's the kind of thing I've been doing since I was a kid." says Winslow, "I think a lot of people get into Halloween as a kid, but for me, it was more than just that day… I like thrills, I like ghost stories. I like things that are scary!"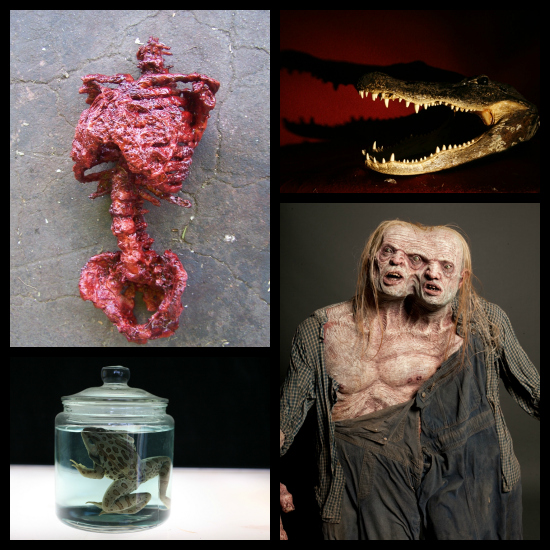 (Dapper Cadaver sells taxidermy animal replicas, Halloween props, specimen jars and other ghoulish creations)
A lifelong fascination with the macabre
A biology major in college, Winslow has always been intrigued by anatomy, bone structure and the process of decay. He also worked at a toy prototyping company in high school and later, at a carnival where he learned how to tinker with machines—adding to his natural inclination for building and designing things. Indeed, death-related prop creation represents the perfect marriage of his lifelong passions.
A labor of love, Winslow's work speaks for itself. With constructions so exact and lifelike, it's no wonder he has worked with the government, armed forces, law enforcement and forensics teams from around America.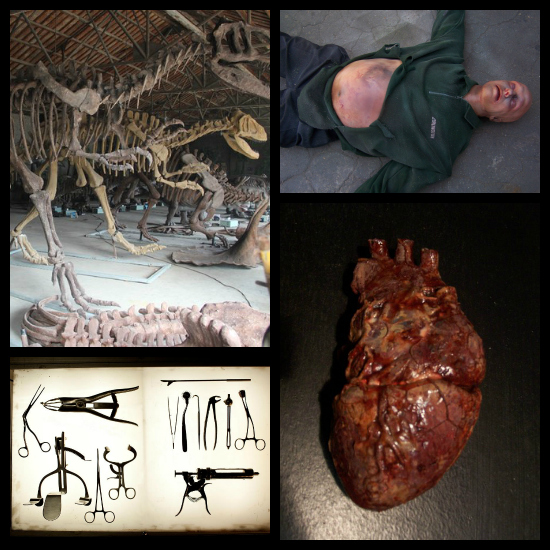 (Museum quality dinosaur skeletons, medical instruments, corpses and lifelike organs are just some of the Winslows' specialties)
Creating lifelike bones, organs and corpses
Disaster preparedness begins with understanding and equipping oneself for the horrors of the battlefield, accident scenes, or anywhere else one might end up in certain occupations that could cause serious mental trauma.
In an effort to reduce post-traumatic stress, through simulations, Winslow's creations have done more than just entertain.
Nevertheless let's not forget, there is still plenty of entertainment to be had. When "Breaking Bad," a series about a cancer-laden high school chemistry teacher turned methamphetamine cook (for the very layperson), approached Winslow to create Walt's first-ever meth lab, he hopped to work researching the goodies he would need. Could you imagine the Google searches?
"When I set up their very first meth lab, I thought I was for sure going to get arrested." Winslow laughs.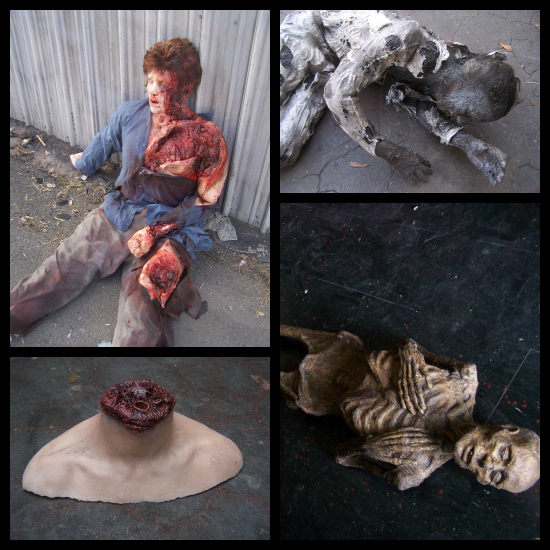 (Corpses eaten by vermin, burnt alive, severed heads and mummies are shockingly realistic)
Not to mention, Winslow provided most of the blood for the Oscar winning, "No Country for Old Men." He reflects on the scene following a gunfight between Josh Brolin's 'Llewelyn Moss' and Javier Bardem's 'Anton Chigurh', when Llewelyn scrubs his fresh wounds in the bathtub and everyone in the theatre began to churn and squirm in their seats. Knowing the blood is butterscotch flavored, Winslow couldn't help but laugh, thinking about the indelibly sweet smell of the set contrasted against the palpable onscreen horror.
Certainly, it's a tough job, but someone has to do it. And for that, we applaud the Winslows.