Celebrity style is getting more and more daring, meaning a potential pop star parody is more accessible than ever. Sure, we've got plenty of time for the iconic costumes of yesteryear, from Elvis's flares to Madonna's bra to Michael Jackson's glittery glove. But, what about emulating somebody who is dominating the celebrity circuit these days, as opposed to those of the past? After all, if a fan in the 80's thought that Madonna's style choices were risqué, they would have burst a blood vessel at the 'clothes' celebrities are wearing now (we're looking at you, meat dress). Dressing up as a celebrity is the perfect excuse to wear something outlandish, glamorous or down right insane, that's why we've put together this list of key celebrity costume ideas.
Lady Gaga
We couldn't write this list without Gaga and we'd be lying to ourselves if we tried to. This super star has successfully turned style into an art form and the day we see the Queen of Pop in a t-shirt and jeans is the day we swallow our tongues. Instead, Gaga is better known for the incredible installation art pieces that she somehow attaches to her body. From the iconic thunderbolt face-paint of her earlier days to what looked like a colossal lampshade made entirely out of human hair, her 'Haus of Gaga' stylists sure do vary in their eccentricities and style inspirations. This means that Lady Gaga is both the easiest and most difficult celebrity to parody. You can pick just one aspect of an unforgettable outfit (meat feet, anyone?) or go the whole hog and let your creativity loose on a DIY Gaga imitation. After all, it is the biggest form of flattery.
Key costume ideas:
Long blonde (pale pink, green, grey, black, yellow, multicolored…) wig with chunky bangs

Coke-can hair-rollers and cigarette sunglasses

Head-to-toe lace in black, white or red.

Geometric shapes stuck haphazardly at awkward angels

A teacup and saucer (which later sold for well over $72k at auction!)

The stars and stripes outfit, as made famous in the music video for Telephone

Kermit the Frog/Hello Kitty teddy bears super-glued to a dress

A man's tuxedo, skull face-paint and a high blonde ponytail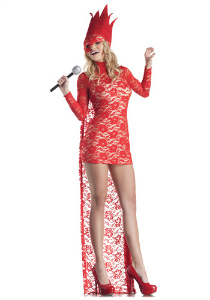 Chris Brown
Chris Brown is notorious for a number of things and style is not one of them. Who better, then, to spoof than somebody who looks like they've raided a haberdashery and the wardrobe of a man distinctly larger than themselves? We're not sure if this man's got a stylist, but if he does, then we're pretty sure he's out to make Chris Brown look as ludicrous as possible. In fact, we can just hear him now: "I swear to you Chris, this look is all the rage in LA; everybody is wearing leather jackets with SpongeBob Square Pants motifs."
Key costume ideas:
Baby blue v-neck sweater and baby blue bowtie

Blue denim jeans with the crouch touching the floor and cuffs big enough to house a family of koala bears

The trademark flat-brimmed baseball cap and sunglasses

Some safety pins attached to a black waist coat
(source)
Ke$ha
Ke$ha is the wild child of the celebrity scene. She dresses like a trashy party girl that hasn't washed in a week and woke up in a bus shelter. But strangely, she totally rocks it. You're unlikely to find Ke$ha in a floor-length evening gown. Instead, she'll turn up to red carpet events in trucker boots, bleach denim hot pants and an off-the-shoulder band t-shirt that she's taken the scissors to. We like a girl who refuses to conform, so what better way to pay homage to her brazen identity than to dress up like her for a party? She'd be proud.
Key costume ideas:
Glitter

Her go-to combination of leather jacket, ripped fishnet tights and glitter

Blue lipstick, heavy mascara streaks dripping from one eye and sequins

Glitter

Neon paint powder poured haphazardly all over self, finished off with a neon green leotard and glitter

Glitter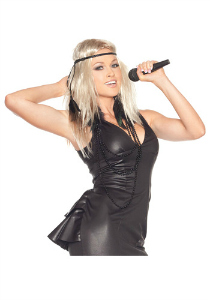 T-Pain
T-Pain's dedication to auto-tuned music stands up for itself, but what about his style? It's difficult to find a male celebrity brave enough to deviate from the black tux. Sure, it's timeless and endlessly suave, but my God is it boring. It pays to feel a bit sorry for red carpet men because, whilst their female companions can sparkle in eye-watering variety, the boys have to either stick to tradition or face endless criticism for unconventionality. T-Pain embodies the latter, and has successfully crafted a style that's both bizarre and distinguished.
Key costume ideas:
A ridiculous top hat. We're talking tiger print, purple lace, paisley, diamante encrusted… the bigger and weirder the better

White framed wrap-around specs

A pimp cane/a whole pimp outfit

Basically, just dress like a pimp in a top hat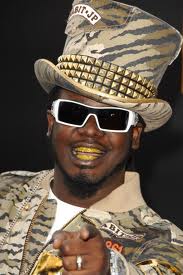 (source)
Katy Perry
Since the beginning of 2012, Katy Perry has gained a divorce and a plethora of technicolor recovery hair-dos. From pink to blue to the current purple, Katy's image has exploded into a mash-up of pin-up, bubble-gum and comic-book pop, although her statement black bangs always return with a vengeance. Her on-stage antics have been personified by fantastical costumes (from fun fair rides to rotating peppermints) whilst her street style is, undoubtedly, incredibly chic. Katy Perry, like Gaga, is a brilliant celebrity to impersonate because her style is so versatile. However, her go-to vintage get-ups are most definitely our favorite.
Key costume ideas:
A full-face of classic make-up, including sultry red lips, thick shapely brows and rosy cheeks

The iconic jet black bangs with Hawaiian flowers clipped in at the ear

The California Girl costume. Go all out with an iced-bun bra and bright blue wig

A 1950's inspired hour-glass dress in polka-dots or ditsy prints (channel Bettie Page)

Unicorns attached to a hula-hoop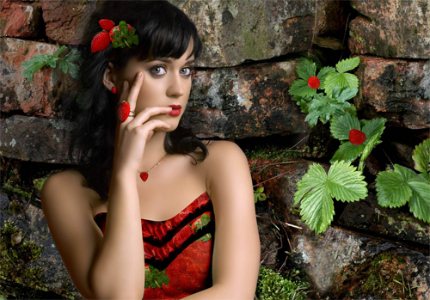 (source)

Miley Cyrus
In recent months, Little Miss Hannah Montana has been trying to shed her Disney associations. She's got a new stylist, a new movie, a new fiancé and a new chance to re-establish herself as a grown up (she's only gone and got 14 tattoos as well! What would Disney say?) Miley's been achieving this with copious flashes of side-boob, a hair extension rejection and a mature mantra: "Happiness does not depend on what you have or who you are, it solely relies on what you think." She astounded audiences at the Billboard Music Awards by wearing a white tuxedo dress that plunged all the way to her belly button and exposed her defiant mammaries with a clear message: 'I am a woman.' A similar dress made the red carpet at the People's Choice Awards and, on off days, Miley has been spotted, braless, in denim hot pants and gapping vests, flouncing around bare foot like a care-free nymph of the night. But, how to perfect this intricate style?
Key costume ideas
Do not wear a bra

Apply transferable tattoos: apply liberally to the rib cage, ears and fingers ... anywhere else you see fit

Get hold of that white tuxedo dress. It's sure to become a much imitated and recognizable style choice

To achieve Miley's off-day style, stack bangles up your arms, heap on crucifix necklaces, secure a high indie-bun and finish it off with circular hippie specs.

Grab a sleek bob wig, slick on some bright red lipstick and wear a 3.5 carat diamond/plastic engagement ring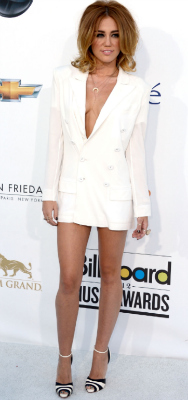 (source)