If you're hanging out with your group of girlfriends this Halloween, you definitely have a lot to plan. Do you want to stay in and watch scary movies or do you want to go out? Do you want throw your own bash or do you want to hit the town and be seen? Do you want a candied apple or a bag of Twizzlers? Like I said, lots to plan. The most important thing, though: what are you going to wear? If you want to be remembered for looking great, and not for how many candy corns you can eat in 60 seconds, then you should start putting together an amazing group costume for your squad. We here at HalloweenCostumes.com have come up with a ton of awesome costume themes that are perfect for you and your group of girls to be noticed.
Updated: September 14, 2015
With all the new movies and TV shows that have come out over the past few years, we wanted to give you a few more ideas for group costumes for women! There are also a few classic Halloween costume looks that have stood the test of time, so we included an updated list of costume ideas for some of those, as well.
NEW SUPERHERO COSTUMES
The superhero trend has not died down! In this year's The Avengers: Age of Ultron, Black Widow does a great job kicking butt amidst a bunch of boys. On the other side of the good and evil spectrum, Harley Quinn is EVERYWHERE. She's kicking butt, too, but for the bad guys. (Just watch the trailer for the Suicide Squad!) Classics like Catwoman and Wonder Woman will stay popular forever, though.

Harley Quinn / Black Widow / Wonder Woman / Catwoman / Poison Ivy / Arkham Knight Harley Quinn
STAR WARS COSTUMES
Star Wars costumes for women were popular years ago, but thanks to a few new characters coming up in Star Wars: Episode VII this December, the number of choices has definitely expanded with the inclusion of Rey and Captain Phasma. Here are a few ideas for an all-girl Star Wars group Halloween costume you can wear both in October and at the release of The Force Awakens.

Stormtroper / Star Wars Rebels Sabine / Rey / Captain Phasma / Darth Vader / Princess Leia
FROZEN COSTUMES
If you and your friends have Frozen fever, a group costume of these icy characters from the Disney blockbuster might be the best choice for you! There are, of course, the famous sisters, Anna and Elsa, in a few different outfits. However, if you aren't feeling like dressing like a princess, Olaf is TOTALLY an okay choice.

Elsa Ultra Prestige / Anna / Olaf / Toddler Elsa / Adult Anna
FLAPPER COSTUMES
Flapper costumes are a great example of something that was popular years ago and still just as popular today. These 1920s style dresses fit every body type and are perfectly flashy for the holiday. Sleeveless dresses work well in climates that are still warm in October (lucky!), but adding a faux-fur stole or lacy shawl will help keep you warm in the chilly parts of the country. And as always, watch The Great Gatsby for some Roaring Twenties inspiration.

Mint Coco / Dazzling Gold / Plus Size Glamour / Champagne Tear Drop / Women's Flapper / Purple Fringe Flapper
WIZARD OF OZ COSTUMES
You and your girlfriends can follow the yellow brick road to the next party dressed as characters from The Wizard of Oz. Need more ideas for this classic group theme? Check out the rest of our Oz-related costumes.

Diva Dorothy
/
Tin Man
/
Sexy Cuddly Lion
/
Sexy Sunflower Scarecrow
/
Wicked Witch of the West
ALICE IN WONDERLAND COSTUMES
Step through the looking glass this Halloween as a mysterious, yet sexy, group of ladies. Your group of gal pals has plenty of characters to choose from: the sweet and curious Alice, the evil Red Queen, the constantly late White Rabbit, and more. Throw a tea party themed bash or learn how to play croquet!

Cheshire Cat
/
Queen of Hearts
/
Alice
/
Mad Hatter
/
White Rabbit
FOREST ANIMAL COSTUMES
Sexy animal costumes are definitely popular, but you don't want to be the 100th sultry bunny at a party, do you? If you and your girlfriends would rather be a cuddly wolf or fluffy skunk, then this group theme is perfect for you. Feeling even more creative? Have one of your not so animal-friendly pals dress as a hunter. Game on!

Raccoon
/
Fox
/
Hunter
/
Skunk
/
Wolf
SEXY KISS COSTUMES
Guys aren't the only ones that can rock out, you know. Kick some butt this Halloween dressed as a sexy version of the glam rock mega-group, KISS. This is for the group of women that wants to party all night long AND spend hours on their makeup.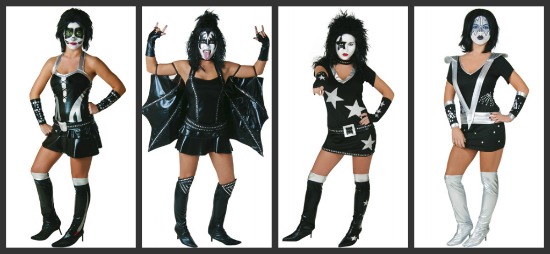 Catman
/
Demon
/
Starchild
/
Spaceman
SEXY ZOMBIE COSTUMES
There's nothing more sexy than a dead, decomposing, human-turned-moster, right? That's what I thought. Creep out your friends by dressing as a group of zombies. The absolute best part of going out as a pack of the undead is the absolute limitless choices you have on your costume. Literally any type of person can become a zombie, so have fun deciding what you want to be. We chose some characters for you, but there are plenty more ideas. Zombie prom queen, anyone?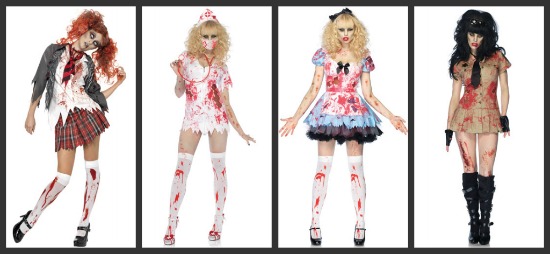 Zombie School Girl
/
Bloody Nurse
/
Undead Alice
/
Officer Armbiter
TEENAGE MUTANT NINJA TURTLES COSTUMES
I'll admit it, wearing crazy costumes on Halloween makes me feel like a little kid playing dress-up. And I love it. So, why not go all out, revel in your nostalgia, and go as everyone's favorite crime-fighting reptiles from the 80s and 90s? I mean, if this is the one night of the year we can be kids again, we should take advantage of it. Turtle power!
Michelangelo
/
Raphael
/
Donatello
/
Leonardo
M&M COSTUMES
Candy and costumes are the two best parts of Halloween, am I right? Combine the two and you'll have the ultimate women's group costume. These mini-dresses are incredibly cute, and maybe you'll get the hook up on some M&Ms when you are out trick-or-treating. One can only hope, at least!

Green M&M
CRAYON COSTUMES
A pack of color crayons is a great idea if you're part of a large group of ladies this Halloween. There's every color of the rainbow, so every gal can have her pick of what shade to dress as. Don't forget the accessories! Add in makeup, nail polish, colored hairspray, tights, shoes, and jewelry to complete the look.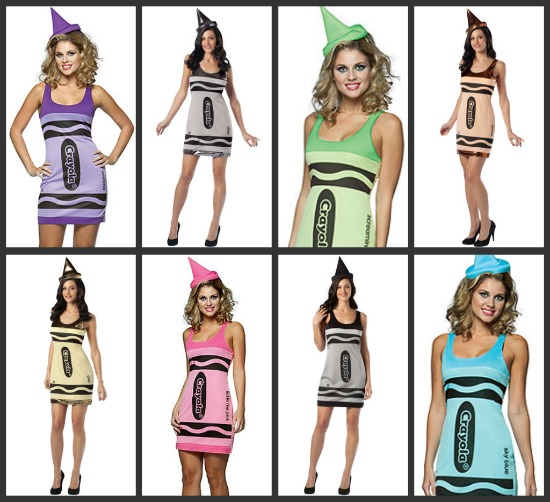 Green /
Blue
/
Pink
/
Red
SUPERHERO COSTUMES
Tight spandex, dramatic colored capes, tall boots, identity-shielding masks. These are all great qualities of an awesome costume, no? If you agree, you should consider going as a group of sexy superheroes this year. Our choice? Storm from X-Men, of course!

Supergirl
/
Robin
/
Wonder Woman
/
Batgirl
/
Captain America
SEXY SCHOOL GIRL COSTUMES
Who knew that there were so many different types of sexy school girls? This theme is a great way for your gal pals to be dressed in a similar costume, but still have a chance to show some personality. If you like the nerdy look, throw on some glasses. If you are more preppy, find a sweet cardigan. If you're a little more sporty, don a letterman jacket. As long as you have a plaid skirt on, you'll be set!

Sexy Plaid School Girl
/ Super Sexy School Girl /
Sexy Nerd
/
Sexy School Girl
/
Varsity School Girl
SCARY MOVIE COSTUMES
Crazed lunatics aren't usually considered sexy, but Halloween is a different story. This group costume forwomen that love horror movies might raise a few eyebrows, but you'll also get major props from movie-buffs. By the way, what was the last Halloween movie where the bad guy was actually a bad girl?

Chucky
/
Chain Saw Executioner
/
Edward Scissorhands
/
Miss Krueger
/ Ms. Voorhes
SPORTS COSTUMES
In this athletic-themed group costume, ladies can either dress as players from the same sport or mix it up by going as a player from different games. Not so into playing as a team? One of the ladies can go as a referee and boss the group around all night. (That one sounds like fun!)
Boxer
/
Big League Babe
/
Referee
/ Golfer /
Race Car Driver
DISNEY COSTUMES
Are horror movies and sexy school girls a little too crazy for your group of ladies? Sweeten Halloween up a little by going as a group of Disney princesses! But don't worry, you don't have to be too wholesome -- you can still dress as a sexy, evil witch or the beautiful, human version of Ursula.

Belle
/
Cinderella
/
Evil Queen
/
Ariel
/
Ursula
/
Snow White
PLAYBOY COSTUMES
Imagine that you and your friends are heading to the grotto for a Halloween bash this year and dress as some super-hot, party bunnies. The Playboy look is classic and a group of women dressed in skimpy tuxedo-leotards and satin bunny ears will definitely create a scene. If one friend doesn't necessarily feel like baring it all, she can go as a female Hef -- all you'll need to find is a satin smoking jacket and some black lounge pants.
Tuxedo Bunny
/
Sequin Bunny
/
Party Bunny
PIRATE COSTUMES
Not all women on ships were wenches. Some were swash-buckling, sea-faring, adventurous pirates themselves! Dress as a pack of sexy, scoundrel captains in this pirate group costume for women. Everyone has to listen to a lady with a sword, right?
Vixen Pirate
/
Sexy Pirate Lady
/
Gold Vixen Pirate
/
Swashbuckler Captain
/
Sexy Brown Pirate
SHOWGIRL COSTUMES
What happens on Halloween, stays on Halloween. Here's hoping! Celebrate the glitz and glamour of Vegas, baby, and hit the town as a group of showgirls. This group theme costume is a cute way to go all out for the holiday and wow your friends. Don't forget to brush up on your french, too, so you can sing voulez-vous coucher avec moi, ce soir like a champ.

Can Can Costume
/
Moulin Madame
/ Burlesque Dancer / Black Swan /
Parisian Showgirl
/
Can Can Girl
POPSTAR COSTUMES
Take karaoke by storm with this celebrity-themed group costume. Form your own mega-group of female music legends! Madonna, Cyndi Lauper, Gaga, Britney, Katy -- there are so many to choose from! Grab a microphone and rock out. More options? Spice Girls, duh! They're the perfect girl group Halloween costumes!

80s Pop Star / California Candy /
Circus Ring Leader
/
Lightning Rocker
/
80s Party Girl