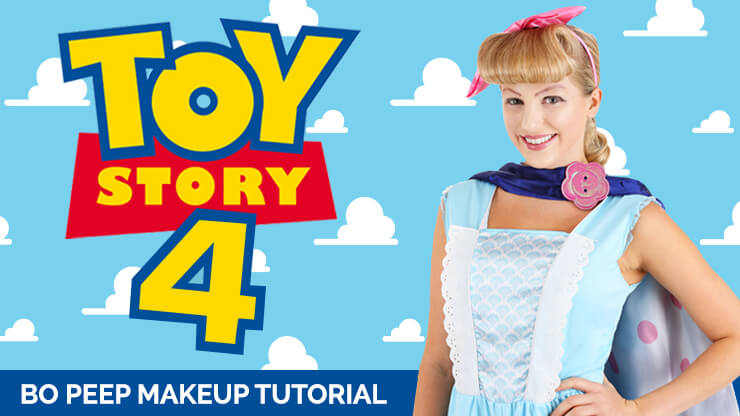 The return of Bo Peep in Disney's Toy Story 4 was a big deal, as the character was absent in Toy Story 3. When we meet her again, she returns as a more mature character, and she's much more independent. Bo Peep even guides other lost toys, becoming a shepherdess to more than sheep! If you enjoyed this firecracker of a little lady and you're interested in dressing like Bo Peep for Halloween, we'll show you the ropes to get your Bo Peep hair and makeup ready.
Bo Peep Makeup Tutorial
A giant hair bow transforms Bo Peep into "Bow Peep".
Completed Bo Peep Makeup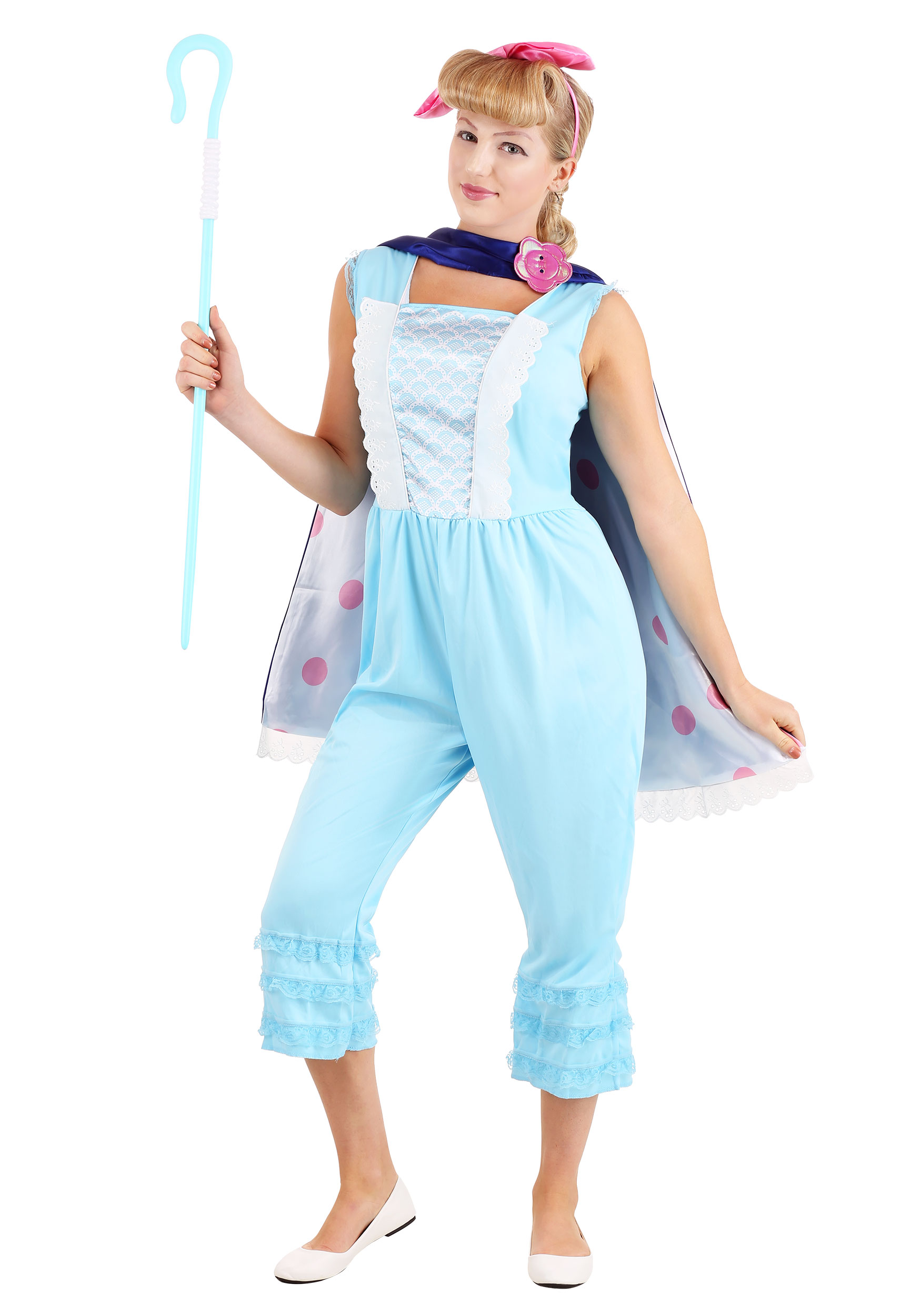 I lead—you follow!
Bo Peep Makeup Tutorial Video Transcript
Welcome to Halloweencostume.com's YouTube Channel. Today we are going to be showing you a makeup tutorial for Toy Story 4's Bo Peep.
To start out, make sure that your face is moisturized before applying the primer. Next, I am applying a dewy, illuminating face primer. This will help add an under-glow, and even out the foundation coverage. I am using a glue stick to glue her eyebrows down and smoothing the eyebrows out with a clean mascara wand. To speed up the drying time, use a blow dryer on a cool setting. I am applying a second coat. Feel free to use as many coats as necessary to ensure a smooth surface. After the glue is dry, apply a setting powder on top of the glued area to get rid of the sticky texture.
I am applying a light powder around the eye area before I add some color. Apply a full-coverage foundation to the entire face. I am using the Mehron Dancers pallet. I used a blending sponge to smooth out the foundation a little bit more. I lightly dusted the face with a highlighting powder. Using a smaller brush, add additional highlighting powder to the high points of the face like the cheekbones, nose, chin and forehead. If you feel the need, use a concealer on the eyebrows to prevent them from showing through. Use a blending sponge to even out the concealer and blend with the foundation. Apply a lighter, nude eyeshadow color to the eyelids. I added additional highlights to the high points of the face and under the eyelids to give her a shiny, toy-like appearance.
Next, apply a peach-tone blush to the cheekbones. I used a light brown, cream-based face paint to draw on the eyebrows. Touch up as needed to make sure that the eyebrow lines are clean. Use a dark brown liquid eyeliner along the top lids. Using a light brown eye color, thicken the line on the eyelids. Next, apply a high-gloss, light pink lip color.
To complete this look, I added a couple drops of oil primer to a blending sponge, and dabbed it onto the high points of the face. This will create a nice, porcelain-like finish. And now, you're ready to put on your Bo Peep costume!
We hope you enjoyed this Bo Peep hair and makeup tutorial. Toy Story has so many wonderful characters, making it a great idea for group costumes. Are you interested in dressing like Bo Peep? Were you looking for Halloween costume ideas for a Disney group? You might want to check out some of our other Disney costume ideas for Halloween, too!