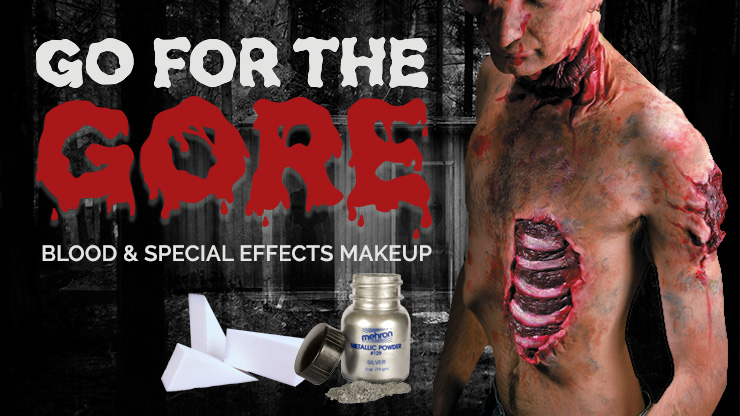 Wearing scary Halloween costumes is a lot of fun, but you can make the experience even better by doing a little special effects makeup. A zombie costume wouldn't be much of anything without zombie makeup. A vampire costume without vampire fangs and possibly some blood dripping from the mouth might look more like a person attending a goth festival. Learn how to take your scary costume from drab to fab with these special FX makeup products!
These Makeup Materials Will Get You Started
Mehron Makeup Products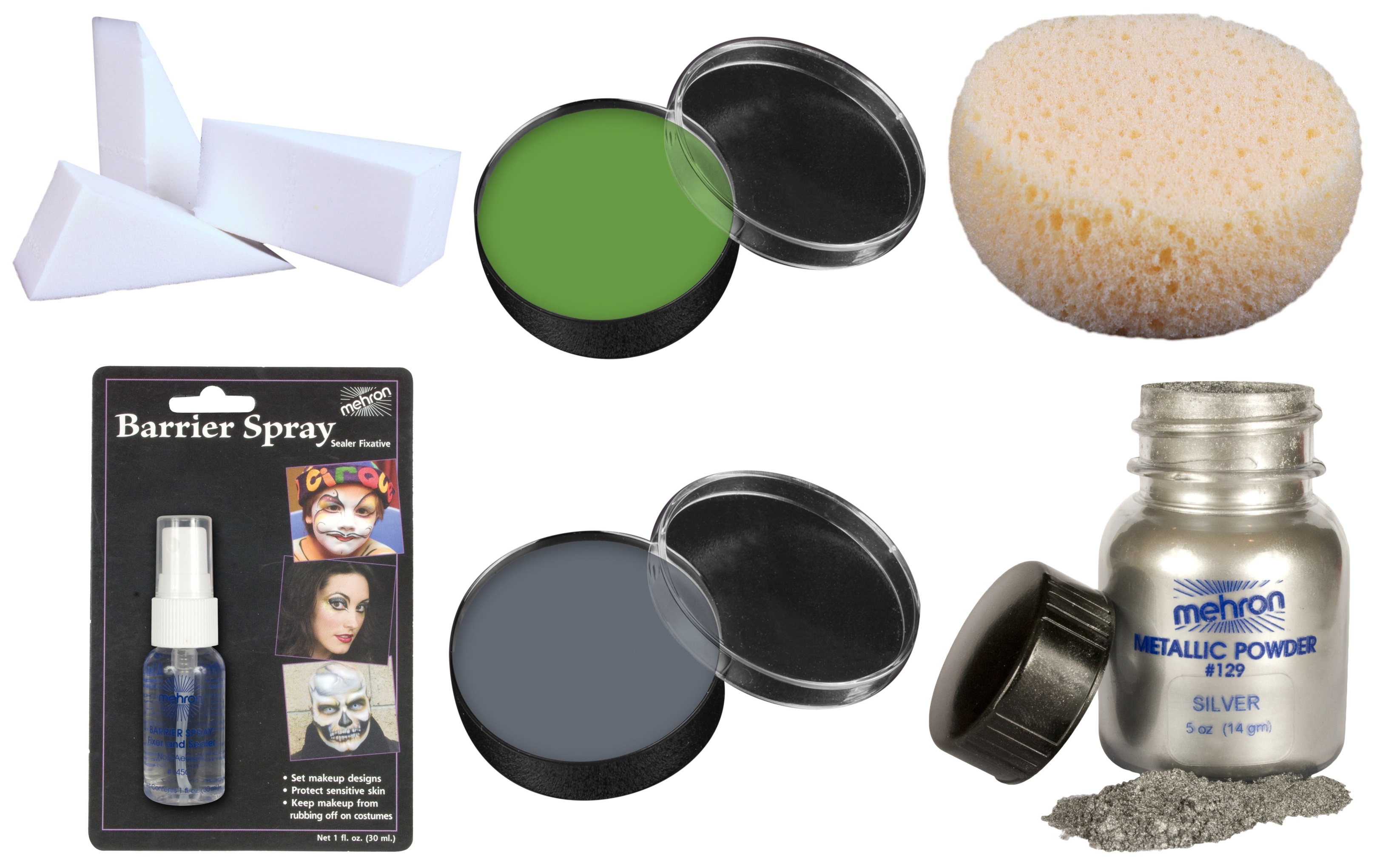 If you know anything about special effects makeup, you are probably familiar with Mehron makeup and SFX makeup accessories. There are lots of product to choose from, as they have simple beginner items like regular greasepaint face paint, to professional theater makeup items like specialized sponges, metallic powder and makeup setting spray.
Mehron Makeup Kits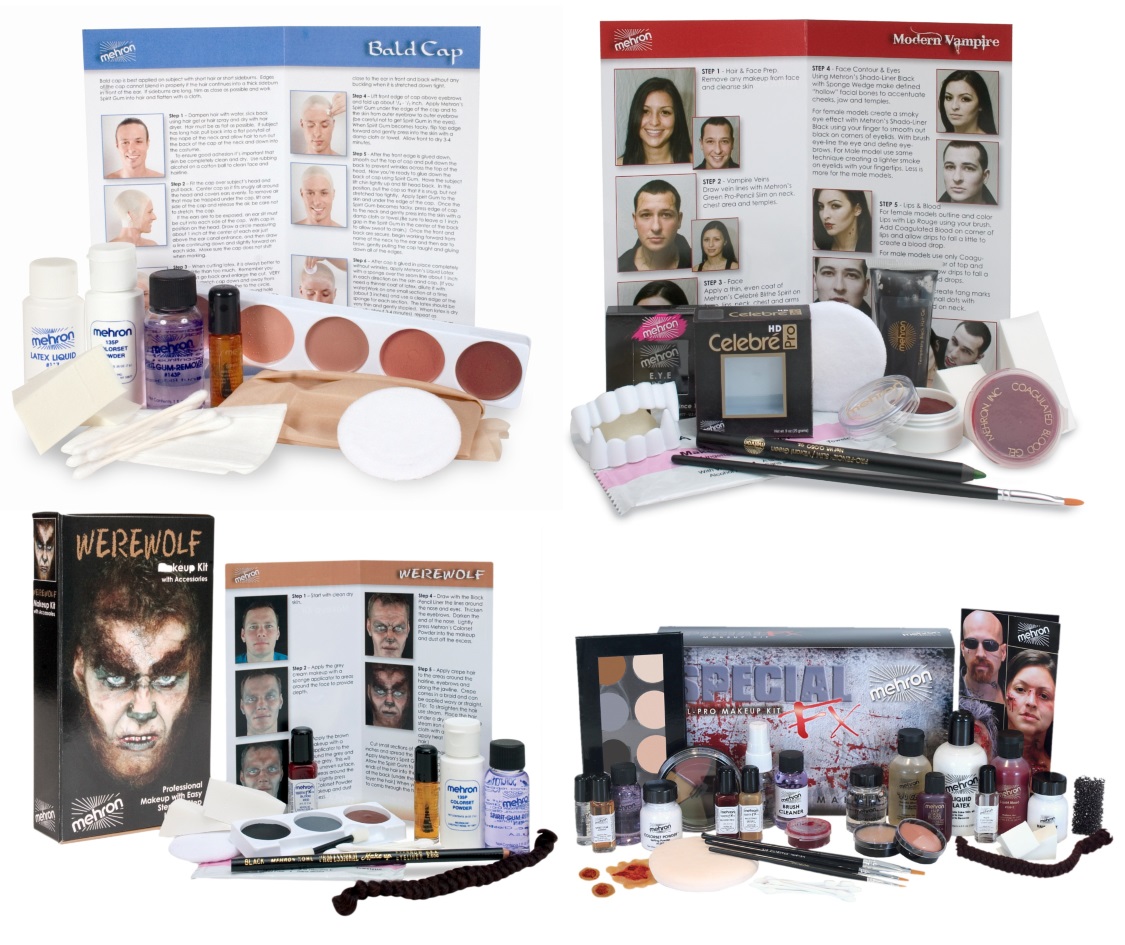 Perhaps you're not entirely sure what to get to create your look, but Mehron is great because they have special effects makeup kits that come with instructions, prosthetic makeup items, spirit gum, makeup sponges and more! The Mehron high-quality makeup kits will give you what you need for a number of popular Halloween costumes. They have kits for vampire makeup, witch makeup, cat and animal makeup, and also clown makeup. Mehron also has a premium special effects makeup kit that includes a variety of brushes, makeup products, several types of stage blood, gore makeup accessories, setting powder, liquid latex, makeup remover and more!
Graftobian Makeup Products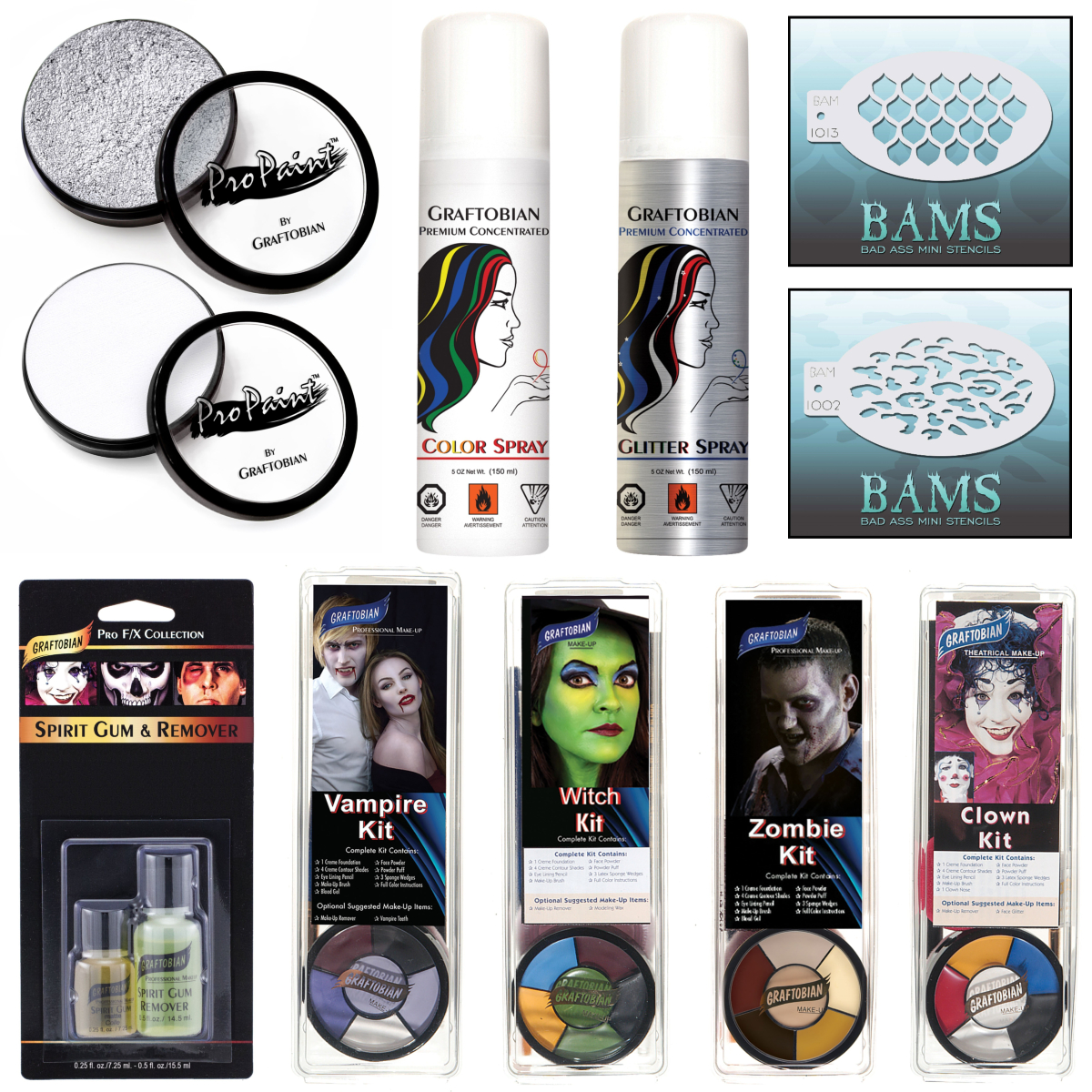 Graftobian Makeup Products (left to right, top to bottom): Graftobian Deluxe Silver Makeup, Graftobian Deluxe White Makeup, Purple Hair Color Spray, Multi-Color Hair Glitter Spray, Mermaid Scales Makeup Stencil, Leopard Spots Makeup Stencil, Spirit Gum and Remover Set, Vampire Makeup Wheel, Witch Makeup Wheel, Zombie Makeup Wheel, Clown Makeup Wheel
Graftobian is another big kid on the block when it comes to professional makeup supplies. They have everything from glam to gore makeup! If you are looking for specialized makeup wheels for all of your spooky skin tones, you won't be disappointed. You can also try some of their makeup stencils to achieve more difficult makeup patterns such as scales, leopard spots and tiger stripes. If you're looking to add color to more than just your face, Graftobian has a line of really good temporary color hair spray. It covers better than cheaper color sprays that take five or six cans and leave your hair oddly wet and crunchy at the same time. (Trust us, we've all been there at least once!)
Latex Prosthetics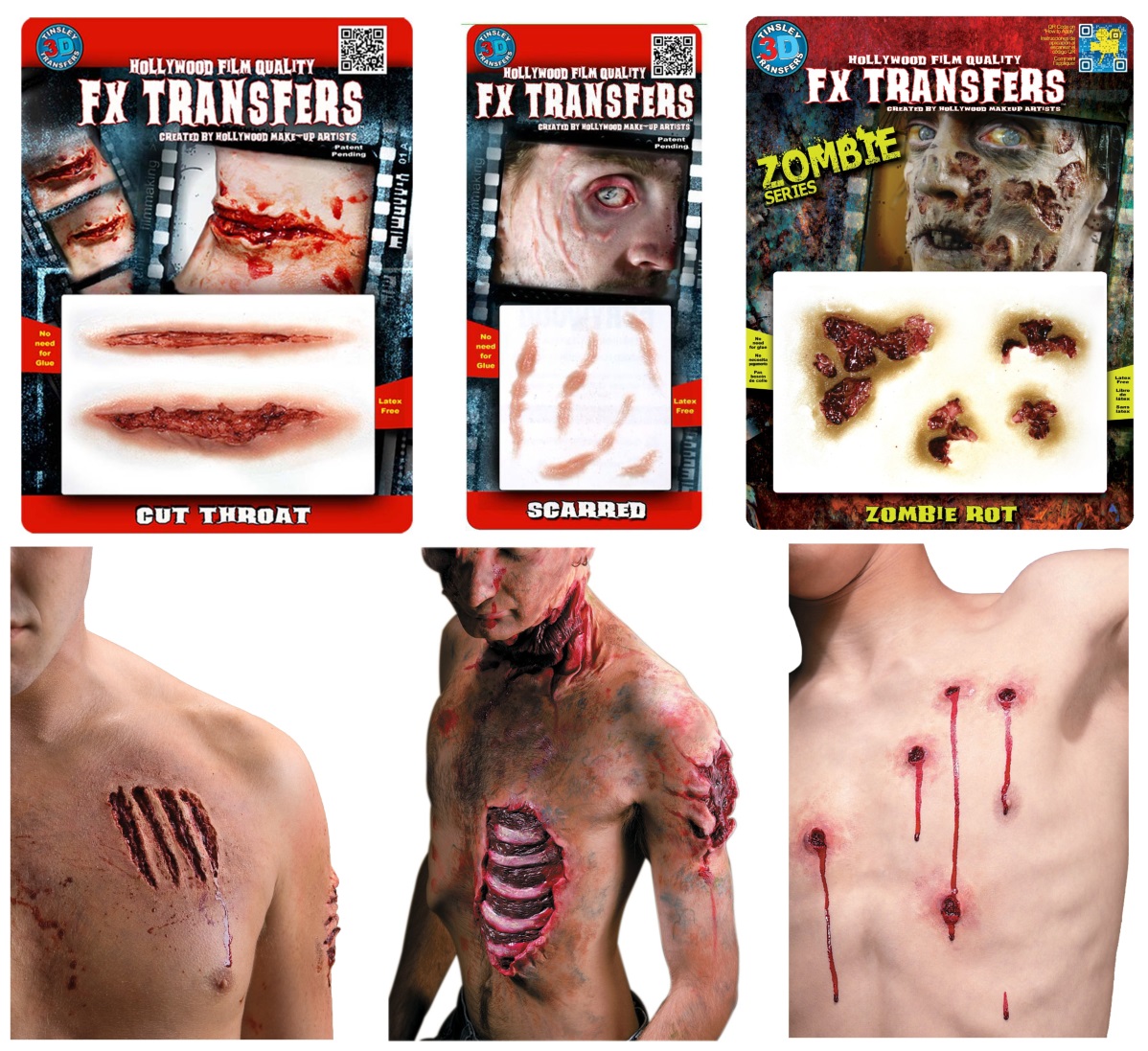 Latex prosthetics are great because they are a simple way for beginners to achieve three-dimensional gore looks without going for the scar wax, tissues and glue stick. (We're not knocking on DIY scars and bite marks, but let's face it- not everyone has the patience or time for that!) These instant scars, bullet wounds and more won't turn you into a special FX makeup artist overnight, but they are perfect for trick-or-treating and Halloween parties!
Fake Blood Products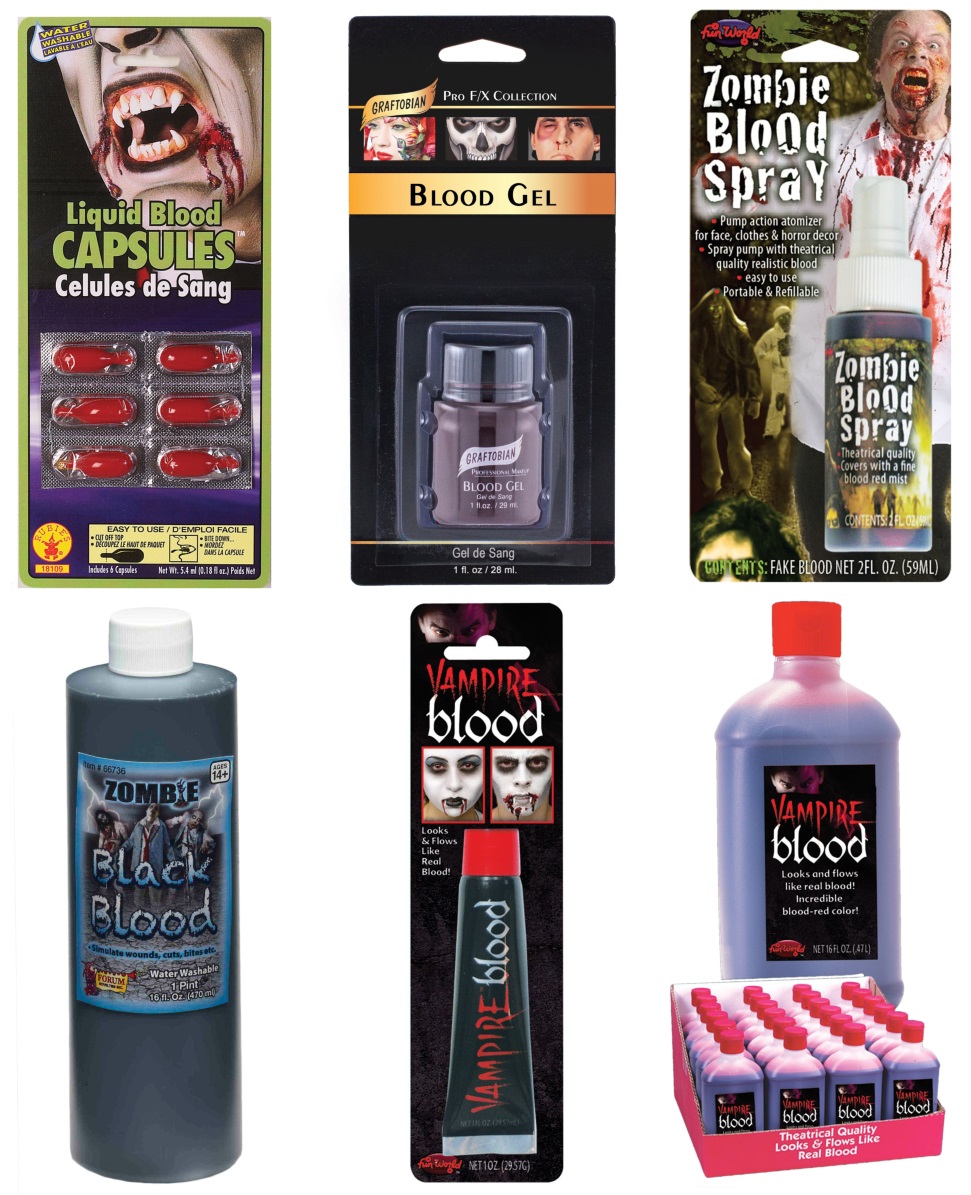 This wouldn't be a guide about SFX Makeup without some fake blood! There are quite a few varieties of fake blood to choose from, too! You can use blood capsules, blood spray, blood gel and several kinds of liquid blood. However, when applying fake blood, you will want to be careful not to get it on your clothing (unless you're doing it on purpose), because it will stain. Theater blood is great for costume looks like zombies, vampires, wounded werewolves and more! Use your imagination and you can create wonderfully gory looks for so many Halloween costume ideas!
As you can see, adding some blood and special FX makeup can add much more character to your Halloween costume! We hope you take these ideas and expand upon them with some of your own. Check out these special effects makeup tutorial videos for ideas on how to use these supplies. Are you planning on wearing a scary costume for Halloween? Will you be assisting someone with their scary makeup design? Feel free to share your scary makeup looks with us in the comments! Scaring is caring!