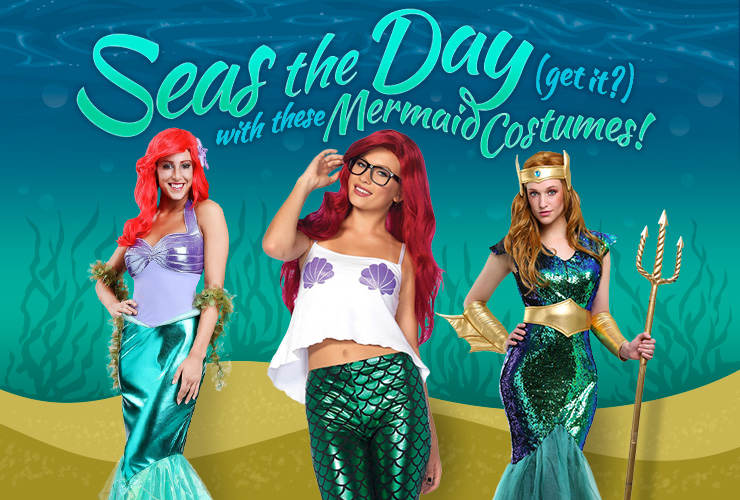 Mermaids. We've seen them portrayed in pop culture in a multitude of ways. Some mermaids sing, dance, and fall in love with some hunky guy on land. Some mermaids use their beauty to seduce trashy men before dragging them down into the sea for a midnight snack. Some mermaids live a life humans dream of, laying out on rocks all day, basking in the sun. If you're someone who has always wondered what it would be like to have fins for legs and vibrant red hair that perfectly flows and waves through the water, you've come to the right place. Your friends might be doing their mermaid costume DIY style, but we'd like to help you out by saving you time without sacrificing quality. We have costumes, we have wigs, we have accessories, we have everything you need to make your mermaid costume dreams come true. Are you as excited as we are for your transformation? If so, keep on reading!
Mermaid Wigs

Ariel Wig Pastel Wig Hippie Blonde Wig Mermaid Blonde Wig
We're going to start out by finding the perfect wig for your mermaid look. This will ultimately help you decide which costume/dress you will need to complete your mermaid Halloween costume. Will you go the typical, Little Mermaid costume route with a red mermaid wig? Or will you go for a less common route and wear a purple colored wig? Maybe blue? Mermaids are mythical characters, so let your creativity run wild, though there's nothing wrong with going for an Ariel costume. We picked out a few wigs and matched them up with corresponding mermaid dresses/skirts below. Feel free to mix and match these however you'd like!
Mermaid Dresses and Skirts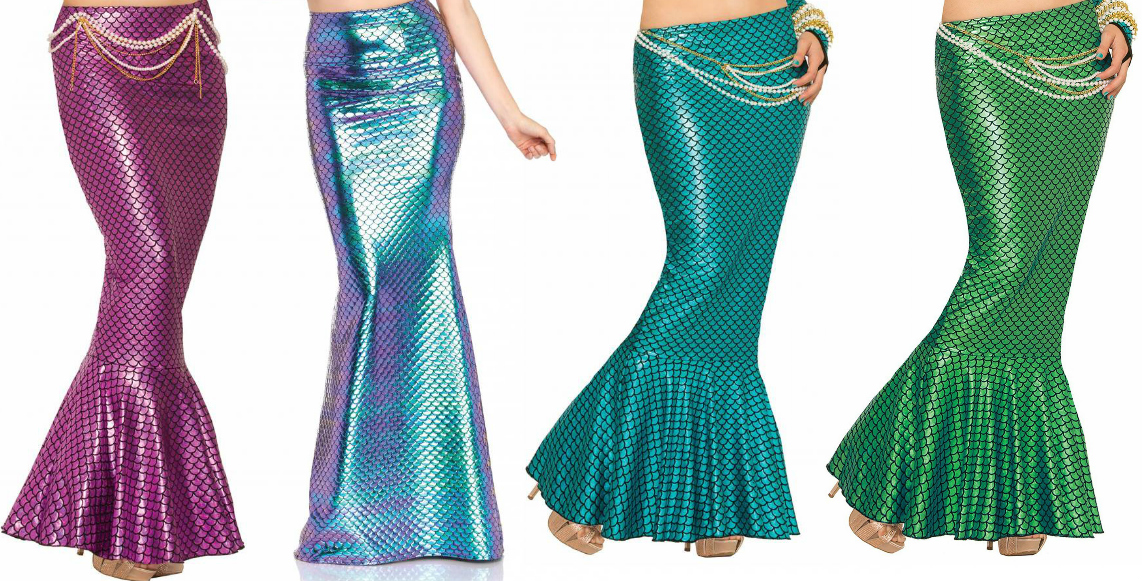 Pink Mermaid Skirt Deluxe Mermaid Skirt Teal Mermaid Skirt Green Mermaid Skirt
Now that you've got your mermaid hair figured out, let's use whatever color you decided to use to pick out your skirt/dress. We made it easy for you by putting the corresponding wig above each skirt. Obviously, these are interchangeable and almost any wig will go with these skirts, but these are our favorite pairings. Another thing to keep in mind is your mermaid top. Mermaids typically match their top to their bottoms, so make sure your colors are matching or at the very least, complimentary. When it comes to what to wear as a top, a mermaid bathing suit, a bra, or a bandeaux should do the trick.
Mermaid Costumes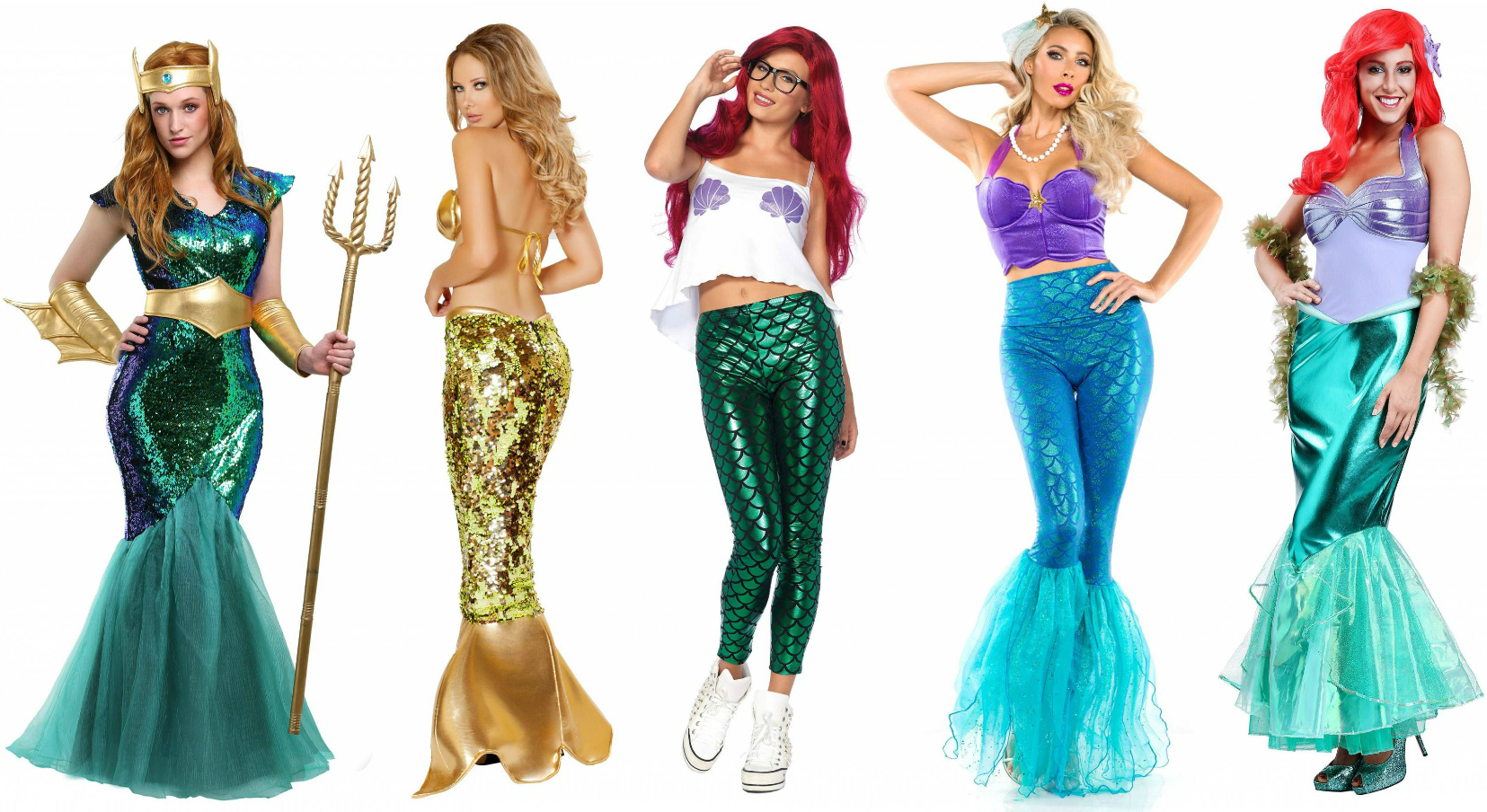 Sea Siren Costume Sultry Sea Siren Costume Hipster Mermaid Costume
Fantasy Mermaid Costume Ariel Costume
We realize not everyone wants to sport a two-piece mermaid outfit, so we put together some of our favorite full-on mermaid costumes. Aquaman was a huge hit in Justice League, so if you're looking for a fierce mermaid costume, this Sea Siren costume should do the trick. With the warm weather is coming up, you might be looking for something a little more "sexy". Lucky you, because, you guessed it! We have a sexy mermaid costume as well. If neither of these are your style, we have plenty of other mermaid costumes, including the Little Mermaid dress, for you to choose from!
Mermaid Accessories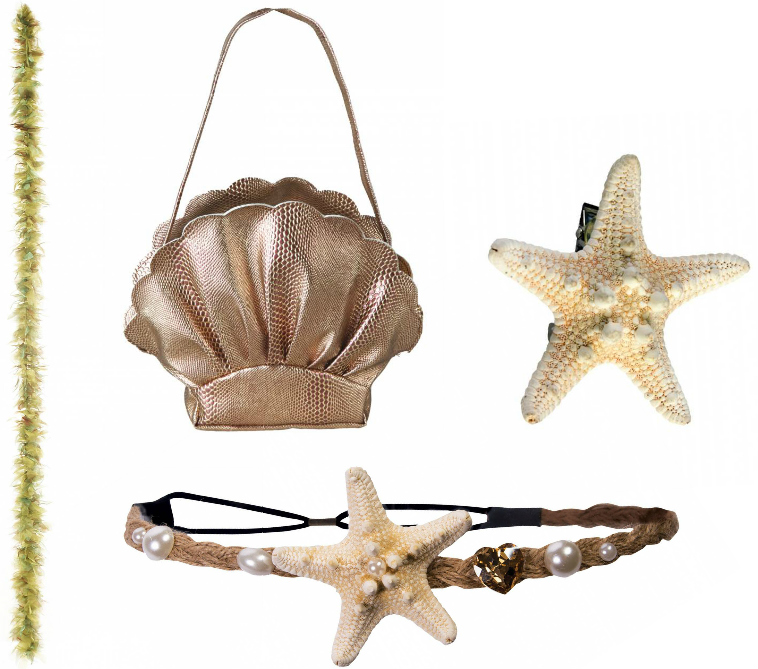 Seaweed Boa Sea Shell Purse Starfish Hair Clip Starfish Headband
No mermaid look would be complete without some sea-cessories. (Sorry for the dad pun!) Most mermaid costumes/dresses don't have pockets, so you're left wondering where the heck to put your phone and wallet. The sea shell purse is the perfect way to hold all of your items, without people knowing it's a purse. If you're a fan of wearing boas with your costumes, don't fret, we didn't forget about the mermaids! Wrap this seaweed boa around your neck and become a mermaid queen. Last, but not least, we have some accessories for your hair! Look fresh out of water by clipping this Starfish onto your hair. If you prefer headbands over hair clips, we have a Starfish headband as well.
If you're still looking for that perfect costume, check out our entire mermaid costumes category. Also take a look at our makeup selection and scary mermaid makeup tutorial to bring your mermaid game to the next level! Contrary to what Ariel said, we believe flipping your fins will get you far, so wherever you're heading, flip your flippin' hearts out!