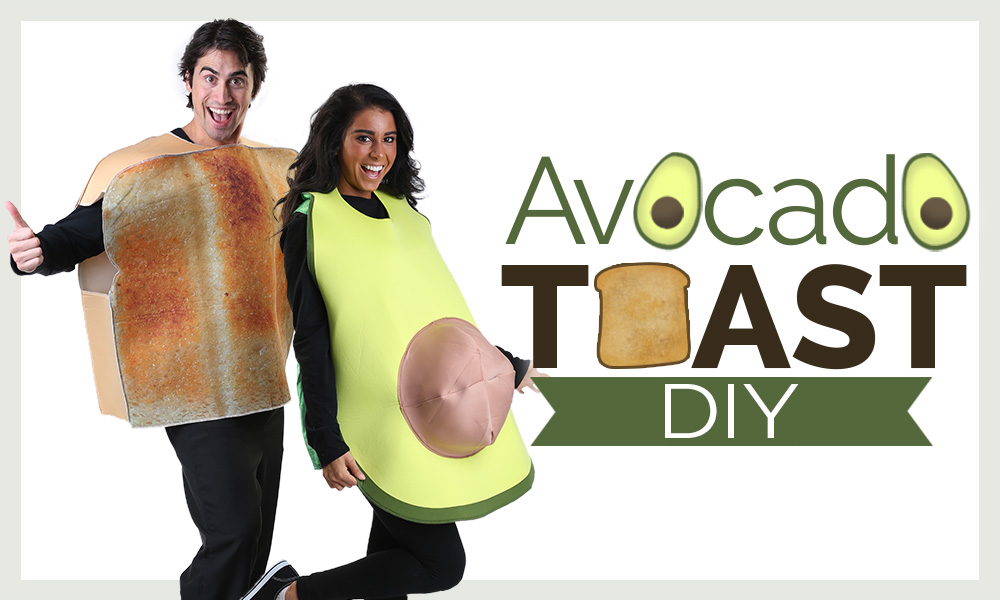 Oh, avocado toast. That wonderful, delicious breakfast of champions. A favorite of Millennials and, apparently, the cause of all their economic woes. Or maybe not. But it's also a great Halloween costume, if you're into making your own DIY costume based on internet memes. (Which you should be, even if certain media outlets think it's a bad idea!) In this costume tutorial, we show you a few different ways to put together a fun avocado toast DIY Halloween costume.
Avocado over Toast Costumes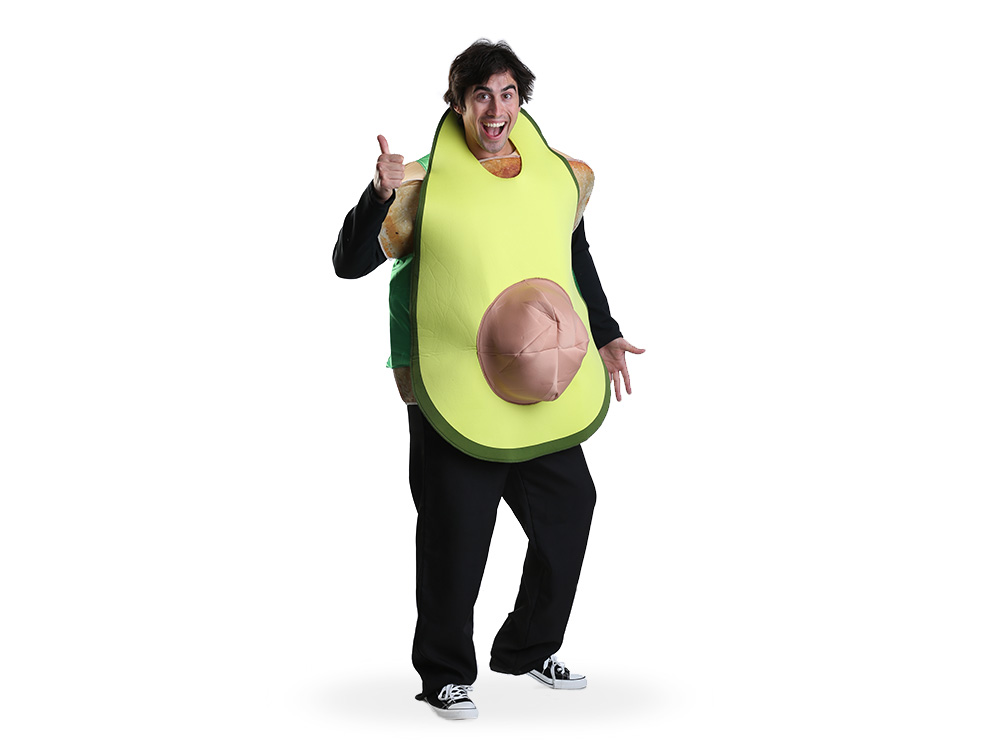 The first, easiest option is to get one avocado costume and one toast costume, and wear the avocado costume over the toast costume. Super simple. It's as easy as, well, putting avocado on toast. This one's best if you're going alone, or if you're not planning on coordinating costumes with anyone else. Plus, these two costumes won't set you back a mortgage payment.
Avocado and Toast Costumes for Couples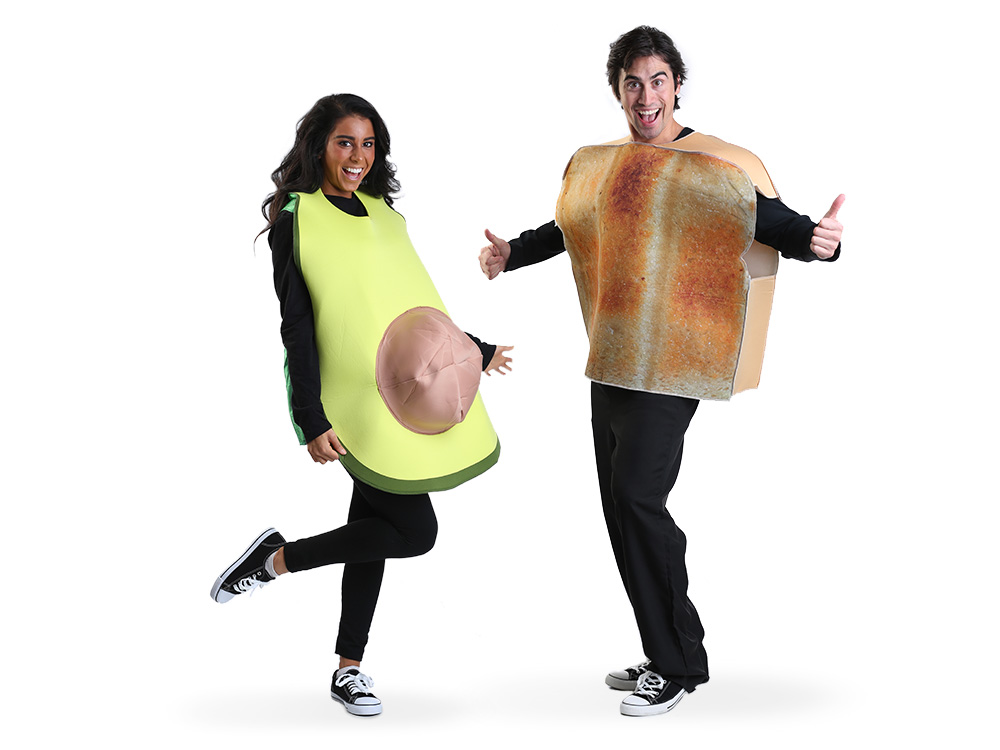 The next option makes a great couples costume or group costume. One of you throws on the avocado costume and the other rocks that toast costume, so when together you're avocado toast. It really can't miss. Unless, that is, you avoid each other all Halloween. But if you're going to do that, then maybe a DIY Halloween costume for couples wasn't the best choice, was it? We should mention here that couples costumes aren't just for, you know, romantic couples. You can totally go with your bestie. You've got our permission!
Plain Toast Costume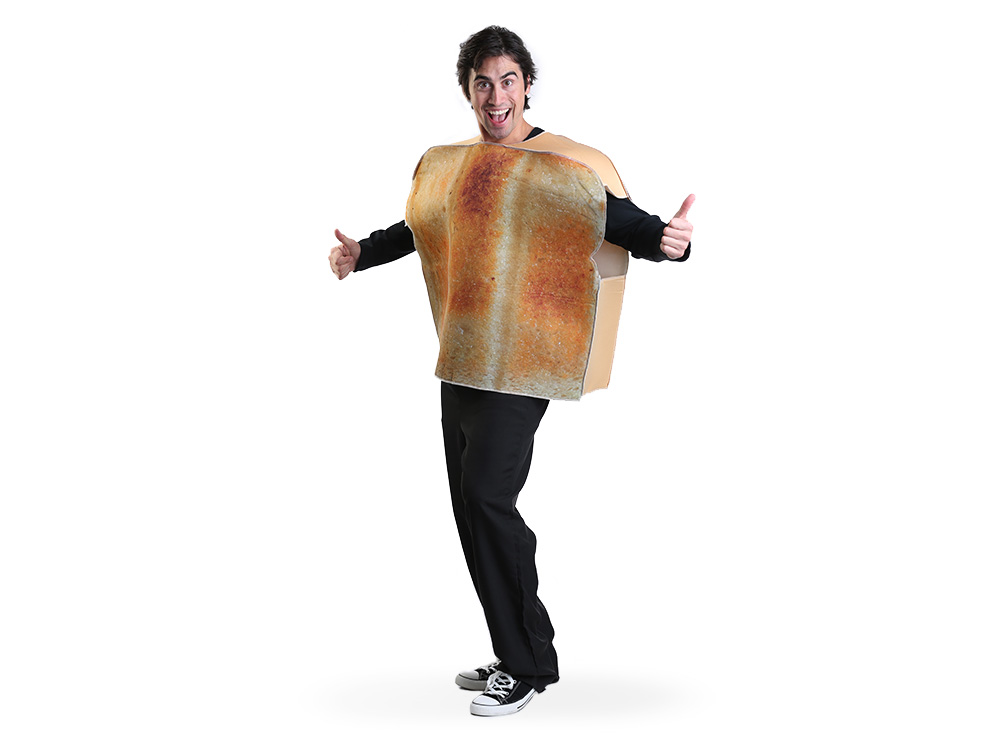 Here's your chance to let your imagination go wild! Use this toast costume as a base, and add your own DIY avocado on top. We don't recommend real avocado, because that would get all brown and disgusting super fast. Maybe some greenish fabric, like an old shirt. Just pin or sew that on and you're good to go. You could also take a trip to the local craft or fabric store for some crepe paper or upholstery material.
Products Used
Avocado Costume Grilled Cheese Costume
Now these are the products used in the above designs. We've got an avocado costume, and we've got a grilled cheese costume. But the grilled cheese costume has a plain toast side. That's it. Whaaa? Okay, seriously, making a DIY avocado toast costume is as simple as making avocado toast.
That's it! What did you think? Did it inspire you to dress as avocado toast for Halloween? And did it make you really hungry? We know what we're having for breakfast! (JabbaCado toast!) While you're thinking about Halloween costumes and food, why not take a look at our Halloween food costumes?