Alice in Wonderland Costumes
When you think of Alice in Wonderland, does the classic storybook image of a girl in a cute blue dress and a white apron come to mind? This timeless look makes for a charming costume, but there are many other ways to be Alice and be unique at the same time. Alice visited a whimsical place where things were anything but ordinary, so when you dress up as this beloved character, you are only limited by your imagination. Be sweet, or scary... or something in between.
Classic Alice Costume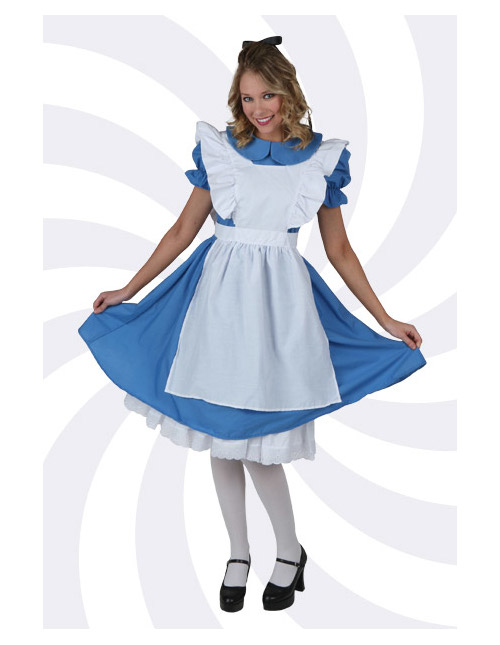 This Alice dress is straight out of the storybook and will ensure that you are instantly recognized as the heroine of Wonderland. The whole look achieves the childhood innocence that Alice had, from the sweet apron in front down to the black Mary Janes on her feet.
Tim Burton Alice in Wonderland Costume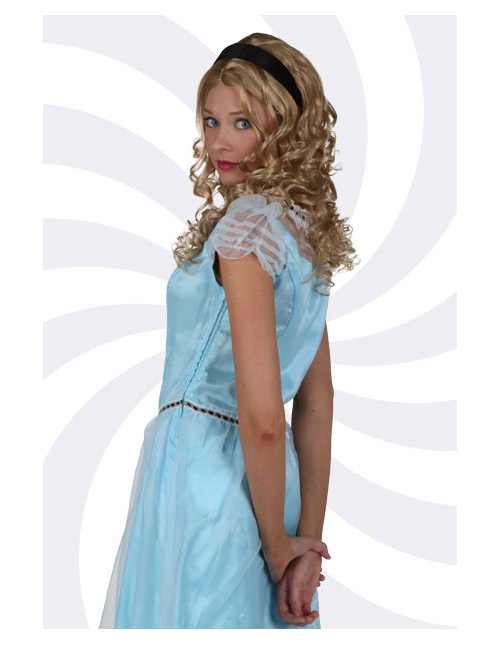 If you'd rather look like Alice Kingsleigh from Tim Burton's Alice, this costume will have you ready to take some tea with the Mad Hatter. This movie portrayed Alice as an older, wiser version of the storybook character and her look, from clothing to hairstyles, was updated accordingly.
Sexy Alice Costume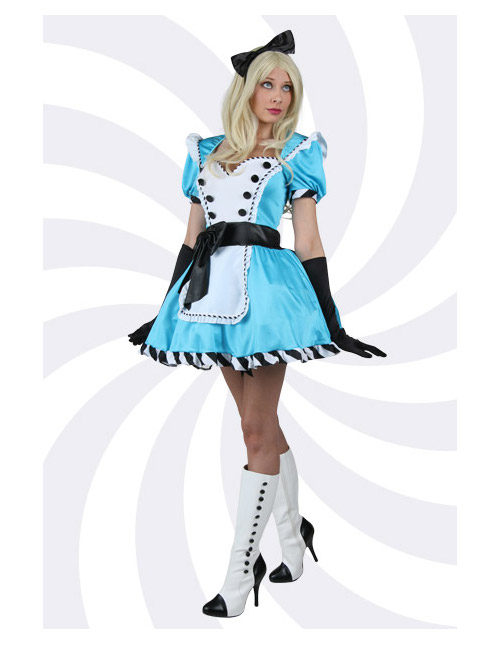 You can be a not-so-innocent version of Alice in this sexy dress. The buttons, bows and other details create a sophisticated look that transforms the storybook character into a grown up. You'll be so popular in Wonderland that the Mad Hatter will have to take a number!
Steampunk Alice Costume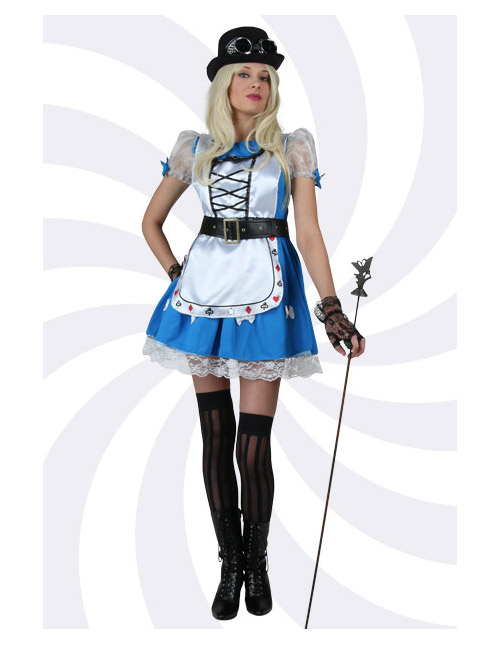 It's Alice... with attitude! By adding some classic steampunk accessories such as a top hat, goggles, lace gloves and striped stockings we've created an original look that still will easily pass as Alice. A fun twist on the original!
Gothic Alice in Wonderland Costume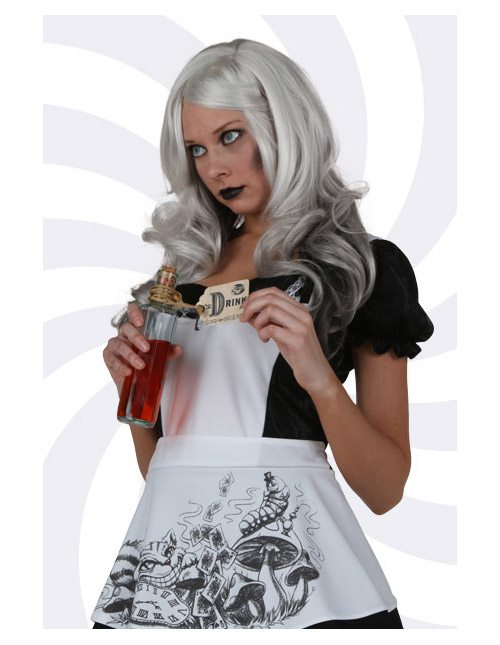 There's something not quite right in Wonderland. Here Alice goes goth and shows us a darker side of her character. We've traded innocence for intrigue by adding dark makeup, a pale white wig with black lowlights and a bold dress featuring storybook drawings with sinister details.
Zombie Alice Costume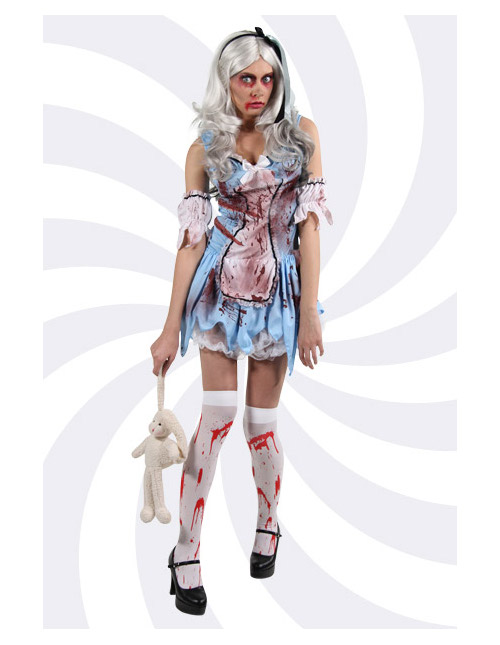 Brains!!! Alice is the latest victim of the zombie apocalypse and no one in Wonderland will be safe. This Alice dress comes already blood-stained and tattered. Pair it with our blood-splattered thigh-high stockings and some gruesome makeup to turn this storybook darling to a walking nightmare!
Sexy Alice in Wonderland Costume Makeup Tutorial
Looking to add a little extra pizzazz to your Alice in Wonderland costume? This makeup application will give you a fresh quick look that goes well with any of our Alice costumes. Start with a light blue and sliver eye shadows for a lid color that will be highlighted with white underneath the eyebrows and in the corners of the eye. Next add black eyeliner and mascara for full black lashes. Then add pink blush and hot pink lipstick for extra flair to the application. Lastly, add one of our blonde Alice wigs to complete this look for your costume.
Alice in Wonderland Couples Costumes
The only thing better than dressing up as Alice is getting to spend time with all of the incredible friends she made! She meets so many interesting characters during her stay in Wonderland, it's almost too difficult to decide who would make the best partner for her. Our exclusive Alice in Wonderland costumes give you the option to choose your favorite. Whether she is spending time with the Mad Hatter, March Hare, Cheshire Cat or the White Rabbit she seems happily entertained with them all. Who do you think would make the best date for Alice?
Alice and the Hatter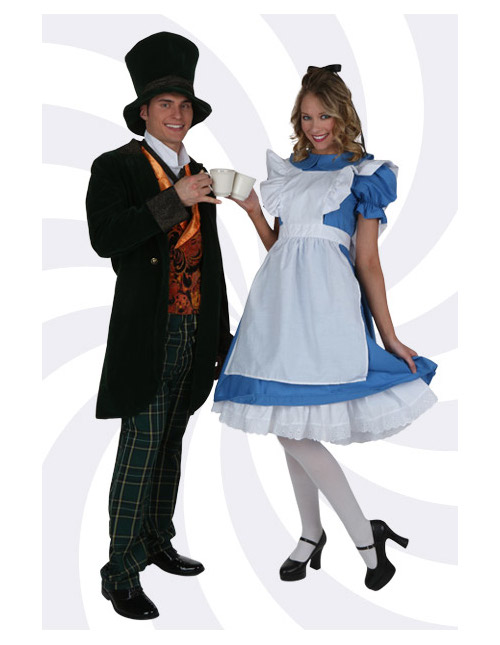 The Mad Hatter kept Alice intrigued with his curious way of hosting a tea party and by telling several unique riddles. He may have been perplexing at times but did his best to be a good host.
Alice and the Hare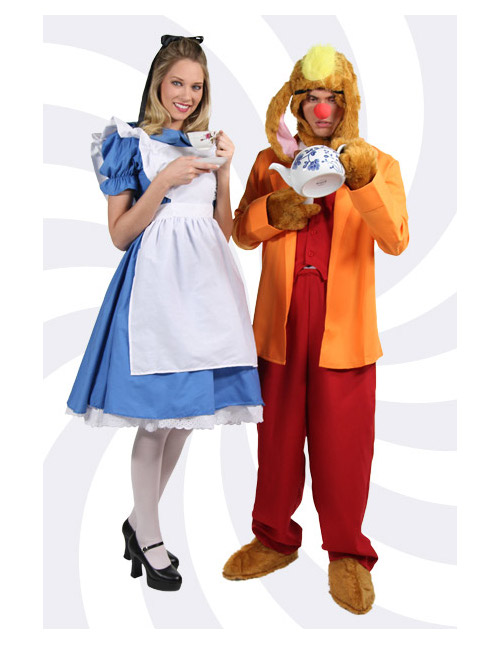 The March Hare was a bit unpredictable and his manners were rough, but Alice could count on him to keep her on her toes! You'll never be bored with this hare at your side!
Alice and the Cheshire Cat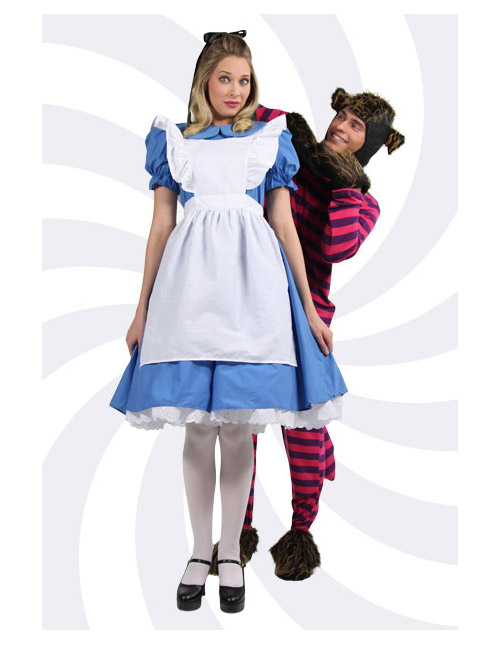 Who can resist that grin? Alice's journey would not have been the same had she not met the Cheshire Cat. He disappeared and reappeared at will, making it a bit difficult to carry on a conversation, but he was helpful none the less.
Alice and the White Rabbit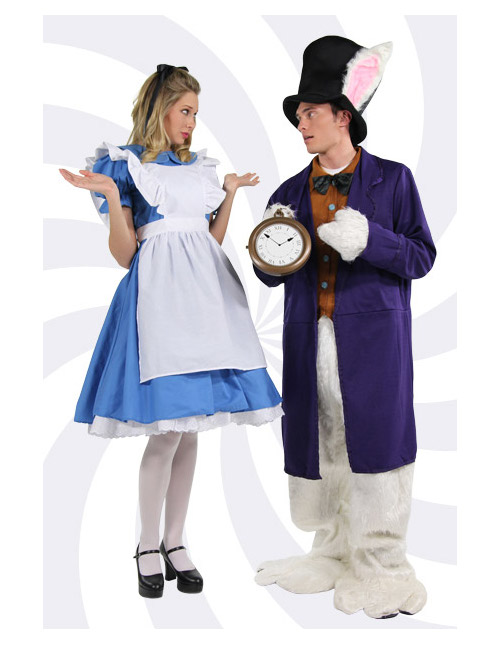 Alice's adventure began by following after the White Rabbit. She didn't know where he was going or why he was late, but seeing this unique creature made her curious. And her curiosity brought her to Wonderland!
Alice In Wonderland Accessories
Getting an authentic Alice in Wonderland look is easier than you think! When you add just a few details you can achieve a perfect likeness as well as set your costume apart from the rest! There are a few classic pieces that can make your costume instantly recognizable, such as a blonde wig and a black hair bow. From there, check out our many options to personalize such as printed stockings, themed handbags and more.
Alice in Wonderland Wig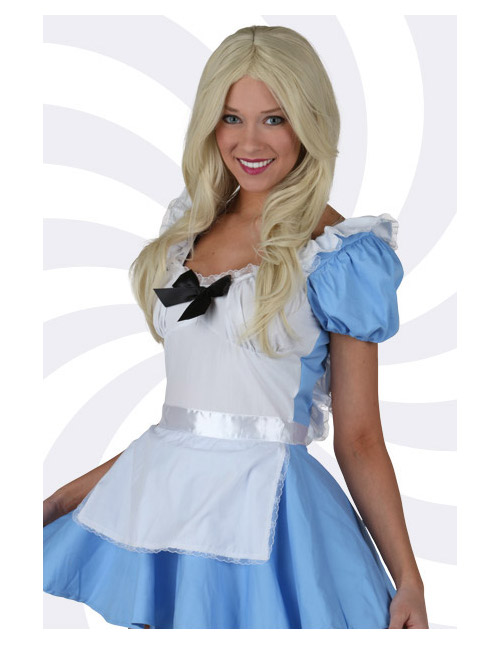 A blonde wig is the first essential piece for creating an authentic Alice look. Getting a high quality blonde wig makes achieving the perfect color and length simple. For a flawless look, tuck your own hair into a wig cap before adding the wig.
Alice in Wonderland Headband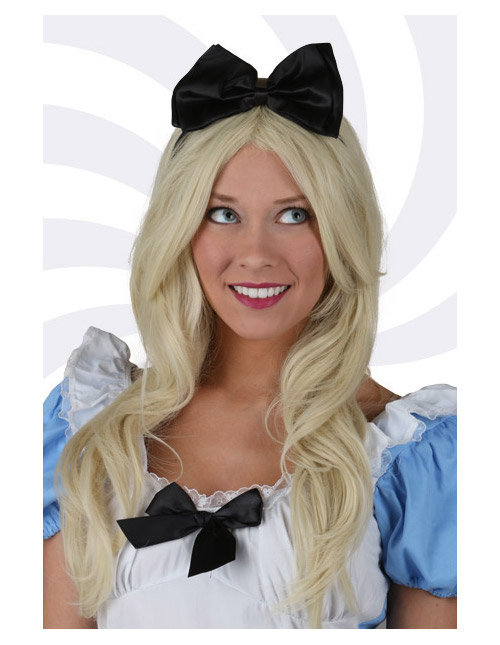 Alice is regularly shown wearing a black bow in her hair. If the idea of tying a picture-perfect ribbon bow makes your nervous, we have an excellent alternative. This black bow accessory comes pre-tied and secured to a headband. It is easy to put on and will stay put for hours of tea partying.
Rabbit Purse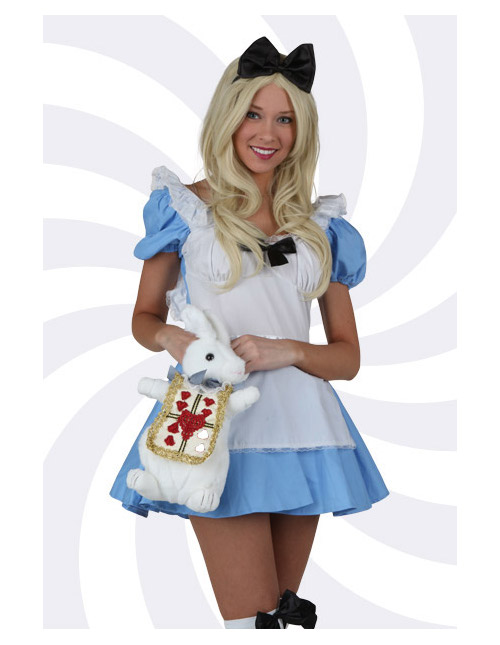 Keeping your valuable safe while maintaining your storybook image is no longer an issue thanks to this cute bunny purse! It is plush and cuddly on the outside, but practical when you unzip the back to reveal a pocket for your personal items.
Clock Purse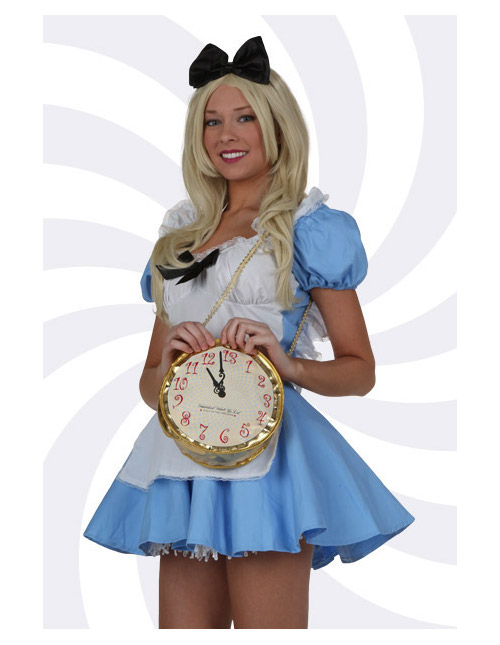 There's more than one way to carry your essential items through Wonderland! This unique clock purse features a convenient shoulder strap and a larger compartment for holding your things. Alice's trip to Wonderland was an unpredictable adventure, but your next night out doesn't have to be.
'Drink Me' Can Cooler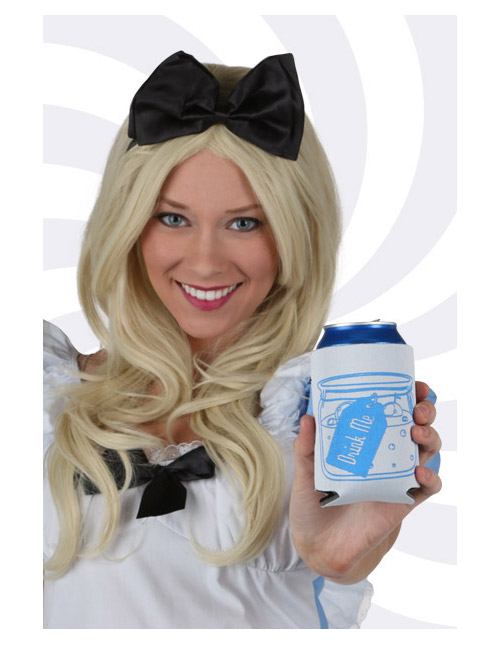 Looking for a unique way to stay in character? When you add this Drink Me can koozie to your beverage of choice you'll be adding an essential storybook element to your partying. Fortunately it won't make you grow or shrink, it will just make your costume more fun!
Thigh-High Stockings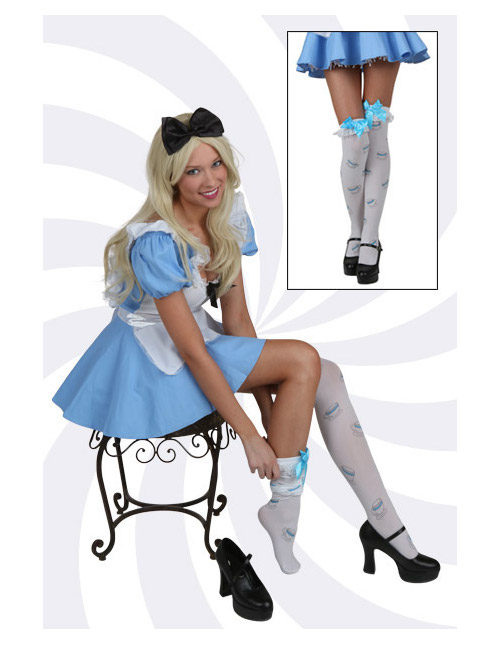 When you add a unique detail such as these thigh-high tea cup stockings to your costume, you won't have to worry about copy-cats! You'll look unique and add an interesting twist on this classic look.