Zombie's Eye Latex Makeup Kit
Product # FU9501E
There are no reviews for this product yet.
Product Includes:
Zombie's Eye Latex Makeup Kit
Product Measurements:
Measured In: Inches

|

Centimeters
Measurements will be available within 24 – 48 hours of the product arriving.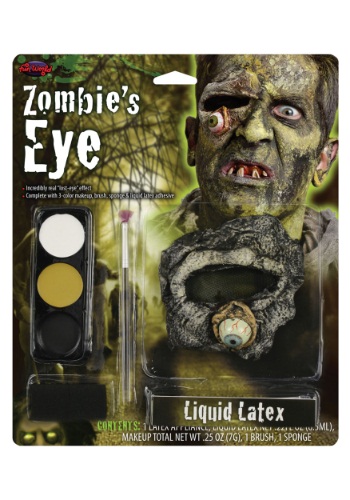 Product Description
Getting a realistic rotten look isn't something that's done easily. You have hang out in your coffin for years and years and maybe... just maybe you'll get your desired look. Let's save you some time with this Zombie's Eye Latex Makeup Kit.
.25 FL oz Liquid Latex Adhesive

1 small brush

1 small wedge sponge

Three shades of makeup: white, gold, & black

One eye patch-like latex skin prosthetic w/ fake eye hanging out

Black netting over eye hole